- chain
Utell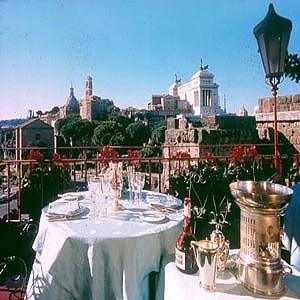 A 4star
Hotel Forum
is situated between the Colosseum and Piazza Venezia. It is one of its most important advantages as the hotel name has derived from the opposite located
Via dei Fori Imperiali
- the street "Imperial Forums", 1 of the main thoroughfares leading to the Piazza Venezia, the one walked
Julius Caesar, Mark Antony, Cleopatra
and other famous characters of ancient history.
The whole Monti district, where there the Forum is, is full of lots typical wine bars, cafes and restaurants.
A distinctive feature of this very hotel in Rome is a rooftop terrace bar and a restaurant. Every morning a continental breakfast of a traditional Italian cuisine is served for lunch and dinner.
Rooms at the Forum are elegantly furnished with luxurious carpets and comfortable beds. All rooms are air-conditioned. They all possess satellite TV-sets, mini-bars, private bathrooms with a hairdryer. Some of them offer the guests views of Roman ruins.
Forum Hotel More info>>