List of Rome hotels, SOFITEL - Accor Hotels and Resorts
Edita Gruberova
One of the world's most highly-acclaimed sopranos in the world, a Slovak singer Edita Gruberova, accompanied by her husband Friedrich Haider (pianoforte) performs May 16th at the Accademia Nazionale di Santa Cecilia. The composers she selected for this Roman recital are Mozart, Brahms, Strauss and Dvorák.
Born in Bratislava, Edita Gruberova is highly acclaimed for her ability to sing high notes with great power, thanks to which she became a perfect Queen of the Night (in Mozart's "Magic Flute") in her early years. Her operatic debut was in 1968, as Rosina in The Barber of Seville, and her debut as Queen of the Night was in 1974. If you're fond of classics - don't miss it!
2008.05.14
John McLaughlin gives a concert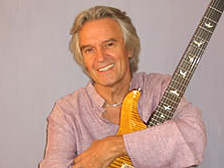 On the 13-th of May 2008 famous British jazz fusion guitarist John McLaughlin gives a concert at the Stazione Birra in Rome at 8.30 pm.
After moving to the US in the late Sixties, McLaughlin played on landmark Miles Davis electric fusion albums including Bitches Brew and On the Corner.
In the Seventies he enjoyed success with his electric Mahavishnu Orchestra, as well as playing alongside Carlos Santana and pioneering world music with his acoustic group Shakti, featuring tabla maestro Zakir Hussain and violinist Lakshminarayana Shankar.
In the late Nineties a new incarnation of the group, Remember Shakti, formed and toured the world. More recently McLaughlin has performed with his new electric group, 4th Dimension, featuring drummer Mark Mondesir, Gary Husband on keyboards and bass player Hadrien Feraud, who all perform on this date.
2008.04.01
Fashion Parade Of The Russian Designers

A fashion show titled AltaRomaAltaModa featuring Russian designers will take place in Rome Auditorium within the framework of the Fashion Week. Kira Plastinina and Julia Yanina, will show their collections on 31 January. Plastinina is already famous in the vogue world: she runs shops in Moscow and London, and soon will open her boutiques in Los Angeles and New York.
Besides Russian designers the show will be marked by the participation of Fausto Sarli, Guilermo Mariotto, Patrizia Pieroni, Lorenzo Riva, Lella Curiel and Marella Ferrera.
Fausto Sarli will be among the first to show his models. One of them, 18-year-old Silvia Battisti, is Miss Italy-2007. The performance will be accompanied by Vivaldi's music and Petrarca's selected works.
2008.01.30
Music Park In Rome
A new complex in Rome designed by the renowned Renzo Piano is open to public since 9 December 2005 to 8 January 2008. Auditorium consists of 2 seat halls, an indoor theatre, an open air theatre and a garden. In the music park it is possible to see the ancient ruins, discovered during the excavations in the Auditorium. The archeologists say these are the remains of the farm, which was deserted around 150 A.D.
The guests can also visit the concert halls of the Auditorium when no performances are on.
The visitors are welcome daily from 10 am to 8 pm. Don't miss this educative and entertaining event!


2007.12.12