- chain Hilton International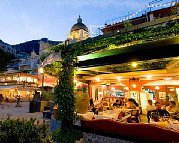 Rome Cavalieri Hilton offers the breathtaking panorama from most of the rooms. From the low floors you will overlook the local park with its green trees, while on the top-floors you will savor the great view over the Rome city. All the main sights will be viewed right from your window, inspiring you for a long tour all over the Rome. Many interesting places are within easy reach, so feel free to take a walk through the streets to depict them all.
The benefit of Rome Cavalieri Hilton is the famous art collection placed on the walls in the hall and lobby. Most of these picture and art masterpieces can conquer with the collections in Italian museums, still now they are a part of the hotel decor.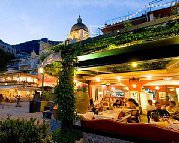 The hotel offers 370 rooms for the guests, each one with private balcony and basic amenities. Luxury suits tend to offer more facilities as well as special executive rooms. Staying in Rome Cavalieri Hilton, you will get the variety of dining options including famous restaurant La Pergola, which already was highly rated by Michelin. Here you can savor traditional cuisine as well as some delicious international dishes. Dining here, you may opt to stay in the dining hall on the hotel roof, observing the Enternal city.
The other option is famous Giardino dell'Uliveto restaurant with its natural Italian dishes. Here the daily dining is served, as well as the a-la-carte treatment is available.
Rome Cavalieri Hilton More info>>