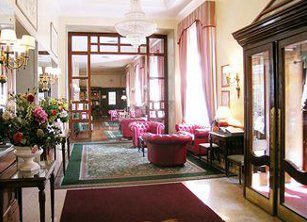 Are you looking for an affordable hotel in Rome, with a roof terrace and suitable both for tourism and for business? Hotel Nord Nuova Roma is what you need. It is situated in the heart of the city, in a walking distance from the Roman Opera Theater, Octagonal Hall, Colle Oppio Park and the National Gallery of Ancient Art.
The hotel itself offers free breakfasts and free Wi-Fi in common areas. It has a bar, a business center, a conference hall and Support Service. All this is quite useful if you are in Rome for some business affairs. There are also: concierge service, event service and limousine hire. Moreover, you can use a fitness-hall a library and parking of Nord Nuova.
All the rooms have mini bars, safes and TVs. They also offer free newspapers and a telephone with direct dialing. You can order additionally massage, right in your apartment, extra towels and bedding, and even waking call on a particular day and time.
Hotel Nord Nuova is suitable for big families and for businesspeople. Both will find what they need: nice place, comfort and great opportunities for having rest and exploring the city.