- chain
Leading Hotels of the World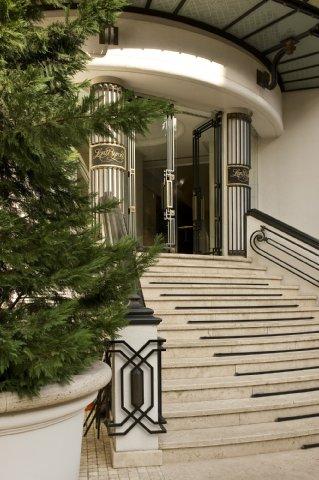 The location of Hotel Lord Byron enables you to make the sightseeing tour right from the hotel entrance. The prestigious accommodations are placed close to Villa Borghese, as well as to Piazza di Spagna, where many sights of Rome are situated. Still the location of the hotel on one of the quiet side streets keeps you away from the outside noise and lets you relax in a full way.
The service in Hotel Lord Byron is really outstanding. The welcoming staff will help you with literally any problem you might experience. They will gladly book the tickets for exhibition or Opera as well as arrange the excursion for you and your family. The qualified babysitter will keep your child occupied while you enjoy the romantic evening in the hotel restaurant or take a walk through the shaded alleys of the park.

The rooms are designed in tender art-deco style of 30s; the atmosphere in both standard rooms and suits is mild and cozy. The furniture is unique and chosen to match the decor of the rooms, showing out the exclusive rate of the hotel you're staying in.
The area around the Hotel Lord Byron is truly prestigious; the Parioli district is the place of foreign embassies and the offices of the top-rates companies and banks. Everything here is of the first class, you your time here will be spent perfectly.
HOTEL LORD BYRON More info>>