- chain
Summit Hotels and Resorts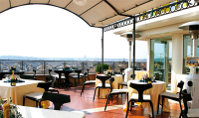 The building itself has the long history, which draws special attention to the hotel. The furniture is modern, still most of the interiors are kept in the classic style with the most recent amenities to be offered.
Here are 127 spacious and totally equipped rooms for the hotel guests. Most of them offer the breathtaking vies over the city. As the Hotel Bernini is positioned in the central area of the city, you may overlook the sights right out of your window. The main feature of the hotel dining is the L'Olimpo Roof Garden.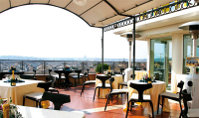 This restaurant is located on the hotel roof and offers to taste the delicate Italian cuisine among the city attractions or on the cozy summer terrace. Opting for the terrace, you will get the direct view over the St.Peter's Cathedral.
Everything in the Hotel Bernini is made for your relaxation. The high-quality staff will let you feel yourself the true Rome emperor without a need to care about anything but your satisfaction. The hotel amenities are to your service: the luxury Turkish bath, fitness hall, sauna, Jacuzzi and even the professional massage. If you're up to a sightseeing tour, the closest architectural sights to Hotel Bernini are Piazza Barberini square, the Trevi Fountain, awesome Spanish Steps, St.Peter's cathedral and many others.
Hotel Bernini Bristol More info>>