- chain
Utell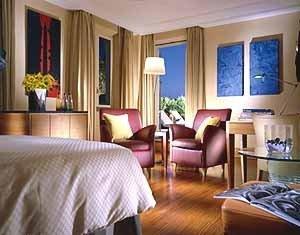 The luxurious hotel Capo d'Africa is surrounded by many of wine bars and traditional Italian trattorias. It's right the city center hotel, close to such sight-seeings as Colloseum, the Basilica of Maria Maggiore, the Roman Forum. The metro station Colloseo is 5 minutes far away from the hotel location.
As tourist class hotel the Capo d'Africa offers every traveler air-conditioned rooms, pieces of modern and ancient Italian art, splendid decor of hotel halls and bedrooms, in-room movies with pay-for-view.
Capo d'Africa is the best hotel of Rome to taste fresh Roman air from the roof top of its terrace cafe. Individual menu can be designed for you due to your desires. This four-star hotel facilities amaze its guests with fitness and spa possibilities, even personal trainers' company. All the procedures can be accompanied by a variety of fresh drinks from the hotel central bar.
The Hotel of Capo d'Africa cannot be considered as a budget accommodation in the city center, but all the prices prove themselves, as the most moderate and discount making among the hotels of 5 star category.
Capo D'Africa Hotel More info>>