Hotels best suited for Rome Festivals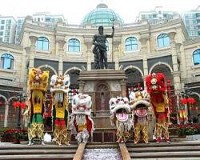 Rome is a popular place for Festivals due to several reasons. First of all, the city is the capital of Italy, thus most of the cultural life runs here, offering all the variety of festivals and parties. Here are the ancient sights which draw the tourists' attention and let the tour combine attending the chosen festival and the excursion to look around. Some of the sights, like famous Coliseum, might appear the perfect decorations to the celebrity as well.
Rome has the international airport and a wide range of hotels ready to accommodate tourists for Rome Festivals. Choosing the hotel to stay during the festival, be aware of the terms, as many people will probably go to the party as well, so the earlier you make your choice and book the room, the better it will be. If you start your search too late, all the best hotels might be already fully booked.
One of the most famous Rome Festivals is Independent Film Festival taking place in RIFF cultural centre. It's being held regularly starting from 2000, and is a popular place to watch new short films made by stage directors all around the world. There are three hotels on Mercury chain nearby the RIFF cultural centre: Delta Colosseo, Piazza Bologna and Corso Trieste. All of them offer the ticket service that is provided with the room booking.
Sofitel Rome Villa Borghese is the 4star hotel located on the quiet street, so the noise of the festival fans from outside will not reach you. All the named hotels are within 3km reach to RIFF cultural centre.
The famous Wine Rome Festival gathered over 7 thousands people since 2008 year, offering the variety of hand-picked wine producers of Italy. To visit this celebrity, you may opt for Adagio hotel chain, represented by Adagio Roma Garden and Adagio Roma Dehon, both in 4km range from the festival.
One more famous Rome Festivals is concert being held at the 1st of May is being held yearly since 1989 in Piazza di Porta San Giovanni. Last year it manages to gather over 7 hundreds of artists. Adagio and Sofitel hotels will suit perfectly for staying in Rome during this event. You may opt also for Ibis Hotel Magliana, that is about 7km away from Piazza di Porta San Giovanni.