The best romantic boat tours in Amsterdam
Late spring – summer is the most romantic time to visit Amsterdam! Warm nights are perfect for walks hand-in-hand with the one you love, nature is in full bloom and beautiful parks are great for a romantic picnic. If you're going to Amsterdam with your spouse or girlfriend, there is one thing that should definitely be included in your to-do list. A canal tour. And there is nothing more romantic than an evening candlelight boat tour around the historic Amsterdam canals. Enjoy the charming canal views from water, taste best wines accompanied by delicious snacks and give your love confessions to the one you want to be forever with! We suggest you the list of the most romantic canal tours in Amsterdam.
The Amsterdam Candlelight Cruise. Canal Company. Price: €37.50 for an adult
Canal Company offers a classic romantic tour around the Canal Belt, a UNESCO World Heritage site, that lasts for two hours. Sit at a table for two and enjoy a cheese plate with the finest wines, feast your eyes upon your lover's face in the candlelight and of course admire at how beautiful the canals of Amsterdam in the evening are. This is one of the best ways to express your feelings to the one you love, make a proposal or celebrate your anniversary. The boat departs from the Holland International Canal Cruises pier at Prins Hendrikkade 33a (opposite the Central Station) at 9 pm daily.
Hotels near the Central Station: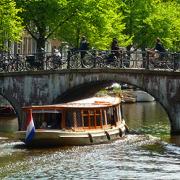 Romantic Dinner Cruise on a historic boat. Amsterdam Jewel Cruises. €110 per person
This dinner cruise might be a bit pricey, but it's worth the money you pay considering the length of the cruise and the list of things included. The cruise lasts for 2 hours and 45 minutes and is one of the best ways to propose to your sweetheart and celebrate the acceptance of the proposal afterwards. And she will definitely say "Yes!" for the cruise has everything to conquer her heart forever: the atmosphere of privacy, historic ambience of an antique 1898 boat, romantic music, a 3-course a la carte gourmet dinner complemented by wines, a chef's surprise and of course views, views, views! For those who pay an extra €15 per person there is also a welcome drink (champagne), pre-dinner fingerfood and after dinner chocolates and coffee offered. Boats departure at 7.30 pm (5.30 on Sundays). The departure point is at Singel 250, which is pretty close to the Dam.
Hotels close to Singel 250:
Red Light Candle Light Cruise and Keukenhof & Cruise. Lover's Company. Price: €37.50 and €30 respectively
There are two canal cruise variants from the Lover's Company we can suggest to those who come to Amsterdam with their girlfriend/ boyfriend. The first one, "Red Light Candle Light Cruise", is pretty standard and includes a tour that starts at Prins Hendrikkade 25 (by the Central Station), white and red wine, cheese, nuts, juice and water. The other, "Keukenhof & Cruise", could set the mood for romance as well. But you'll have to hurry up to book it until 18 May, since this is the last day the garden accepts visitors. Enjoy a visit to the largest flower garden in Europe and marvel at the flower mosaic depicting the canals of Amsterdam with 60 thousand flowers! The cruise lasts for 1 hour and departures every 30 minutes. The departure point is the same.
Evening Canal Cruise. Blue Boat Company. Price: €17.50 per person
Blue Boat Company, one of travelers' favorites in Amsterdam, suggests seeing the other, nightly side of Amsterdam. The city buildings and bridges demonstrate beautiful illumination when it gets dark, creating the romantic impression you will never forget. Apart from the standard route around the historic canals, the cruise includes a visit to the Red Light District. This cruise doesn't offer such "love clichés" as dinner and wine, but it's still romantic and, what's important to some, is cheaper than the other companies' offers. The tour lasts for 90 minutes. You can take an audio guide, which is available in 17 languages. The departure location is at Stadhouderskade 30, opposite the Hard Rock Café.
For those looking for an unusual marriage setting Blue Boat also offers weddings on board. This can be an official wedding ceremony or an after-party. The company is ready to fulfill all your wishes, so please contact them for details.
Hotels near the Hard Rock Café: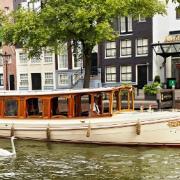 Canal Cruises on Pulitzer's hotel boat. From €38
If you prefer to live a luxurious life, then there is no need to travel far from your hotel for a boat tour. One of the most luxurious hotels in Amsterdam, the Pulitzer, has its own boat "The Tourist" that dates back to the 1920s. Stylishly adorned with leather and marble, this wooden boat was once used for Winston Churchill's cruise around Amsterdam. You can join a group tour that departures daily at 5 pm and lasts for 75 minutes, or rent a boat for a private tour, with rates from €240 per hour. The latter will include champagne, dinner or a waterbourne picnic, depending on your wishes. And don't miss a visit to the hotel's art gallery found in the award-winning gardens and its wine salon found in a former pharmacy. The hotel's located within 25 canal houses between the Prinsengracht and the Keizersgracht.
Private tours on Electric Salon Eboat. From €300 per 2 hours
The electric salon boat called Admiraal Heyn is pretty small, but this has certain advantages, for the boat can get to the places that no bigger boats can. It even passes through the narrowest canals and under the lowest bridges! The boat itself is charming: teak and mahogany structure and some neat details like facet windows and upholstery. Rent a private tour for just the two of you, or organize a small after-wedding party for the company of up to 12 persons. Tours with or without dinner are offered, and you can also take your snacks with you. Want to make your visit more educational? Book an architectural guided tour to the East docks, Eastern harbor area and other points of interest.
Please contact the boat owners on their site to make a reservation.
Getting married with Rent A Boat Amsterdam
Another popular boat cruising company, Rent A Boat, offers an unusual way to entertain your guests during your wedding. The company's boats can be used to get from one location to another while celebrating, or they can serve as an unusual venue for a wedding party. Your guests will definitely remember how they toured Amsterdam on a historic boat that dates back to the early 1900s or a luxurious boat with state-of-the-art facilities.
And for those who simply want to spend some time in a more cultural way, there are various cruise packages offered. Some of those are the packages to the Scheepvaartmuseum (including a visit to the museum) or a Rembrandt House package, Wine Tasting package and others. The company's boats have more than 100 embarking locations in Amsterdam and its suburbs.