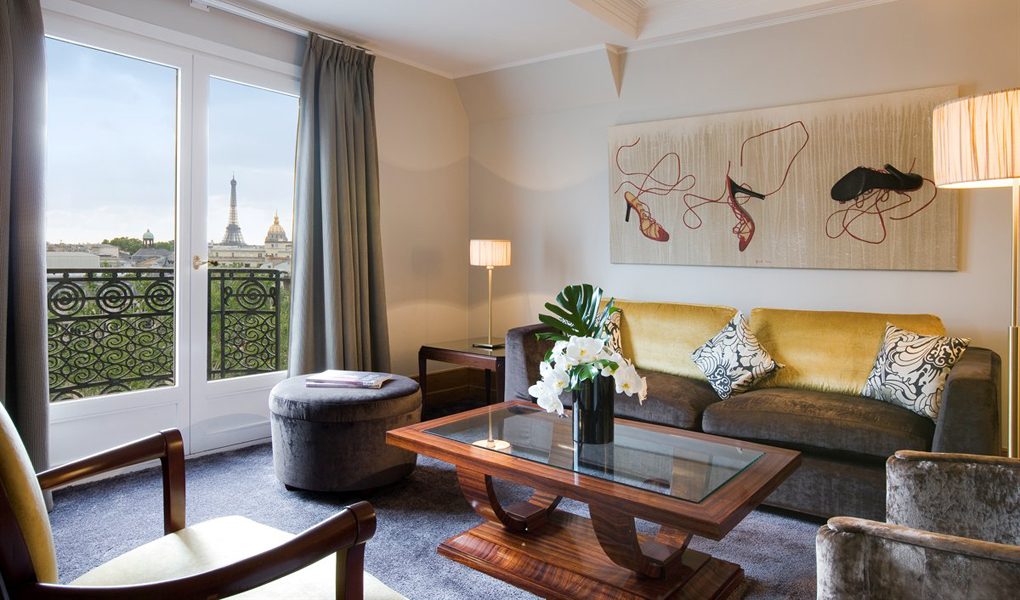 Paris hotels spring offers
The magic of spring is in the air! It's time to enjoy a holiday in one of the most romantic, most charming, artistic and innovative cities in the world – Paris! There are many reasons to visit the French capital during the season, and one of those is the spirit of awakening and rebirth, the atmosphere of joy and love that fills the city air. As for the more practical things, you can enjoy a great number of exciting events taking place in Paris in spring: Cinema du Reel and Festival Artdanthe, Festival de l'Imaginaire, Paris Marathon and of course Easter! Visiting Paris is so much more convenient if you book one of the special offers available at local hotels. See what Paris hotels offer you this spring.
Best spring offers at Paris hotels
Paris Marathon offer at Le Meridien Etoile 4*. From €249
A must-visit event for every sporty traveler going to Paris this season is Paris Marathon which takes place April 6th. The annual event is a great opportunity to combine fitness and sightseeing as its route runs from the famous Avenue des Champs-Elysees, past the Louvre, Place de la Concorde, Place de la Bastille and finishes at the Avenue Foch. The registration fee varies depending on how early you register and starts at €70. To help you get ready for the run, the luxurious Le Meridien Etoile hotel launched the special Paris Marathon package that includes fitness breakfast and other useful extras. The hotel is located pretty close both to the Avenue des Champs-Elysees and Avenue Foch, the starting and the finishing points of the marathon.
The Paris Marathon offer includes:
-          An executive room accommodation plus free internet
-          In-room fitness breakfast per person. The breakfast includes low fat yogurt, corn flakes, muesli, fresh fruit salad, fresh juice and other products that help you keep fit
-          A dinner at the Jazz Club, Pasta Party dinner (including several types of pasta), fruit salad and a soft drink
-          Late check-out at 4 p.m.
-          You can also visit the hotel's Fitness Center opened 27/7 and its in-room Spa
The offer can be booked only until April 5th and is available for stays between April 4th 2014 and April 8th 2014.
Easter Break in Paris offer at Le Meurice 5*. From €760
As you known, Easter (falling on April 20th in 2014) is one of the most family-oriented international holidays. The prestigious Le Meurice hotel, boasting charming views on the Tuileries Garden and Philippe Starck-designed rooms, will make all the members of your family happy this Easter. The hotel's Easter Break offer includes chocolate treats for your kids and access to fitness and wellness facilities for the exhausted grown-ups. Spend these spring holidays in one of the most elegant Paris hotels, Le Meurice, with its Louis XVI style, Michelin-starred restaurant and location between the Louvre and the Place de la Concorde.
The Easter Break offer includes:
-          Guaranteed room upgrade
-          American breakfast
-          A bottle of champagne upon arrival
-          A chocolate surprise and a special gift for kids
-          Access to hammam, sauna and fitness centre
The offer is valid April 1st – 22nd 2014.
Esprit Rive Gauche offer at Hotel Lutetia 4*. From €220
Due to its excellent location and sophisticated style, Hotel Lutetia is a perfectbase from which to explore the fashionable Saint-Germain-des-Pres district, with its artistic background, cozy cafes and fashion boutiques. Besides, built in 1910, the hotel is one of the first examples of the Art Deco style in the city, and this is another reason to choose it for a truly Parisian experience. Lutetia's Esprit Rive Gauche offer will add some luxury and benefit to your stay in Paris. Depending on the number of nights booked, you get discounts on accommodation, a bottle of champagne or a Left Bank Spirit welcome pack.
More information about Esprit Rive Gauche offer:
-          10% and 15% discounts when booking 3 and 4 nights at the hotel respectively
-          Book 5 nights pay for 4 only, stay 6 nights pay for 5, stay 7 nights pay for 6
-          Each package includes Centennial coffee table book and a Left Bank Spirit welcome pack
-          You also get a bottle of Taittinger Champagne when booking 6 or 7 nights at the hotel
4 Nights for the Price of 3 at Hotel Esprit Saint Germain 5*. From €1290 in a Superior Room
Want to enjoy more value when staying in Paris? Then hurry up to book this offer at Esprit Saint Germain hotel. Even the most luxurious Paris hotels strive to attract their guests with lower rates! The small but charming boutique hotel Esprit Saint Germain on the Left Bank offers only 28 rooms, each of them designed with love and taste. The cozy library and fireplace lounges, two bars and a meeting room for up to 15 guests provide a perfect setting for a rest in a truly Parisian ambience or a private meeting in an unusual atmosphere.
The 4 nights promotion at the hotel includes:
-          Free 4th night when booking 3 consecutive nights at the hotel. Accommodation for 2 guests
-          Daily complimentary American Breakfast
-          Complimentary bar in the hotel's lobby. Champagne, wines, spirits included.
-          Rates: €1290 for a Superior room and €1530 in a Deluxe room
The offer is valid until March 31st, 2014.
The Epicurean package at Hotel Prince De Galles 5*. From €1295
A first-timer or an experienced Paris visitor, you'll definitely want to try more of the renowned French dishes. Indeed, apart from being "the capital of love" and "the capital of fashion", Paris also boasts the title of the culinary capital. French cuisine is refined, high class and pretty unusual, for some. Want to get a better understanding of the French culinary traditions? Take advantage of this culinary offer available at Prince De Galles hotel not only in spring, but throughout the year. Paired with the luxurious accommodation at the hotel, the Epicurean package will be a good complement to your romantic or a family spring trip to Paris. The hotel is located on Avenue George V, putting you right in the middle of action in the French capital.
The Epicurean package includes:
-          A minimum 2-night stay at the hotel
-          Daily breakfast at the hotel's restaurant
-          Welcome amenities
-          Special course tasting menu with the Executive Chef
-          Wine and Cheese tasting and pairing lesson in the private cellar
-          Late check-out at 4 p.m.
Spring Collection offer at Sofitel Hotels. From €231. Up to 30% discounts
Another way to enjoy elegant accommodation and save on your room rate while staying in Paris is to book this Spring Collection offer currently available at Sofitel hotels around the world. There are three brand's properties participating in the promotion, each with its own character and style: Hotel Scribe Paris, Sofitel Paris Le Faubourg and Sofitel Paris Arc De Triomphe. Besides,each of them enjoys convenient location in a prestigious Paris district: Paris Opera district near the Vendome (Scribe), close to the Champs Elysees (Le Faubourg) or a couple of steps from Arc De Triomphe (Sofitel Paris Arc De Triomphe). So choose the one you like most, and enjoy great discounts!
The Spring Collection offer by Sofitel includes:
-          A 25% discount when booking 3 or 4 nights, or 30% off your rate when booking 5, 6 or 7 nights
-          A welcome gift of seasonal flowers or fruit in your room upon arrival
-          Late check-out at 3 p.m.