Luxury hotels for wedding celebrations in Amsterdam
---
Amsterdam – the perfect place for weddings
Wedding is one of the most important events in every person's life. That's why this event must be organized in a way to make you remember it forever. The venue and the city where you celebrate it play probably the most important role in your wedding preparations.
You will be surprised with how many opportunities for an unforgettable wedding Amsterdam has. Charming canals, green gardens, royal palaces and first class restaurants provide a perfect setting for the most important party of your life. There are also a great number of gorgeous historic buildings that are nowadays occupied by hotels. Located mainly in the city centre, these hotels are the best venues for your wedding celebrations. They offer sparkling interiors, grandiose or more intimate event spaces, wedding organization services and extensive packages that include everything you need for memorable celebrations. Moreover, many of them have wellness facilities which are perfect for relaxation after a fussy day.
Here are some luxury hotels that are perfect for wedding celebrations.
Hotels that provide luxury wedding venues in Amsterdam
If you are a fan of atmospheric accommodation and want to have your marriage ceremony behind the walls of such venue, you can't find a better place than Grand Hotel Amrath. The hotel is exceptional in every respect: the building that breathes with history, spectacular architecture and inner decoration, views over the canals and river IJ and a choice of event rooms for your party. The "Yes, I Do" package will be a perfect end of your wedding day. Choose Grand Hotel Amrath for:
An atmospheric venue with beautiful architectural details in Art Deco style

Historic past: Amrath occupies the well-known Scheepvaarthuis – a former Shipping House and a perfect example of Amsterdam School architectural style

Rooms with canal views create a romantic atmosphere

Free mini bar – a pleasant extra to continue partying

A great choice of facilities for your wedding: seven meeting rooms, including the one where shipping barons had their meetings, first class restaurant Seven Seas and a wellness centre for relaxation after a hectic day
If you don't want your guests to feel uncomfortable getting from the Central Station to the hotel, then your wedding spot is NH Barbizon Palace. All the points of interest are at your doorsteps, which is very convenient if you plan a rich cultural programme for your guests. Get ready for the wedding in a historic atmosphere: NH Barbizon Palace occupies a group of 17-century houses, while its St. Olof Chapel dates back to the 15 century. Romantic boat tours around Amsterdam start at the hotel's own boat landing dock. This is an exclusive feature that you won't find in other Amsterdam hotels. On the whole, the place is very stylish and provides a great setting for your "I Do" confessions. Its advantages are:
Location in the heart of the city and opposite the Central Station

Historic space that can be used for your nuptials

Romantic boat tours that start at the hotel's own landing dock on a quiet canal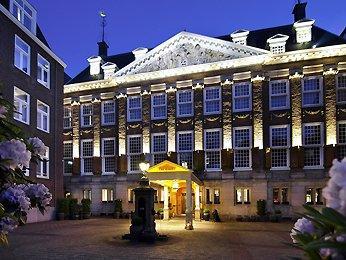 For a 100% Royal wedding, head to Sofitel Legend the Grand Hotel. Feel yourself a Queen: after all, there is a good reason why Queen Beatrix chose the hotel's Council Chamber for her wedding! From very beginning Sofitel played host to royalties and people of importance, including the French Queen Maria de Medici. Location in a distance from the centre is great if you prefer privacy. There are numerous event rooms on the ground, first and second floors of the hotel, including the historic ones. But if you want to celebrate like a King and a Queen, choose the already mentioned Council Chamber or the Marriage Chamber. The latter will enchant you with its stained windows and frescos, although it is not very spacious and hosts up to 20 people only. The 20 nearest and dearest ones. Welcome to Sofitel the Grand for:
Celebrations in rooms where the King and Queen had their wedding

A Horse Carriage tour as an unforgettable romantic experience

A romantic dinner for your dearest friends and relatives in a stunning Marriage Chamber with a balcony

Royal breakfast on the balcony of the Marriage Chamber on the next day

The unforgettable boat tours in a classic saloon boat around the city canals, including the charming old Amsterdam area