Via Veneto area hotels in Rome
Via Veneto district is the perfect place for those who have just one night to spend in Rome. It's located in the city center, offering the variety of restaurants and bars, shops and boutiques and the impressive list of architectural and cultural sights. Everything is within easy reach, so you will not waste your time in buses and trains trying to see as much as possible. Take your time walking through the central streets of Rome, savor the traditional Italian food and delicious cappuccino. Look for unique presents in the local shops and get back to the hotel happy and sated.
The most luxe hotel in this area is definitely Regina Hotel Baglioni . It offers the direct access to the Via Veneto. Don't be surprised meeting here famous actors or music stars, as the hotel is really popular due to its location and the high quality service. The reception works 24/7, so you will experience literally no problems with late arrival or departure.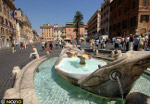 Consider staying near Via Veneto in the Empire Palace Hotel made in contemporary style. The multilingual staff will take you out of any possible language problems. If you're a VIP guest, the limousine luxe service is available; be sure you will get to the airport in royal way.
Opting for luxury stay close to Via Veneto, do not miss hotel Turner with its reasonable 4star pricing. These luxe accommodations placed in 19th century building were once awarded as the best in Rome. The hotel offers sightseeing tours, so you may have the excursion arranges immediately after the check in.