Spa hotels in Villa Borghese, Rome.
Villa Borghese is popular place for a walk. Here you can get in touch with Italian nature, spend your day on the quiet paths forgetting about the crowded city and relaxing with your body and mind. There's also some treat for you in this area, the breathtaking Gallery Borghese offer the set of well-known baroque masterpieces created by Bernini.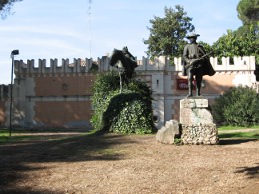 The best terrace in a whole Rome is also located here, so not miss the chance to take a look from it to savor the panoramic view over the city. This place is known as Belvedere Pincio in case you will be searching for it. The closeness of nature brings you to the thought of relaxation, and the best way to relax is definitely SPA.
The best SPA procedures near the Villa Borghese you can get in luxury Parco dei Principi Grand Hotel & SPA. These 5star accommodations are the unique solution for those who crave to avoid the crowded city and to enjoy the quiet stay in the heart of ancient city. This is also the real paradise for those who know what the real SPA should be like. After the procedures take a walk in the private hotel park, dine in the restaurant with special light menu approved by the spa philosophy and relax in the large light halls of the hotel.
Feel free to stay for several nights in the luxury 5star Rome hotels Lord Byron hotel placed close to Villa Borghese. The tranquility of SPA is waiting for you here along with the high quality service and nice decor in the interiors.
The 4star Hotel Beverly Hills near Villa Borghese offers the perfect value for money. Here you can also get qualified SPA service for a reasonable cost.