Trevi Fountain hotels in Rome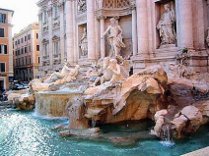 The Trevi Fountain is one of the must-see sights in Rome. The famous creation of the Italian sculptor, it has been drawing people's attention for centuries. Placed in the center of the city, it appears to be the perfect spot to start your sightseeing tour, so do not miss the opportunity to book the hotel room nearby this beauty. The city center offers all the variety of hotels of different rates, so you will definitely find the one near the Trevi Fountain that suits you the most.
Still the best hotels in this area offer traditional meals in their restaurants. This enables you to have a delicious breakfast without leaving the hotel while over viewing the unique Roman architecture and famous Trevi Fountain.
Pay attention to the Albergo Ottocento 4star hotel offering the stylish restaurant "Rossini" with menu full of Italian dishes made by chef. Here you can taste most of the traditional cuisine cooked with all experience to live up to your expectations.
Another 4star luxury Boutique Hotel Trevi offers continental breakfasts on the large terrace on the roof of the building, so you can have your meal and savor the view over the Trevi Fountain and the ancient buildings from above.
In case you're looking for some budget stay, consider the 3star Cecil hotel. Here the panoramic terrace is offered for you to have tasty continental breakfast or order a drink in the bar.
Read also about another best center hotels in Rome and hotels near Piazza Siena Art Cafe night club.