Amsterdam hotels with parking
If you prefer traveling by car, you may face one problem that is typical for many European capitals – lack of parking spaces. However, any problem has its solution. Many Amsterdam hotels, even those located in the city centre, have their own spacious parking facilities or offer valet parking. So if you think it over in advance, you'll be lucky to keep your car in a safe and convenient place. Here is the list of properties that possess their own car parking facilities.
Amsterdam hotels with spacious and safe parking facilities
Hotel Okura 5*. Parking fee €35 per day
Okura is one of the most prestigious and exclusive hotels in Amsterdam. It has everything for a perfect rest after your trip: Michelin-starred restaurants, spa facilities with an Eastern touch, special relaxation programmes and comfortable atmospheric rooms. But the most important thing for you as a driver is of course the hotel's parking for 160 cars. The parking fee is € 4 per hour or € 35 per 24 hours.

The hotel's other distinguishing features are:
Owners of electrical cars will find 2 electrical power charger points at the hotel's garage
Location close to the RAI Congress Centre is perfect for business travelers. Still, the city centre is easily accessible
For event organizers there are a total of 19 meeting rooms that accommodate up to 1500 guests
A choice of relaxation programmes for a rest after a long trip, including the JetLag programme
Moevenpick Hotel Amsterdam City Centre 4*. Parking fee €48 per day
Moevenpick hotel enjoys a scenic location by the harbor and excellent transportation links with any city area. This is basically a business hotel, however, due to the excellent choice of services any type of traveler can stay here. Those who came to Amsterdam by car can take advantage of the hotel's spacious parking with as many as 550 parking spaces. The fee is around €48 per day.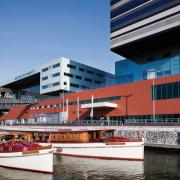 The hotel's main advantages are:
Walking distance to the Centraal Station. Too lazy to walk? Use the hotel's free shuttle bus which goes to the station every 30 minutes
Picturesque views over the water edge
Complimentary access to the hotel's wellness facilities
There is also a P+R Zeeburg parking available at the other side of the Piet Hein tunnel
NH Grand Hotel Krasnapolsky 5*. Parking fee €50 per day
Looking for something more central? You won't find a better location than the one Grand Hotel Krasnapolsky offers. This luxurious hotel occupies a historic building on the Dam Square, with views on the National Monument from its windows. Drivers can leave their cars at the hotel's spacious parking with 250 parking lots. Valet parking is available as well.
You will love the hotel for:
Luxurious rooms, including one split-level suite and 35 fully equipped apartments perfect for longer stays
All the main city attractions at your doorsteps
One of the largest conference spaces in the country: 22 meeting rooms for up to 1500 persons
A choice of exclusive dining options: breakfasts in the stunning Winter Garden, best liqueurs at the Wynand Fockink Distillery that dates back to the 17th century, delicious teas at the Grand Café Mathilde
Westcord Art Hotel Amsterdam 4*. Parking fee €22.50 per day
Want a quieter location and safe car parking? Westcord Art Hotel will provide you with both. The hotel is situated in a peaceful area by the Westerpark in about 10 minutes ride to the city centre. There are some good examples of Amsterdam School architecture to see in the area. The hotel prides itself upon having designer rooms and even a gallery exhibiting works by the Dutch artist Herman Brood.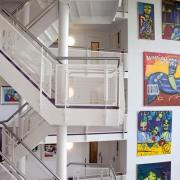 Highly recommended for:
An underground parking for up to 50 cars. The fee is relatively low - €22.50 per 24 hours
Frequent bus transportation to the city centre. The bus stop is opposite the hotel
For business there are 4 meeting rooms and 4 boardrooms available. For leisure visit the public swimming pool on-site
Herman Brood Art Suite is a 100% unique experience. The room features drawings by the famous Dutch artist, separate sleeping area and a glass bathroom with Jacuzzi
Remco Hotel Amsterdam City West 3*. Parking: free
Remco hotel is the perfect choice for those who don't want to pay for their parking. The hotel is located in a quiet area in the Western part of Amsterdam - a great spot for a stay with family and peaceful walks at the nearby Sloterpark. Leave your car at the hotel and take a bus for a 30-minute trip to the city centre. Remco is a typical 3 star hotel, with no frills.
However, there are some things that make it a special place:
Rooms among the most spacious ones in Amsterdam
Location in just 15 minutes from the airport, the World Trade Center and the RAI Congress Centre
Relax at the hotel's Brasserie, bar with pool table or a terrace with garden
One child under 4 years stays in parents' room for free. There is also a playroom with children's movies, toys and Wii game console available
Hotel Arena 4*. Parking: free from 11 am till 4 pm
Arena is an atmospheric hotel housed in a former 19th century orphanage, with traces of its historic past found throughout the building: high ceilings, beautiful ornaments and staircases. Light colours, natural materials and wooden floors create a comfortable atmosphere in the hotel's rooms. The location is great to discover some out-of-the-centre sights such as the Oosterpark, the Artis Zoo, the Tropenmuseum and the Carre Theatre.
The main reasons to choose Hotel Arena:
The hotel's own parking costs €25 per 24 hours. Book a parking space in advance and get €2.50 off this rate
Free parking in combination with lunch. Enjoy complimentary parking plus lunch from Monday till Sunday from 11.00 am till 4.00 pm. The offer is valid until December 31st 2013
Leave your car at the hotel and travel around the city on your bike. Bike rental costs €16 per person per day
The hotel's Club housed in the chapel of a former church is the magnet for the party heads