Hotels in Amsterdam for stag parties
When organizing your stag or hen party in another city, you have to find the place that would be perfect for the night of fun. And this you will find in Amsterdam – one of the most popular stag party destinations. The city is known for its rich nightlife, tolerant soft drug laws and of course the famous Red Light District. You also might have some specific requirements to your accommodation like rooms that would accommodate the whole company, youthful atmosphere and location close to the city's nightlife and the Red Light District. We've got some ideas that would help you make the right choice.
Best hotels for a stag party in Amsterdam
Heart of Amsterdam Hostel 2*. From €29
If you want to be in the middle of action, that is right at the Red Light District, the Heart of Amsterdam hostel is your number one choice. This is a chic and popular place that offers inexpensive rooms with unique atmosphere. Each is designed in a movie theme, so you can choose an American Beauty, Pulp Fiction, Sin City or Kill Bill room.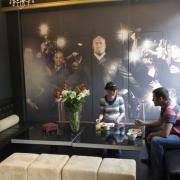 You and your friends will also be impressed by these hotel features:
Rooms for up to 12 persons. The whole company can stay in one room
Special features like unique designer beds, personal safes, lockers, electric sockets and lights in every room
Just 10 minutes from the Leidseplein and its rich nightlife. Lots of bars and coffeeshops in the area
There is a smoking garden at the back of hotel
White Tulip Hostel 1*. From €14
White Tulip is a typical Amsterdam hostel, however, there are two things that make it perfect for your stag party: location in the Red Light District and its own pub. Head here for the atmosphere of fun. The hostel rooms accommodate up to 10 persons. There are private and dormitory rooms with or without facilities available.
Choose the hostel for:
The Rembrandplein, Leidseplein, pubs, clubs and attractions like the Marihuana and Hemp Museum in a walking distance
Slaínte Irish pub on the hotel's first floor is a great spot for your party. Happy hours from Sunday evening until Friday afternoon from 7 till 8 pm and from 3 till 4 pm: second bottle of Heineken for free!
20% discount on food and drinks at the pub and 10% discount at Waffles and Crepes (20 minutes from the hostel) for all the White Tulip guests
Lloyd Hotel and Cultural Embassy 3*. From €58
If you want a completely original hotel for your stag weekend and don't mind little travel to the city centre, we advise you Lloyd Hotel. History, rich cultural life and a choice of rooms to suite any taste are the hotel's main characteristic features. Location is outside the centre, still, there is a lot to see in the area. Besides, the Leidseplein is only 10 minutes from the hotel.
The features that you would find useful are:
Lloyd is the world's first hotel to offer 1 to 5 star rooms. Rates vary accordingly.
3 to 5 star rooms can accommodate extra beds at an additional charge
Lunch menus and drinks packages start at €10 per person. Choose the one that suits your appetite
The fact that the hotel used to be a prison will probably add some excitement to your stay
Tired of partying? Try something different and visit one of the numerous cultural events organized at the hotel
Swissotel Amsterdam 4*. From €157
Those who need more than just a bed to sleep are welcome to the stylish Swissotel. The main advantage of the hotel is its location right by the Dam Square, which means that you can get anywhere you want to, be it the Red Light District, the nightlife at the Rembrandtplein or the Amsterdam Dungeons – interactive shows that tell you about executions, plagues, witch burnings and other horrific things.
The hotel suits your bachelor party because of:
Location close to the city entertainment: Kadinsky coffeeshop , the Beertemple bar, In De Wildeman bar with hundreds of beer types, Club Stereo and Supperclub are just a few examples of places to visit
The nearby Amsterdam Dungeons organizes stag parties. These usually include visits to the shows at the Dungeons, tours around the Red Light District and a drinking tour
Rooms are sound proof and come equipped with Nespresso machines that are free to use. Perfect for the afterparty rest
Hotel Tourist Inn Amsterdam 1*. From €20
But let's get back to cheaper hotels. Tourist Inn is a perfect variant for the young travelers and companies of friends who need just a bed in a comfortable atmosphere plus proximity to local entertainment. Fantastic location on Singel canal, in a walking distance from the Red Light District, and rooms for up to 6 people are a great start for partying.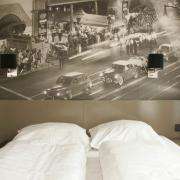 Also recommended for:
An opportunity to rent a bed for €20 only
Double rooms have been renovated recently and boast soundproof walls
Free public computers with webcams available in the lobby. WiFi is also included in your room rate
Free luggage store facilities
Nice breakfast also included in room rate