Cannabis smoking in Amsterdam. Rules to follow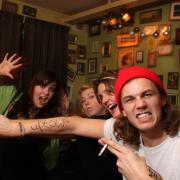 Please note the following article is for information purposes only and does not intend to propagandize for the use of any drugs.
Let's face it: despite its rich culture, beautiful canals and a vast choice of things to do both for the grown-ups and kids, there is still one major thing that people associate the Netherlands, and Amsterdam in particular, with. Hemp smoking. And the Red Light District.
Because of the Netherlands' image of one of the most tolerant countries in the world, tourists often fall into an error that anything is allowed here. This refers to soft drugs as well. Many people outside the Netherlands think that they can buy and smoke as much as they want and anywhere they want to, or even take some hash back home. Well, the truth is, there are much more restrictions than one can expect. And to help you be a good guest and follow all the rules, we have written this article.
Firstly, please remember that legislation changes constantly, so you might need to find some more recent information on the Dutch drug policy before going to the Netherlands. Now, several things that must be mentioned in particular.
Where to smoke?
Each Dutch city has its own smoking policy. Back in 2011, due to the complaints from the neighboring countries, Dutch government took some measures to prevent drug tourism. So many coffeeshops in the Southern provinces of the Netherlands required hemp buyers to show the so-called weedpasses which were given to locals only. Nowadays these cards aren't used anymore. But still don't be surprised if you find that drug policy differs in various cities.
Amsterdam has always been the most tolerant of the Dutch cities. Still, you can't smoke (neither tobacco, nor weed) in public. The only place to smoke at is a coffeeshop. And there are plenty of those in Amsterdam.
What am I not allowed to do?
You cannot buy and smoke pot if you're under 18
You cannot smoke in public places
Importing and exporting of any kind of drugs is prosecuted
You are not allowed to have more than 5 grams of soft drugs (called "for the personal use") with you
You cannot plant hemp at home
Speaking of the last two points, they refer to the so-called gedoogbeleid (tolerance policy). Possession of soft drugs is not allowed, however, you will not be prosecuted if you have no more than 5 grams with you, and if you give it up when found by the police. The same about hemp planting. No more than 5 plants.
Smoking and driving
According to local legislation, you cannot drive while under the influence of any drug that affects your driving ability. Therefore, if you got into a traffic accident after smoking, expect big trouble, for the police has the right to do the drug test. We advice you being careful and choosing a walking trip around Amsterdam after smoking instead.
Coffeeshops
First of all, don't confuse the coffeeshops with cafes, or coffee houses (koffiehuis), the places that serve coffee and desserts. Coffeeshops are the only places for hemp smoking in Amsterdam, and there are more than 200 of them found in the city. So you will surely find one close to your place of accommodation, especially if you stay close to De Wallen, the famous Red Light District.
Coffeeshops operating in the Netherlands must have a special license, the green and white paper often displayed in their windows. And while they are not allowed to advertise, you can easily recognize them by the pictures of cannabis or Bob Marley outside, and of course the typical smell hovering around the place.
Most coffeeshops sell food and drinks along with hemp, which is available for order from a special menu, usually at the counter. Bringing pot with you is permitted to, but it would be polite if you also ordered something, at least a dessert or tea, at the coffeeshop you came to.
Don't be too shy if you're a first-timer at smoking. The barmen will eagerly provide you with all the necessary information about smoking, with detailed instructions on what and how to smoke. But remember that the weed served at Dutch coffeeshops is usually stronger than that found elsewhere.
Two other pieces of advice to follow: don't smoke when hungry for you might end up feeling bad, and better not try cannabis foods if you're a first-timer, for they might be pretty strong.
Coffeeshops and smoking rooms can be found not only as separate establishments, but also as part of local hostels. Here are some examples.
The Bulldog hotel, found in the Red Light District, is one of the most popular hostels/coffeeshops not only in the city, but also outside Amsterdam. It is actually a part of Bulldog coffeeshop chain that also has a hotel in Canada.
The Flying Pig Downtown and the Flying Pig Uptown hostels have their smoking areas where weed smoking is allowed
There is also a large smoking room at the artistic Winston hotel/hostel, with a popular nightclub on-site