Rome hotels at the bank of Fiume Tevere river.
The famous river Fiume Tevere is almost dividing the city on two parts. A lot of historical sights are situated on its banks, as well as many restaurants, shops and museums found their place near the river.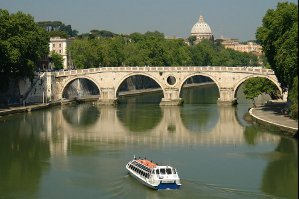 The view over Fiume Tevere is really breathtaking, thus you may opt to stay in one of the hotels with the windows coming to the river side. Some of the hotels located in this area are offering tremendous discounts for group accommodations. Special services and offers are also available.
One of the most recognizable hotels is the 5star luxury Mellini hotel. It's located nearby the Spanish Steps and close to the famous St. Peter's Cathedral. The hotel offers discounts for the groups. It you're travelling as tourists, the excursion can be arranged for you, all you need is to reserve it on the front desk of the hotel. If you have the business group and need to run the conference, feel free to contact the hotel staff about it and get the needed meeting room with all the facilities including phone, fax, flipchart, LCD screen and the translator if needed.
Another suitable option is hotel Santa Maria. Here your group may inhabit double, triple or quadruple rooms depending on the people quantity. Several luxury suits are also available. The hotel offers the sightseeing trips for the hotel guests.
The Albergo del Senato hotel offers 24 multilingual staff on the concierge desk, that will make all the needed arrangements for your group, starting from the tour to the bank of Fiume Tevere and ending up with any business facilities your group may need.