Dining out in Amsterdam: best Dutch food restaurants
Metworst and stamppot, herring and Dutch cheese, syrup waffles and pancakes… It's so hard to resist the temptation and not become a glutton when you're in the Netherlands! Dutch food is known for its excellent nutritive value, fresh natural ingredients and delicious taste. But if you want a memorable culinary adventure, it's also very important to choose the right restaurant. Well, luckily, they pay much attention to their culinary traditions in Amsterdam. The choice of dining venues that offer Dutch dishes is great, and today we want to advice you the best of those.
Moeders. Rozengracht 251
Moeders (meaning "Mothers") is a true shelter for the homesick tourists and those searching for an inviting homely atmosphere. It's a small and cozy place decorated with hundreds of pictures of mothers, old-fashioned furniture and tableware that doesn't match. But the best thing about the restaurant is the opportunity to taste classic Dutch dishes that are popular with locals and tourists alike: green pea soup with bacon and sausage, vegetable salads, stamppot with mashed potatoes, vegetables and sausages and of course delicious Dutch desserts. A traditional 4-course dinner will cost you no more than €20, and that's another thing that will conquer your heart.
Hotels near the Moeders restaurant: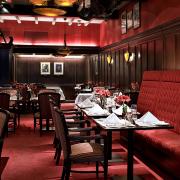 Restaurant De Roode Leeuw. Hotel Amsterdam De Roode Leeuw 4*. Damrak 93-94
If you appreciate a more refined atmosphere and don't want to travel far from your hotel, the best place we can recommend you is the Restaurant De Roode Leeuw sitting in the atmospheric Hotel Amsterdam just a few steps from Dam Square. Dating back to the 1911, the restaurant will give you a good understanding of what the Dutch food tastes like when it's cooked by professionals. The menu features traditional stamppot, pea soup and herring with beetroot salad along with international offers like the Caesar salad and roasted duck. The restaurant atmosphere is traditionally Dutch, with brown and red colour scheme, wood decorations and dim light.
Other hotels close to the restaurant:
Restaurant het Zwaantje. Berenstraat 12
Restaurant het Zwaantje, awarded with Tripadvisor's Certificate of Excellence, is favoured by locals and Amsterdam guests for its friendly welcome, cozy atmosphere, curious design touches (such as the Persian carpets used instead of table cloths and kettles hanging from the ceiling) and, of course, the choice of traditional home-made Dutch dishes. The restaurant is pretty small, but that only makes it more welcoming. Try out the fresh fish soup, steak prepared according to a traditional Dutch recipe, pancakes with vanilla ice cream and an apple pie with cinnamon cream. One great advantage of the restaurant is its location in De 9 Straatjes ("The Nine Streets") shopping area, so you can have a good rest here after your shopping spree. Advance reservations are recommended.
Hotels close to the Restaurant het Zwaantje:
Hotel Pulitzer 5*
The Dylan 5*
Ambassade 4*
Brasserie 'De Poort'. Hotel Die Port Van Cleve 4*. Nieuwezijds Voorburgwal 176-180
Another hotel restaurant that you won't regret visiting is "Die Poort" at Die Port Van Cleve Hotel. Elegant Dutch-style interiors with lots of wood and light, excellent service, traditional Dutch dishes prepared of seasonal ingredients and history dating back to 1870 are the restaurant's main characteristic features. The steaks are served in an original manner: each of them is numbered and has its own certificate. The menu includes such specialties as the fish soup with Dutch shrimps, wild duckling and macaroon parfait. By the way, there is also the bar "De Blauwe Parade" known for its 1887 blue tile Delft fresco located within the hotel. The bar's Jenever and liquor tasting ceremony is a must for every fan of good high quality hot drinks.
Other hotels close to the Brasserie 'De Poort':
Swissotel Amsterdam 4*
Hotel Amsterdam De Roode Leeuw 4*
Restaurant Greetje. Peperstraat 23-25
Welcome to the elegant and old-fashioned Restaurant Greetje which is named after the owner's mother. Unlike the previous venues, Greetje has a more airy feeling thanks to the white wallpapers and lots of light coming from the restaurant windows. At the same time, wallpaper patterns, dark wood furniture and black-and-white pictures hanging on the walls help to create the feeling of a traditional Dining room. And of course, much attention is paid to cooking. At the Greetje you will meet the long-forgotten dishes cooked with fresh market ingredients: sandwich with Frisian sugarbread, grilled veal loin, the selection of Dutch cheeses and an extensive wine list. Enjoy stunning views on the Montelbaanse Tower while having the dinner of your life. The restaurant is also the proud owner of Tripadvisor's Certificate of Excellence 2013.
Hotels near the Restaurant Greetje: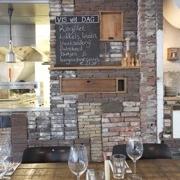 Restaurant Wilde Zwijnen. Javaplein 23
Despite its location outside the city centre in the Indische Buurt neighbourhood (the eastern part of Amsterdam), Wilde Zwijnen is a must-visit restaurant if you want to discover contemporary Dutch flavours in an unusual setting. White walls with exposed brick, raw wood tables and light bulbs create an industrial but relaxed atmosphere. Since the name of the restaurant is translated as the "wild boars", tasting the restaurant's pork dishes seems to be a logical step. In the whole, the restaurant focuses on fresh seasonal ingredients, including vegetables such as celery, cauliflower, potato and cabbage. A surprise menu is available for those who like to be impressed. Again, awarded with Tripadvisor's Certificate of Excellence.
Hotels near the restaurant Wilde Zwijnen:
Restaurant 'd Vijf Vlieghen. Spuistraat 294-302
Want something classically Dutch, artistic and high-class? Restaurant 'd Vijf Vlieghen would be your best choice. Located in a touristy area next to the 9 Streets district, the restaurant is comprised of nine dining rooms within five 17th-century houses. Original Rembrandt etchings, handmade glassware and of course lots of wood decorate the place, creating a historic feel. The restaurant's food is characterized as "the New Dutch Kitchen", meaning that traditional Dutch dishes are cooked with a modern twist. As usual, lots of attention is paid to fish and vegetables. By the way, the restaurant is a part of the NH Group which also owns several NH Hotels in the city (Hotel Krasnapolsky, Barbizon Palace and NH Schiller, to name a few).
Hotels near 'd Vijf Vlieghen:
Pannenkoekenhuis Upstairs. Grimburgwal 2
Tired of pompous high-class restaurants? Check out the Pannenkoekenhuis Upstairs – one of the best places in the city for Dutch pancakes. Unlike their American variant, the Dutch pancakes, or pannenkoeken, are thinner and larger, with sweet or savoury toppings. The Pannenkoekenhuis Upstairs is located on the 2nd floor of the house that dates back to 1539. Climb up the steep staircase, and you'll get into a dining room with only four tables available and a hundred of teapots hanging from the ceiling. Pancakes cost approximately 6 to 9 Euros. Perhaps not the cheapest snack variant, but definitely worth trying.
Hotels near the Pannenkoekenhuis Upstairs:
Sofitel Legend the Grand Amsterdam 5*