Uncrowded places to stay in Rome.
Districts with less traffic are popular among tourists who are traveling on their own car of are going to rent one during their stay in Roma. The streets of Italian capital are usually crowded with traffic, especially if you're in city center. That's why these tourists look for the districts with less traffic. This location is also important for people using the over-ground transport like trams, buses etc. There's nothing worse then to get into traffic jam in the evening when all you want is to get to the hotel room quickly to get some rest.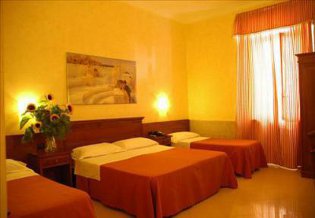 Looking for the hotel in the district with less traffic, pay attention to the budget 3star hotel Luciani which is located close to Termini with many free roads around. All 50 rooms are equipped with TV, phone and air conditioners. The hotel is known for its reasonable prices and special last minutes offers you can get in winter season.
Hotel Cassia offers all the basic amenities of 3star hotel and is also located in the district with less traffic. The northern area of the city is quiet and green, the real heaven on earth for those who search for a serene relaxation. Still the city center is within easy reach, providing all the needed transport.
Another 3star hotel in the district with less traffic is true value for money known as Veio Park hotel. It's located close to Cassia and offers easy access to the city center by the local transport joint. The Veio Park is close and waiting for you to go for a walk through the shadowed alleys.