Cycling in Amsterdam. What to start with?
You've probably heard a lot about how bicycle-friendly Amsterdam is. In fact, whatever the reason of your visit to this city is, you have all the chances to end up riding around Amsterdam on a bike. After all, there is a good reason why most Amsterdamers choose it as their main way of traveling. They even say that there are more bikes in Amsterdam than the citizens.
Amsterdam provides you with all the conditions for a comfortable bike ride: the long and well-maintained net of cycling paths that covers 400 kilometers, a number of traffic-free streets, lots of bicycle racks, guarded bicycle storage garages and of course lots of bike rental shops. Many tourists prefer to move around the city on a bike, just like the locals do. This especially refers to the lazy ones who want to get from one attraction to another in a short time and those who came to Amsterdam by car. The latter can leave their cars at a car park somewhere outside the city centre (parking in the centre is expensive) and take a bike to see the beauties of Amsterdam.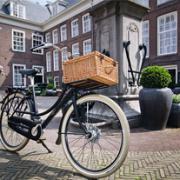 Where to get a bike?
As mentioned before, the list of bike rental companies in the city is extensive. The most popular ones are MacBike, Yellow Bike, Bike City, Damstraat Rent-a-Bike and Mike's Bike. The stops are spread all around the city, including the most convenient locations right in the centre. For example, Rent-a-Bike offers bike rental at its shop by the Dam Square, Yellow Bike has 2 rental shops in a walking distance from the Centraal Station and Mac Bike provides rental by the Centraal Station, Leidseplein, Waterlooplein and Marnixstraat. Bike repair services and garages are also found throughout the city.
There is truly a great choice of bikes offered, from child bikes or tandems to city bikes, cargo bikes, electric bikes and what not. Price depends on the bicycle type, but the average cost is around €10 per 24 hours. We also advice you to buy the I Amsterdam card as some companies offer discounts to the card holders.
Central hotels close to bike rental shops:
Doubletree By Hilton Amsterdam Centraal Station 4*
Most Amsterdam hotels are ready to provide you with information on cycling around the city or even offer bike rental services and special packages that combine accommodation, bike rental and some pleasant extras like a city map. We're sure that wherever you stay, there'll be bicycle rental offered. But here are some hotel examples anyway:
Sofitel 5* hotel offers Grand Bike Tours that combine a bike tour and a picnic
Inntel Hotel Amsterdam Centre 4* offers bike and scooter rental services in partnership with Yellow Bike
Park Hotel 4* offers a Bike Rental Special that includes accommodation, rental and a city map
Hotel Okura 5* offers a package that includes bike rental, accommodation and dinner in its restaurant Le Camelia
Stayokay Amsterdam Vondelpark hostel offers bike rental and enjoys a location within the Vondelpark that is perfect for a leisurely ride
Rules to follow

Safety is above all. So if you don't want to get into trouble, don't act reckless and follow some important rules:

1. Don't forget to lock. Bike theft is widely spread in Amsterdam. You don't want to pay for the bike that was stolen, do you?

2. Respect the others. Stay in your lane. Give a signal if you want to change direction. Don't cycle outside your path (bicycle paths are marked brown). Follow the traffic signs. Be prudent.

3. Use front and back lights at night. This is a strict law.

Where to cycle

With a bike and enough stamina, you can get anywhere in the city. If you don't want to travel alone or can't decide where to go, you can take part in one of the numerous cycling tours offered by bike rental companies. These include cycling around the central attractions or in the countryside, canal tours, windmill tours and even culinary tours. Most companies provide you with guide books, some offer guided tours. Check the offers at the companies' sites. If you are a first time visitor and want something standard, there are several routes we would advise: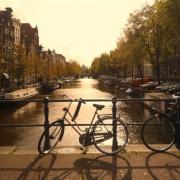 A City Tour around the attractions that define the image of Amsterdam: the harbor, the Jordaan district, the Anne Frank house, the Rijksmuseum, the Vondelpark, the Red Light District. Tours of this kind are offered by many companies, including Yellow Bike and Mike's Bike
A Canal Tour. The most placatory of all the tours. Beautiful canal houses, charming streets and a complete immersion into the spirit of the city
A Countryside Tour. This is a tour that the most romantic souls prefer. Cyclists travel along the Amstel river to see the authentic windmills, peaceful sceneries, villages and fishing boats. Mac Bike has an interesting tour that takes you to the Zaanse Schans neighbourhood where 8 working windmills are found
A ride in a park. There are many beautiful parks in Amsterdam, so if you prefer peaceful atmosphere but don't want to travel far - head to one of those. The Vondelpark is the largest and the most popular one. Other parks that you may want to visit are: Beatrixpark, Amstelpark, Westerpark, Sarphatipark etc.
The spring/summer season is the time to hunt for interesting biking packages offered by Amsterdam hotels. For example, last season you could book the Summer Bicycle Special at Lloyd Hotel and Cultural Embassy 3* – the outstanding hotel and a cultural hub in the Eastern Docklands area. The hotel provided its guests with a map of the most curious architectural attractions of Amsterdam.
Just have a look into the special offers section when booking your hotel.
You will also find some useful information about the Amsterdam hotels cycling offers at amsterdamhotels-discount.com.