Most unique and curious hotels in Amsterdam
With its out-of-the-ordinary image and the collision of the old-time grandeur and audacious tendencies, Amsterdam seems to have been created to impress. No wonder the city is packed with hotels that offer living experiences you aren't likely to forget. Futuristic rooms or the lodgings breathing with history and art, facilities that aren't normally offered at standard properties, rates for every traveler's purse… Sometimes it's hard to choose what would impress you best. Let us try and help you a bit.
The quirkiest and chicest Amsterdam hotels
Qbic Hotel Amsterdam 3*. From €69
We bet that you'd never think an innovative spot like the Qbic could get that cheap: rates at this self-catering hotel start at €69. Rooms have a sort of a nightclub feel, created by the lighting which you can change whenever you're in the mood to. The focus of each room is a "Qubi", a modern cube-shaped living space that combines sleeping and dining areas.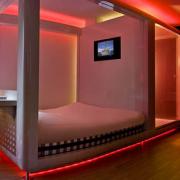 Apart from its design, the hotel has several other advantages:
Location in the World Trade Center very close to the RAI and Schiphol airport is very convenient for business guests. Good transport links too.
Each room is equipped with a super comfortable Hästens bed, LCD TV, high speed internet and even Philippe Starck design features in the bathroom
No dining facilities found on-site, however, there are some nice restaurants and cafes at the WTC. Home-made food is also available at the vending machines
A touch-screen digital kiosk in the lobby provides information about local entertainment and dining
Lloyd Hotel and Cultural Embassy 3*. From €59
Lloyd hotel also stands in the budget hotel segment. But unlike the Qbic, Lloyd offers a lot more varied accommodation options. In fact, this is the only hotel in the world with one to five star rooms offered. You might also be thrilled with the fact that it's located on the former prison's site.
Other reasons to choose Lloyd:
An off the beaten track location in the Eastern Docklands area which has some curious sites to visit: the Dutch Maritime Museum, Science Center NEMO and the Architecture Center Amsterdam
The choice of rooms for everyone, from the money-conscious youngsters to better-off travelers who need an unconventional experience
Visit one of the various exhibitions, reading events and performances organized by the hotel's own cultural centre
Sandton Hotel de Filosoof 3*. From approx. €70
For those who decided it's time for some brain upgrade Hotel de Filosoof is a must. This is a very atmospheric boutique hotel that occupies five 19th century buildings and houses 38 rooms, each dedicated to some philosopher or writer, with colour schemes and decorations that best suit the subject. The philosophical experience goes beyond just quirky rooms as there are also lots of intellectual books to read in the hotel's library.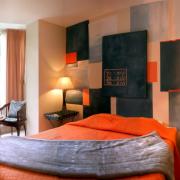 Some reasons to stay at Sandton Hotel de Filosoof:
Choose a philosopher that is spiritually close to you and stay at the room dedicated to this thinker: Aristoteles, Socrates, Confucius and many others. Freud, Da Vinci and Epicus suites recently added
A pleasant spacious garden that stimulates thinking and is a perfect setting for philosophical disputes
The hotel's perfectly positioned for leisurely strolls at the Vondelpark
Library for an educational pastime found on-site
The College Hotel 4*. From €140
The College combines stylish atmosphere of a boutique hotel and a cozy feel created by warm colours and soft lights. A touch of history is also there to impress you: the hotel's stunning brick building in the Amsterdam Zuid area housed a secondary school that opened in 1895. The fact that this is a "teaching hotel" is only a plus as most of the staff are students who don't lack energy and enthusiasm that experienced workers sometimes have.
Be sure to try out these hotel benefits:
Stunning attractions of de Pijp district, every fop's Mecca, and the classic Amsterdam sight - the Museum Quarter
Rooms demonstrating sleek surfaces, Art Nouveau style, warm colours and chic design features
Weekly jazz and Latin music evenings at the hotel's Lounge and Bar with a charming fireplace
The hotel's atmospheric terrace with a cozy lighting is a perfect place to socialize with the other guests
Amstel Botel 3*. From €72
Amstel Botel is perhaps not as striking as the hotels mentioned above. However, a night in a floating hotel could replace a little voyage for the ones who cannot afford something more grandiose. Besides, with Amsterdam being the "floating city", staying a night in a riverside room means truly experiencing the taste of the city. Location across the canal from the Centraal Station also cannot be beaten.
Furthermore, you'll enjoy the following advantages while staying at Amstel Botel:
Waterside and Landside rooms for up to three persons. Free WiFi in every room.
Tasty breakfast and reasonable prices at the hotel's bar
Free ferries to the Centraal Station next to the hotel
Great views on the seaport from the top level rooms
Free parking