What are the cheaper ways of getting around Amsterdam?
Amsterdam is definitely a city that is worth a detailed examination. If your plans for an Amsterdam trip go beyond sitting in an airport or visiting a business event, the information about the cheapest ways to travel around Amsterdam may be really helpful. With a useful advice, you can make your travel considerably less expensive. Here is some information we've got for you.
How to travel around Amsterdam cheaply
Buy a GVB card
GVB is the main public transport company in Amsterdam that operates the city's metro, bus and tram services. To get around the city cheaply, buy one of the several cards offered by the GVB (called the OV-chipkaarts). The best variant for you as a tourist is a day or a multi-day card. Cards can be purchased at the ticket vending machines, some shops, hotels, tobacco kiosks and, finally, from a driver or a tram conductor. The card allows an unlimited travel on metro, buses and trams during the period you choose. The rates in 2013 are:
1 day card - € 7.50
2 days – €12.00
3 days – €16.50
4 days – €21.00
5 days – €26.00
6 days – €29.50
7 days – €32.00
There is a one-hour pass also available, but considering the short period of time it can be used buying this card is not reasonable at all. It costs €2.70 for one hour only.
Note that the card can only be used at metro, trams and buses (including night buses) operated by GVB. You cannot use it at Connexxion shuttle service, for example.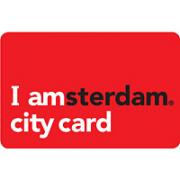 Alternatively, buy the I amsterdam card

The I amsterdam city card is your magic key not only to the main means of public transport, but also to the attractions of Amsterdam. And in this respect, we strongly advise buying it. It includes:
an unlimited use of the GVB transport
a free visit to the city's 38 museums and attractions, including the Artis Royal Zoo, De Nieuwe Kerk, Hermitage Amsterdam, Stedelijk Museum, Van Gogh Museum and many others. See the I Amsterdam site for details
A €2.50 discount on the entrance to the Rijksmuseum
One canal tour with the Blue Boat Company and Holland International canal cruises
A 25% discount at a long list of other attractions, concert spaces, eateries, bike rental services and canal buses
The card fee in 2013 is:
The card valid for 24 hours: €42
For 48 hours: €52
For 72 hours: €62
The I amsterdam card can be purchased at one of the tourist offices, shops, visitor information centres at Schiphol airport, Central station, Leidseplein or Museumplein.
Book a hotel offer that includes I amsterdam card
If you are choosing one of the hotel offers for your Amsterdam stay anyway, why not prefer the one that includes I amsterdam card? Check the special offers section at your hotel's site to see whether this card is included.
Here are some examples of hotel offers that include the I amsterdam card:
Amsterdam 2013 offer at Swissotel Amsterdam 4*. A 24-hour I amsterdam card and a canal voucher for two included. Available only in 2013, please contact the hotel for details about this offer in 2014
Amsterdam Cultural Canal Package at Moevenpick City Centre 4* also includes a 24-hour I amsterdam card, plus free use of the hotel's fitness centre, free shuttle service to the Central Station and free breakfast. From €231
The Perfect Package at Hotel Amsterdam De Roode Leeuw 4* includes a 48-hour card. From approx. €258
Walk on foot in the city centre
The best way to save on public transportation is … not to use transport at all. Instead, use your feet to get to the main and most central attractions. To your pleasure, the historical city centre is pretty compact in size, so anything can be easily reached on foot. The Red Light District is some 10 minutes from the Dam Square, and so is De Jordaan district. The Leidseplein is also easily reachable from the main city square. Ask your hotel concierge for directions.
The most central hotels to start from:
If you travel with a tight budget and are fit enough to get around Amsterdam from the Red Light District, there is a number of good hostels found here:
Flying Pig Downtown Hostel
Act like a local – travel by bike
There is a great number of bike rental shops by various companies found in Amsterdam, and rental is also offered by most hotels. This comes as no surprise since most Amsterdammers prefer to travel around the city by bicycle. The net of bicycle paths is extensive and well-maintained. So if you are in a good shape and not afraid of getting around the city on two wheels – rent a bike. Rental fees depend on the rental time and the type of bike you choose, plus additional payment for insurance. The average cost is around €10 per 24 hours. The most popular bike rental companies are MacBike, Yellow Bike, Bike City, Damstraat Rent-a-Bike and Mike's Bike. Needless to say, €10 is not much for the opportunity to get to the most beautiful parts of the city quickly.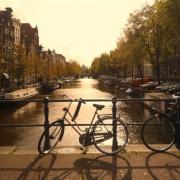 There are also numerous bike rental packages available at Amsterdam hotels. For example:
Please check our "Cycling in Amsterdam" article for more details about cycling in Amsterdam.

Tram, bus and metro for the more remote districts
If you want to go outside the city centre, choose a bus, a tram or metro to get to the more remote city parts. Again, buy an OV-chipkaart or I amsterdam card to save on your travel.
If you arrive to Amsterdam by plane, use metro to get to the city centre from the airport. Lines 51, 53 and 54 start at the Central Station. Metro is opened from 6 am to approximately 12.15 am.
Trams and buses operate from around 6 am until 12.15 am. There are also night buses that run from midnight till approx. 6.30 am.
We do not advise taking a taxi or driving a car to the city centre because of the rates and parking costs that go sky-high. Plus, finding a parking space may turn into a nightmare. Even though some hotels have their own car parks, rates are high. If you need to get to Amsterdam by car anyway, stop somewhere in the suburbs and continue your trip by public transport.