Budget accommodation in the center of Amsterdam – where to stay?
Looking for something cheap, clean and central? Nothing is impossible in Amsterdam! The choice of accommodation in the city is so diverse that you will certainly find something for yourself in any part of the city. Budget travelers who prefer basic amenities to extra luxury are offered a wide range of economy class hotels and hostels to choose from. Many cheap hotels provide you with clean and comfortable rooms combined with high level of service and prices that don't bite. Your room at such hotel can cost you €20 only! No need to travel far as well: there are lots of budget hotels found right in the city centre. Here are some good variants we can suggest you.
Cheap hotels in the centre of Amsterdam
The Corner House Amsterdam 1*. From €50
The Corner House Café & Hotel is your inexpensive shelter right in the centre of Amsterdam. The hotel is situated just 5 minutes from the Dam Square and 15 minutes from the Centraal Station. Taking into account this location, you probably won't find a better value. There are only 20 rooms offered, so the hotel's atmosphere is quieter than that in its bigger brothers. A choice of single to quadruple rooms is available, with or without private facilities.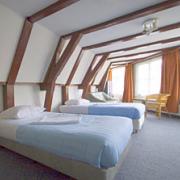 Besides, the hotel has some distinctive features such as:
Clean and comfortable rooms with big windows to enjoy the city views
An authentic bar found on the hotel's premises
10% discounts on breakfasts at the restaurant "Next Door". Typical Continental breakfast with a Dutch cake, eggs and a croissant is served
Fast and free Wi-Fi
Hotel Manofa Amsterdam 1*. From €40
Whatever the reason of your trip to Amsterdam, the location of Hotel Manofa cannot be beaten: just 300 metres from the Centraal station, with easy access to the standard sightseeing spots as well as the Red Light District, coffee shops and nightclubs. Budget rooms are suitable for a stay with your friends after partying. More fastidious guests can book Premium en-suite rooms with private showers, safes and TVs.
Other reasons to choose this hotel are:
Easy travel around the city thanks to the proximity to the Centraal Station
Continental breakfast at the hotel's restaurant included in the room rate
Rooms accommodating up to 8 persons are great for a stay with friends
Inexpensive car parking thanks to hotel's cooperation with Car Hotel Amsterdam. Your car will be picked-up and taken to a private garage for €10 only. The parking itself costs € 20 for 24 hours
Heart of Amsterdam Hostel 2*. From €29
Heart of Amsterdam is probably one of the most singular hostels in Amsterdam. Aimed at the young people and movie fans, it boasts rooms with design inspired by the famous movies: Kill Bill and American Beauty, Pulp Fiction and Sin City. The location is great for those who came to Amsterdam for the Red Light District. Forbidden pleasures at night and charming streets at daytime! The Central Station, Leidseplein with its nightclubs and the Dam Square are also in a walking distance.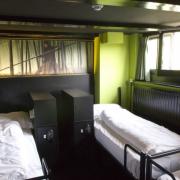 The hotel is usually praised for these peculiar features:
Unique designer beds
Personal lockers, reading lights, electric sockets and 26" flat screen TVs in every room
An atmosphere that encourages you to socialize!
Smoking garden at the back of the hostel
Hotel Tourist Inn Amsterdam 1*. From €20
This is a central hotel that has a super offer for those who just need somewhere to sleep while in Amsterdam: rent a bed for €20 per night only! Location is great if you want to party: the Red Light District is around the corner and there is a coffee shop found close by. Rooms for up to six people offered, but if you want some privacy, stay in the recently renovated Double rooms.
The hotel is recommended for:
Double rooms with double glazing that guarantees silent atmosphere
Free Wi-Fi included in room rates
Nice breakfast is also included in the hotel's room rates: eggs, cheese, ham and good coffee for an excellent start of the day
Book excursions at the reception. The hotel staff will give their useful advice on the best tours
Titus Hotel Amsterdam 1*. From €57
The party-goers will appreciate this hotel's location a few steps from the Leidseplein – the most popular nightlife area in the city. At the same time, if you plan a more varied cultural programme, you will find many touristic sites in a walking distance, including the Rijksmuseum and the Van Gogh Museum. And the last but not least, this is one of the few budget hotels that can boast views over the canal!
Some more reasons to choose Titus:
Lots of places to mingle with the others found close by: nightclubs, shops, bars, cafes, restaurants. Free city maps provided by the hotel
Family rooms cater up to 5 grown-ups and are a good value for money
Telephone, television and safe provided in every room
Tasty Continental breakfast with good choice of products offered