Traditional Italian hotels
The traditional Italian cuisine has several unique features to make it outstanding among the other meals around the world. The most recognizable note is the simple ingredients the chefs tend to put into your plate. Basically most of the dishes can be cooked at home, still the only the professionals know little secrets of how to make the delicious masterpiece out of the ordinary dish. Mostly the meal consists of simple products with strong flavors. The main dish goes with salad made of season vegetables and richly dressed. The salad is always fresh and usually low-calorie, as no meat or eggs are added; only the topping of grated cheese is possible.
Luxury 5star Bernini Bristol offers the authentic traditional menu with various Italian dishes. Here you can taste one of the most common dishes in traditional Italian cuisine called bruschetta, a bad option for the date as it's extremely full of garlic. The famous mozzarella in carrozza is known all around the Europe, still the real taste of it you can get in Italy only. No main meal can go without pasta, and be sure you will choose some, as the list of possibilities is really tremendous.
Consider visiting 4star Hotel Locarno for delicious bucatini all'amatriciana, gnocchi alla romana, spaghetti alla carbonara, bucatini cacio e pepe and more treats the chef of the hotel restaurant is ready to offer.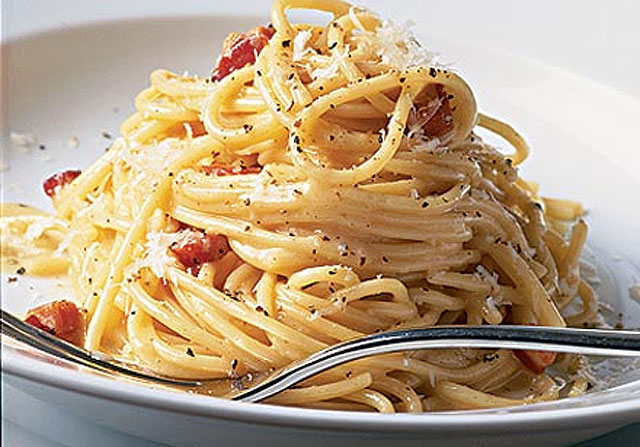 In Hotel Hassler Roma with its 4star quality you may order some special pasta like rigatoni with pajata sauce. As you do so, we advice you to eat it all up first, and just then ask about the ingredients. This way you will get a chance to savor this traditional Italian cuisine and just then to get shocked about what it was made of. Otherwise you most likely won't taste it at all. The main course might include also saltimbocca alla romana, coda alla vaccinara or costolette d'abbacchio. For those who opt for a light side dish we recommend artichokes "alla giudia", the traditional Kewish-Roman way of cooking. If you are still able to get some traditional Italian cuisine into your stomach, give a try to the maritozzi or grattachecca that are traditional Roman cold drinks. If you prefer some alcohol, opt for Cerveteri or Frascati.