Rome hotels for the just-married.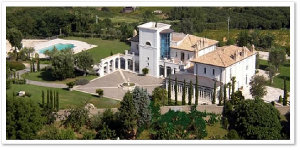 The Rome city is the perfect place for the new-married couple. The whole atmosphere of the ancient city with all its sights and architectural masterpieces makes staying here a beautiful fairytale. The Eternal city symbolizes the eternal love of the new-married couple, so the trip to Rome is the natural choice for the just married.
The hotel for the couple shall be really unique, as the marriage is a special event and everything about it shall be remembered offers all the amenities the groom and bride may ever dream of. It is luxury 1400m villa placed in the Roma suburbs to give the couple all needed privacy. The private garden with delicate lemon and olive trees reminds of the holy Eden, living the new-married couple to feel themselves in heaven on earth. The special feature of the villa in three available kitchens, letting three couples rent the luxury property at once, enabling the stylish Hollywood-style marriage. If the couple want to get the Roman ceremony, it's possible in the nearest Church of Santa Mariam which is over 5 centuries old.
Check also Intercontinental de la ville roma.
If new-married couple is up to more privacy, consider the GG Suites Apartments with self catering. They are situated nearby the Piazza Navona close to the bank of the Tiber River. The local church dated by 15th century is to your service.
If you have already spent most of your money for the wedding, opt for the 4star Hotel Forum Rome with tremendous panoramic view from the Roman Forum.
Read also about best hotels near Spanish Steps.