Youth cheap accommodation in Rome
There's a definite category of tourists who are searching for the nightlife in the city they visit. For them the amenities and decor of the hotel do not matter much, they are more interested in the location of the hotel, for the way to clubs to be as short as possible. These tourists are mostly representing youth, so the crowded hotels with modern facilities like Wi-Fi, TV and phone are preferable.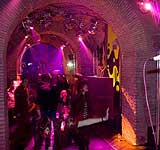 The hotels with their own clubs tend to receive the most attention. Living in these kinds of apartments, you have the opportunity to attend night clubs without worrying of how you will get back to your place. No taxies or railway trips are required, all you need is to use the local lift and you're at the door of your room.
Most people think the good clubs are situated in the expensive hotels that are out of their budget. Still, there are a number of relatively cheap accommodations with their local clubs opened nightly for the hotel guests. One of them is 3star hotel Giada offering the perfect value for money. These apartments are mostly soundproof, so the music of the late night club will never interfere your sleep in case you opt to stay in the room one of these evenings.
Hotel Ripa offers the amenities of the good 4star apartments. The club in these cheap accommodations is pretty crowded as hotel close to the city center and gladly invites not only the hotel guests to the party, but the other tourists as well.
Radisson Blue is comparably expensive 5star hotel; still the prices here are completely adequate. Some of the club parties here take place in the outdoor pool.