Garden 3-star hotels in Rome.
Many people choose to stay in the hotels close to either park or garden. Such hotels are mostly wanted in the center of the city, as it's hard to fins a nice place to walk in this area. Living nearby the garden or park enables you to walk with your children in a green safe place and get in touch with the nature. Fresh air and green trees help you to relax. They also offer perfect romantic surrounding if you travel as a couple.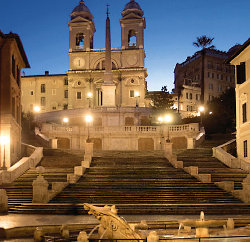 Hotel Forte is the 4star hotel located next door to the city park. It's placed in the 17th century building, where the famous Alibert theatre had once been. There're a lot of sights nearby as well, including Church of Trinit dei Monti, Villa Borghese, Spanish Steps and Trevi Fountain. The atmosphere of hospitality will assure your comfort stay, while the attentive staff will help you in all possible ways. The breakfast is served in the local restaurant, offering a wide menu suitable for any tourist. The eggs, cereals, milk with tea and coffee along with fresh bread and croissants, jams, sliced pork and fresh juices are offered here. The reception is opened daily 24/7, so feel free to ask anything you need here.
Another 3star hotel next door to the garden is Hotel Julia. It's also close to the most of Rome sights; still it located in a quiet place, ideal for family stay. The first guest entered the hotel in 1949, since then Hotel Julia offers real value for money. Here are only 33 rooms, still all of them are nicely furnished and equipped with TV, air condition, safe, phone and much more. The parking lot is available.
Discover Roma Hotel next door to the park is nice 2star hotel in the central area of Rome within easy reach to the train station. Here you get the direct access to the most of sights and receive the high quality service.
Read also about best hotels in Rome's center.