Amsterdam hotels for smokers
Nowadays it's not easy to find an Amsterdam hotel that offers smoking rooms to its guests. The reason is the law that bans smoking in public places. But the good news is that there are still some places that welcome tourists and their habits. Moreover, if you came to the city for another experience – smoking of weed – there are even more accommodation spots to choose from. Let's name some hotels which offer smoking rooms to their guests.
Westcord Art Hotel Amsterdam 4*. From €99
Westcord Art Hotel is a nice place for accommodation in a quieter Westerpark area some 10 minutes drive from Amsterdam centre. As the name suggests, there is a lively Westerpark situated nearby. Besides, there are some great examples of the Amsterdam School architecture found in the area, the most known of which is Museum Het Schip. The hotel itself is a magnet for the art fans as it displays works by the famous Dutch artist Herman Brood.
The advantages of Westcord Art Hotel are:
A total of 60 rooms, each with WiFi. Large Design Rooms and Extra Large Design Rooms come in smoking and non-smoking variants
If you are ready to give up your habit for a while to experience something special, book the Herman Brood Art Suite with drawings by the famous artist decorating the walls
An art gallery exhibiting works by Herman Brood also found on the hotel's territory
All rooms equipped with free WiFi
A nice public open air swimming pool on-site
A-Train Hotel 3*. From €124
Another inexpensive atmospheric hotel that offers smoking rooms is A-Train. The hotel boasts two features that could be your decision-makers: location right by the Centraal Station, with easy access to the main city attractions, and curious train-themed design, with photographs, train models and other artifacts decorating its interiors.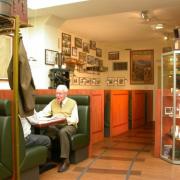 The main reasons to choose this hotel:
8 Twin smoking rooms offered. Note that only tobacco smoking is allowed
An Old Dutch Suite with old style decorations and its own garden/patio is the hotel's pride. Smoking is allowed in the garden
Rich and tasty breakfast buffet served in the atmospheric Pullman lounge
The hotel's a member of Small Elegant Hotels
Location in the city centre
Hotel Prins Hendrik Amsterdam 3*. From €100
Prins Hendrik is a good choice for smokers who need a central location and basic amenities combined with good value for money. Situated approximately 100 meters from the Centraal Station, it welcomes groups of friends, young people and backpackers, but is probably not suitable for families due to its proximity to the Red Light District.
The hotel's main advantages are:
Central location by the railway station, the Red Light District, canals and the most important sights
Smoking and non-smoking rooms available. Please contact the hotel for details
Triple, Quadruple and Five Persons rooms available. Perfect for a stay with a group of friends
Great choice of dining options and international food offers in the vicinity
The Bulldog Hotel Amsterdam. From €20
The Bulldog claims itself to be the first five star hostel in the world, and for a good reason. There are many things that make it one of the most popular hostels in Amsterdam. Firstly, the choice of rooms. Traveling on a tight budget? Welcome to the dorm! Need more personal space? Choose an apartment. Secondly, its liberal soft drug policy and a coffeshop found next doors.
Choose the Bulldog for:
Low rates for dorm accommodation. As an alternative, there are private rooms and apartments offered. The latter are located in a former canal house
Female only dorms available
There are even Luxury rooms with LCD TVs and Wii game consoles offered
No smoking in rooms, however, you can smoke freely at the hotel's lounge bar, lobby or a roof terrace
Good value for money: stay at the Bulldog for free on your birthday, Stay 5 nights and pay for 4 only
St. Christopher's at Winston Hotel 3*. From €30
Winston is a destination for the young and active travelers who came to Amsterdam for partying and smoking; we mean not only tobacco, of course. Its location right by the Red Light District in combination with low prices cannot be beaten. No smoking rooms offered, however, some rooms have a sort of a balcony that is quite convenient if you want to have a smoke. Besides, the hotel provides an artistic setting for your Amsterdam accommodation.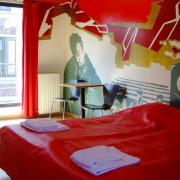 We recommend Winston for:
An artistic and stylish room ambience: installations, wall-size pictures and paintings and neon lights decorate the rooms
Smoking allowed in the large ventilated smoking area
A lively club, a bar and a beer garden on-site
Tasty European breakfast with lots of choices offered
Smoking areas can also be found at these hotels:
Hotel Okura 5* has a smoking room in its lobby area. Cigarettes can be bought at the vending machines in the smoking room
Doubletree by Hilton Hotel Amsterdam Centraal Station 4* allows smoking on the terraces at the Skylounge and City Café
There is a smoking garden at the back of the Heart of Amsterdam Hostel 2*
A smoking terrace can also be found at the White Tulip Hostel 1*