Where to dine in Amsterdam. First class restaurants and brown cafes
Don't even dream of following a strict diet while visiting Amsterdam: the Dutch capital, with its numerous high-end restaurants serving international and copious local food, is a paradise for a hearty eater. The character of local dining offers mainly origins from the trading past of Amsterdam. A multicultural city, it regales you with dishes from all over the world that can be savoured at local restaurants and bought at food markets. But of course, there are lots of restaurants and cafes that serve Dutch cuisine, too. Let's find out what culinary offers every gourmand should try out in Amsterdam.
Dutch culinary traditions and international influences
There are two aspects of Amsterdam culinary scene that you must discover: the international and the local ones. When we speak of the first, you must remember that Amsterdam is a multicultural city, with many nationalities populating it. Experience the international soul of Amsterdam while visiting one of its food markets: Albert Cuypmarkt, Noordermarkt or Dappermarkt, selling Turkish, Moroccan and Surinamese food.
Hotels near the food markets:
If you long for the European cuisine, head to one of the first class Amsterdam restaurants. French, Italian and Mediterranean dishes combined with the highest level of service are waiting for you at one of the numerous high-end hotel restaurants. Here are some of the most popular restaurants for those who want an international quality guarantee.
Want to taste something local? Dutch cuisine isn't as popular around the world as the French, Italian, Japanese or Chinese ones. But it has its own zest that conquered the hearts of the many. Based on the country's fishing and farming traditions, it includes nourishing dishes prepared of lots of vegetables, fish, potatoes and meat. Besides, there are some dishes and products that everyone must try: herring, cheese, stroopwafel (syrup waffles), stamppot (mashed potatoes with vegetables and a sausage), and Poffertjes – local pancakes. There are a lot of great restaurants in Amsterdam that serve Dutch food: Restaurant Greetje, Restaurant De Kas, Gartine, Van Dobben and many, many others. Some hotels also feature restaurants serving traditional regional specialties: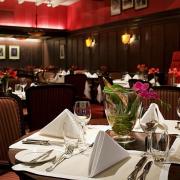 Michelin-starred restaurants: haute cuisine and international flavor
Wherever you go, the famous Michelin guide guarantees you that its restaurants offer the highest level of service and the dishes that you'll remember till the end of your days. There are a total of 11 Michelin-starred restaurants in Amsterdam, including 5 located within the hotels. Of course, these are the 5 star hotels that strive to be the best in everything, including their gastronomic offers.
Amsterdam hotels with Michelin-starred restaurants:
Hotel Okura 5*. There are two great restaurants at this hotel: the 2-starred Ciel Bleu serving dishes with a modern twist, and a 1-starred Japanese restaurant Yamazato. Plus a selection of other restaurants and bars, including the 23rd bar with unprecedented panoramic views. A perfect choice for every gourmand.
The Dylan 4*. Awarded with a Michelin star in 2009, Restaurant Vinkeles at the Dylan serves classic and contemporary French dishes in a romantic setting
De L'Europe 5*, a destination for the celebrities and royalties, this hotel calls itself a hub of haute cuisine, and for a good reason. Its restaurant Bord'Eau, with its saloon-style atmosphere, serves sophisticated dishes combined with the finest wines. 1 Michelin star.
NH Barbizon Palace 5* hosts restaurant Vermeer (1 Michelin star), serving French Mediterranean dishes and a selection of wines from around the world
The taste of Holland at brown cafes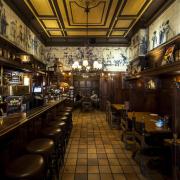 You can't say that you know the taste of the Netherlands until you visit a "brown café" – a local interpretation of a pub where locals and tourists come for beer, traditional Dutch drinks like jenever, local snacks and a cigarette. The name "brown café" origins from the pubs' interior style and atmosphere: lots of wood, old-style decorations and a cigarette smoke hovering in the air. They also say that every brown café is oriented at its own type of visitors: students, artists, workers etc. Check out the pubs that claim themselves to be the oldest in town: Café Chris, Café t'Smalle, De Pieper, In 't Aepjen and others.
Some hotel bars also have that brown café feel that makes them so traditionally Dutch. For example, drop in the bar "De Blauwe Parade" decorated in Delft blue tiles at hotel Die Port Van Cleve 4* and participate in hotel's jenever tastings.