Restaurants, lounges and bars in 5 star Rome hotels
If you want to visit Rome and stay in one of the 5 star city center hotels, you can be sure that you will get a real magical immersion in the atmosphere of the eternal city of Italy, you will experience all the things that you always wanted to.
High accommodation service allows tourists to make their vacation or a two-day holiday weekend an ultimate pleasure. In addition to the excellent accommodation conditions, 5 star hotels offer visitors exceptional service and a vibrant local cuisine. In restaurants located on-site 5 star Rome hotels travelers can find a new world of delicious food and unusual flavor combinations.
Sometimes hotel guests can be not interested in a dense and hearty meal, but prefer to have something light and tasty for lunch. For this purpose 5 star hotels offer travelers a vivid range of dishes in bar and lounge room menus. Typically, these facilities are located on-site 5 star Rome hotels.
On-site 5 star Capo D'Africa Hotel in the Centrum Bar travelers can savor tasty drinks and beverages and choose whatever they like from the small but very rich dining menu. All hotel guests can spend time at the La Terrazza, enjoying views of the Colosseum. Here travelers can enjoy eating lunches and light meals as well as in the cozy and stylish breakfast room, in which guests can start their day properly and tune in to positive mood.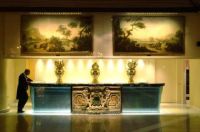 Rome Cavalieri Hilton offers its guests a vivid range of dining facilities. In the La Pergola travelers can taste excellent cuisine due to to the high level of the Restaurant (it has 3 Michelin stars). All dishes are served in this stylish and well-decorated hall with plenty of fine paintings and exclusive floral compositions. The menu in this restaurant is based on seasonal products. Excellent Italian meals are served in the L'Uliveto restaurant located on-site Rome Cavalieri Hotel. Here guests of the 5 star lodging can savor dishes of Mediterranean cuisine.
In the Regina Baglioni Hotel travelers can feel the unique atmosphere of the city while sitting in front of the the fireplace in the Caffè Baglioni or eating rich flavoured Italian meals on the very cozy and attractive veranda in the Brunello Lounge & Restaurant.
Stylish atmosphere of the well decorated Vivendo Restaurant attracts travelers and guests of the The St. Regis Rome Hotel to savor Italian cuisine. Prices are not low but the quality of well prepared and elegantly decorated meals make this place worth visiting.
Due to the variety of cuisines, wide spread in five-star hotel in Rome, tourists do not need to choose the only one restaurant and eat there during whole holidays. Travelers can stay in one hotel, and savor gourmet cuisine in many restaurants and bars located on-site excellent 5 star Rome hotels.