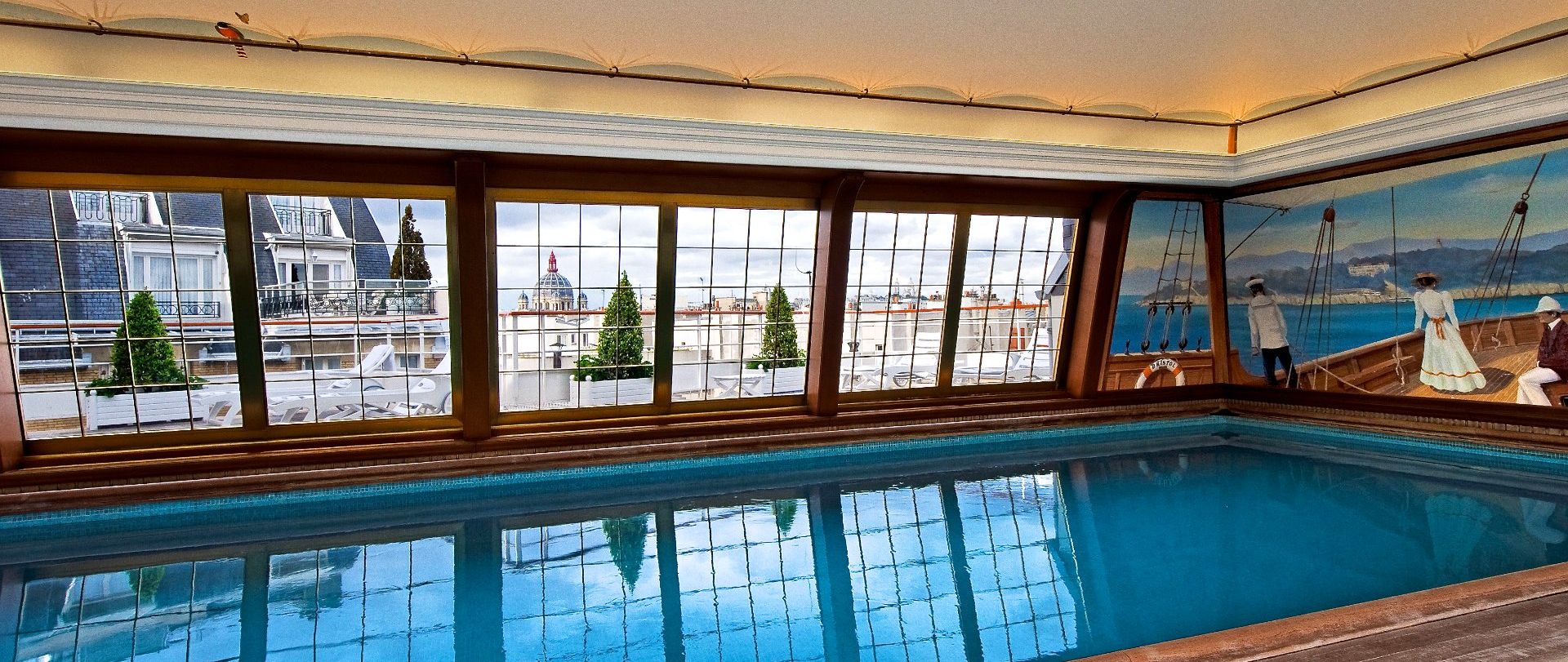 Best Paris hotel spas and spa packages
Paris is not usually associated with recreation since you can hardly find any healing springs in the city. However, there are lots of luxury hotels which are ready to provide you with ultimate rest and relaxation, and for this they open Spa centres. We have chosen some best known and most luxurious spa centers at Paris hotels that will help you forget about everyday troubles, add a touch of relaxation to your romantic trip and allow you to unwind after a rich day of sightseeing.
The Dior Institute at Plaza Athenee. Spa package for €1035
The Dior Institute at Plaza Athenee is probably one of the best known and most luxurious places to rejuvenate in Paris. Established by the famous fashion designer as a place for women to relax and throw off some years, the Institut includes five treatment rooms, including a VIP room for couples, plus a fitness room, sauna and a fitness centre. Your Spa experience at Plaza Athenee starts at €1035. This price includes accommodation in Superior room, daily continental breakfast for two at the hotel's magnificent restaurants or in your room, upgrade upon availability and two one-hour treatments per stay at the Dior Institut. These are the "Youthfulness" and "Rejuvenating Eye Treatment" offers that will make you forget about your age. Treatments normally cost €240 and €190, in case you want to come back.
My Blend Spa at Le Royal Monceau hotel. Art Studio Room from €750
The Raffles Spa at Le Royal Monceau will impress you with its 23-metre swimming pool – the largest ever built in a luxury hotel, and a variety of facilities including an ice fountain, a Turkish bath and a laconium. With its Spa package, the hotel offers to add an artistic touch to your visit. You are invited to live in the hotel's Artistic Studio that is tastefully decorated with art pieces and a signature guitar. The experience continues at the Spa that is available for free to those who book this package. And finally, you get a private artistic tour around the hotel's own Art gallery and art pieces in a company of an Art Concierge. Other bonuses included in the package are a Buffet breakfast at the hotel's restaurant La Cuisine and complimentary WiFi. The Art Gallery at the hotel is dedicated to contemporary art and is free to enter.
Spa Valmont at Le Meurice. Spa package from €1170
The luxurious Spa Valmont at Le Meurice offers many moments of relaxation and pleasure in its "Dalinian" interiors designed b Philippe Starck. The Spa Package offered by the hotel will satisfy you with a varied list of spa offers including one facial treatment lasting 1,5 hours, one 1-hour massage, either relaxing or energizing (all per person), and free access to hammam, sauna and fitness centre. The non-spa bonuses include daily American Breakfast, one in-room snack and accommodation in a chosen room, of course.
Six Senses Spa at The Westin Paris. Spa package from €370
The Westin Paris hotel is a home to Six Senses Spa, the famous spa brand with other centres located in Thailand, Maldives, Sri Lanka, Vietnam and other countries. The centre found in Paris combines traditional Six Senses principles of natural harmony and human senses with a touch of Parisian feel. The package at the Westin hotel is rather modest and lack choices, however, it is also inexpensive if compared with the previous ones. It includes a minimum 2-night stay at the hotel, buffet breakfast for two and one 30-minute "Discovery" treatment per room per stay. This might not be what you are looking for for a complete relaxation, but could be a good addition to your visit to Paris.
Spa Le Bristol by La Prairie at Le Bristol. Spa package from €910
La Prairie is a famous Swiss skincare brand that has founded its Spa on the premises of hotel Le Bristol in Paris. Here, in one of its eight treatment rooms, you and your family can enjoy tranquility, relaxation and beauty treatments with views on Paris rooftops or the interior garden. There is a kids club in case you do not know where to leave your children. For a luxury spa break in Paris, use the hotel's spa offer which includes accommodation for two, American breakfast for two, and a €150 voucher for the treatments at the Spa. For your references, prices at the La Prairie spa start at €110 for massages and €55 for express manicure.
The Spa at Four Seasons Hotel George V. Spa package for €1045
To enjoy the luxurious atmosphere of the Spa at Four Seasons hotel, with its saunas, indoor pool, whirlpool and a vast choice of body treatments, book the Spa offer that includes luxurious accommodations, daily continental breakfast for two and a voucher for €100 that can be used at the hotel's Spa. There are relaxing massages, hand massages, aromatherapy and hot stone sessions as well as Carita facials and many more other offers provided. Prices for massages start at €125, for haircuts – at €85 for men, and for facials – at €180.
To summarize our story, there are many options for relaxation and spa experiences at Paris hotels. Your choice depends on what you are looking for: for an advanced spa package go to Plaza Athenee, Le Meurice or Le Royal Monceau which offer packages from €750. The latter will supplement your rejuvenation with an artistic tour. If luxurious accommodation is all you need and a visit to spa is just an addition to your stay, choose the offers at Le Bristol or Four Seasons which provide you with spa vouchers. The package at the Westin is the cheapest variant among all, it starts at €370 per night.