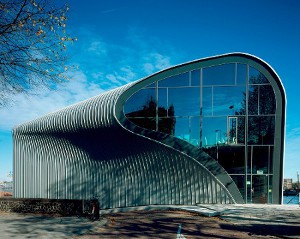 Top 10 things to do in Amsterdam
A first-time Amsterdam visitor might be under the delusion that there's not much to do in the city other than weed smoking. Well, for those who don't plan their trip thoroughly in advance, this may turn out to be true. Don't be narrow-minded. Check our list of the most important things to do in Amsterdam and get something to remember while visiting the city.
Must-do list of Amsterdam activities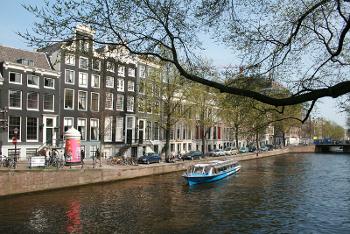 Cruising along Amsterdam canals
Amsterdam canal belt is the thing that defines the face of the city. A quick fact for you to understand what all the fuss is about: the city boasts more than a hundred kilometers of canals, with about 1500 bridges spanning then. Some of them (the most central ones, of course) date as far back as the 17th century! The Herengracht, Prinsengracht, Keisersgracht and Jordaan are even listed among the World Heritage Sites by UNESCO. Canal cruising is therefore a must. Various companies offer canal tours, as do some of the best Amsterdam hotels. Romantic cruises, dinner and family tours and other kinds of themed cruises follow the route past the beautiful canal houses, pubs, museums and some important attractions.
Hotels that offer canal tours:
- Moevenpick Amsterdam City Centre 4*. The Amsterdam Cruise Package includes an overnight stay, buffet breakfast, a three-course dinner, a boat tour and other extras. From €222
- Hotel Pulitzer 5* provides boat tours on its own 1920's classic hotel boat, "the Tourist". Ask the hotel for details
Amsterdam cycling tours
Cycling is extremely popular in Amsterdam. The first second you'll step onto the city streets, you'll easily understand it, because there are bicycles everywhere. So don't miss your chance to save on petrol or public transportation, get some exercise and see the city with a local's eyes. Cycling on the neat pathways in the city centre is a trend, but getting outside the centre to see the lush green parks is equally memorable. Finding a spot to rent a bike from is easy. The most popular bike renting companies are: Rent-a-Bike, Yellow Bike and MacBike. Many of them organize themed cycling tours. Some hotels provide city maps with information about the most popular cycling routes, or even organize their own tours.
Hotels that provide cycling tours:
- Hotel Okura 5*. Biking package includes an overnight stay, buffet breakfast, bike rental service and Amsterdam info package. From approx. €343
- Stayokay Hostel Amsterdam Vondelpark, right in the famous Vondelpark, is perfect for cycling. Cycling package with a 2-night stay, breakfast and bicycle rental from €59
Experiencing local coffeeshop culture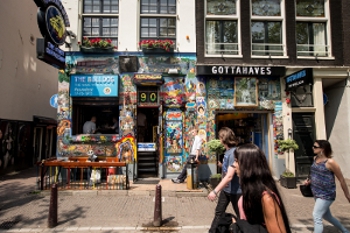 Let's face it: cannabis smoking is the first idea that gets into everybody's mind whenever you mention Amsterdam. If you're not too conservative and leave some space for experimentation, why not discover this side of Amsterdam culture: coffee shops. Most of them are concentrated within De Wallen, known as the Red Light District. One of the most popular coffeeshops is the Bulldog The First. Some important facts for you to know: every coffeeshop must have a license, the amount of weed to carry with you is restricted to 5 grams, and you are not allowed to smoke in public places. Better smoke only at coffeeshops with smoking rooms. An assistant or a bartender will provide all the necessary advice on what to start with.
Hotels near and within De Wallen:
Picnicking at locals parks (Vondelpark in the first place)
You probably don't know it, but Amsterdam is rich in beautiful parks. Picnicking and cycling at those is a popular pastime for locals and city guests alike. To experience the green side of Amsterdam, start with the Vondelpark which is just a short stroll from the Museum District. Beautiful lakes, lanes, pavilions and even works of art (including the one by Picasso) are the sights within a sight. For a change, visit the beautiful Beatrixpark, spacious Amsterdamse Bos, Oosterpark which is behind the Tropical Museum, or the Westerpark with one of the most innovative and youthful cultural spots in Amsterdam: Westergasfabriek. In summer, most of these parks play host to open-air theatre, music and other cultural events.
Hotels near the Vondelpark:
- Stayokay Hostel Amsterdam Vondelpark
Ice-skating along Amsterdam canals
Canal cruising is the best summer activity you can think of in Amsterdam. But if you're visiting the city in winter, you can still experience some great canal touring… on your skates. Unfortunately you can only do that when the weather is favourable and the ice gets thick enough to make skating safe. In past, there were even skating races organized along the canals during the Elfstedentocht event. If you're not the lucky one, check out Amsterdam ice skating rinks for great winter skating adventures and hot Dutch pancakes. The most popular ice skating rinks are located next to the Museumplein and the Leidseplein.
Hotels near the Museumplein: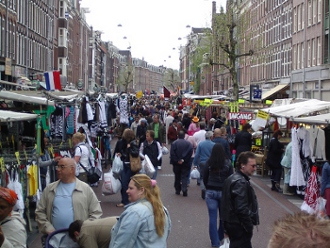 Hunting for bargains and exclusive stuff at Amsterdam flea markets
Most European capitals have flea markets. But it's the assortment of sold stuff that varies in every city. In Amsterdam, every market specializes on something unique. Visit the Westerstraat Market in Jordaan and Waterlooplein Flea Market for clothes, Albert Cuyp Market - for exotic food and herbs, Nieuwmarkt for antiques and IJ-Hallen Flea Market (the biggest European flea market) for everything that's cheap. And of course, the famous Bloemenmarkt, the floating flower market on Singel. This one sells what's known to be the symbol of the Netherlands: flowers, flower bulbs and seeds. These markets are perhaps your number one target if you want to bring something unique from Amsterdam.
Hotels near the Bloemenmarkt:
- Hotel De l'Europe Amsterdam 5*
Clubbing and socializing at best clubs and cultural centres
Amsterdam is probably the most youthful city in Europe. And most of its young audience is concentrated at clubs and bars. If you're one of those, head to local hostels to get a good night's sleep for cheap, coffee shops to experience the spirit of Dutch freedom… And of course, go to local nightclubs to socialize and meet the ones whose hearts beat in the same rhythm as yours. Here are some of the clubs that are much spoken about: Paradiso, Melkweg, Club Up, Sugarfactory, Escape and Studio 80. The Leidseplein is considered to be the best known club area in Amsterdam. Local culture vultures hang out at galleries, which are found in every corner of the city. Check De Pijp or Westergasfabriek for a start.
Hotels near Leidseplein:
- Eden Amsterdam American Hotel 4*
- Dikker & Thijs Fenice Hotel 4*
- NH Amsterdam Centre Hotel 5*
Compare classical and innovative art at local museums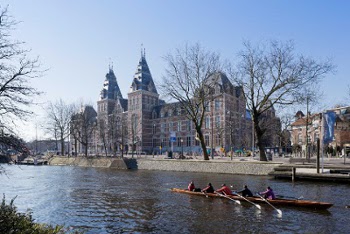 Art fans know where to head first when they arrive in Amsterdam: the Museumplein. Any time of the year, this artistic hub gathers thousands of tourists eager to see the masterpieces of the Dutch genius – Rembrandt. Two other Dutch masters, Frans Hals and Vermeer, are to be discovered in the same place: the Rijksmuseum. But if you're more inclined to contemporary and innovative art, your final destination is just a few steps away, at the Van Gogh Museum (the name of which speaks for itself) and the Stedelijk Museum. The latter contains works by the artists whose names are strongly associated with modern art: Van Gogh, Kandinsky, Chagall, Jackson Pollock, Andy Warhol… If your life's aim is to see the world's masterpieces, the Museumplein is the place.
Hotels near the Museumplein:
- Conservatorium Hotel 4*
- Flying Pig Uptown Hostel
A romantic walk at spring tulip gardens
Those in love with natural beauties should go to Amsterdam in spring, when the city (and the whole country) is in full bloom. The Dutch symbol, tulip, is found in every corner of the city and its suburbs during March-May. The first place to go to is Keukenhof, the largest flower garden in Europe. With its well-arranged flower beds, thousands of colourful tulips, daffodils and hyacinths, themed events and charming cafes, Keukenhof is also the perfect destination for a romantic trip. Get there by a shuttle bus from Schiphol Airport or by Arriva Keukenhof Express. A number of tour operators offer Keukenhof tours during the period. You can also find a tour of the kind among your hotel offers. If a visit to Keukenhof is not your priority, but you still want some romance, go to the Vondelpark or other city parks.
Hotels that offer Keukenhof packages:
- Conservatorium 5*. A 2-night stay, transportation and a tour around the park are included in the package. Package cost: from approx. €672
- Hotel Andaz Prinsengracht 5*. A stay at the Garden View Room, transfer and tickets to Keukenhof plus free spa are included. From approx. €205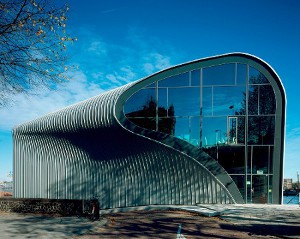 Touring around the canal houses and visiting unusual sights
You don't need a certain plan for this. Just walk along the historic Amsterdam canals (Keizersgracht, Prinsengracht, Herengracht, Singel) and see what's around them. The historic canal houses are another thing that forms Amsterdam image. You can even see what's behind the canal house walls during the Open Garden Days (taking place in June).
Apart from that, Amsterdam has a great number or unusual and impressive sights to discover. The list of historic sites includes the most remarkable representatives of the Amsterdam School architecture such as the Scheepvaarthuis and Het Schip, and some religious objects: Oude Kerk, Nieuwe Kerk and Sint-Josephkerk. Fans of modern architecture will have their eyes set on The Openbare Bibliotheek and ARCAM. To learn more about unusual architectural sights of Amsterdam, read our article on The Architectural Marvels of Amsterdam.
Amsterdam hotels on canals:
- Hotel Pulitzer 5*