Best summer live events in Amsterdam
If your life is music, and especially live music, then you simply have to be in Amsterdam this summer! The city, which is widely known for its innovative art scene, rumbles with all kinds of music fests during the warm summer days. Most of these are held outdoors, some – at indoor locations. And there are definitely some live events that will gather crowds from around the world! We'll tell you what, when and where to visit in Amsterdam this summer if you long for some dancing.
Best concerts, music festivals and other live events in Amsterdam this summer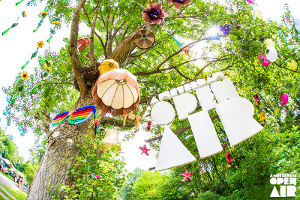 Amsterdam Open Air. 6-7 June 2015. Gaasperpark
The first comer of the summer music season is Amsterdam Open Air, the sunny and green fest that mixes electronic acts, cultural events and some culinary treats. For two days the green forests of Gaasperpark (which is in Amsterdam-Southeast) will play host to several music scenes and an Open Air Camping. The latter welcomes those who need more than just a couple of hours of music, but want to party all night long. The line-up includes a great number of local and international DJs, bands and performers: DJ Rush (USA), Sam Paganini (Italy), Zeds Dead (Canada), The Partysquad, Ben Sims (UK) and many others. The whole list of participants is available at the event's site. Amsterdam Open Air celebrates its fifth anniversary this year, so why not join the party? Ticket cost: from €47.50 for one-day entry.
Hotels near Amsterdam Open Air:
- InterContinental Amstel Amsterdam 5*
- Lloyd Hotel and Cultural Embassy 3*
Amsterdam Roots Festival. 30 June – 5 July 2015. Melkweg, Paradiso and other locations
It's not only electronic music that's in the center of action in Amsterdam this summer. And one good proof of that is the Amsterdam Roots Festival, focused on national music from around the world. The wide festival programme includes events at several locations around the city. And these will show you that despite the domination of pop culture, national music styles are still alive. Some of the most colourful festival performances are: Latino dance party Fiesta Macumba at Melkweg, gypsy/klezmer music show by The Balcony Players at Paradiso, concerts by the legendary reggae band Black Uhuru (again, at Paradiso) and hot Japanese jazzband Soil & Pimp (North Sea Jazz Club). Roots Open Air is the festival's outdoor edition that hosts a number of talented bands and is free to enter. For this one, visit Park Frankedael.
Hotels close to Melkweg and Paradiso:
- Eden Amsterdam American Hotel 4*
Sensation. 4 July 2015. Amsterdam ArenA
The world's "whitest" event, Sensation, celebrates its 15th anniversary in 2015. And one can hardly disagree that this Amsterdam-born electro and dance party has long become an event of a world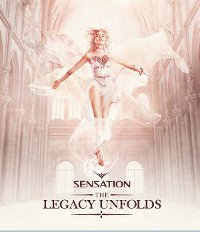 scale. For this special date, the organizers have prepared "The Legacy" – a special programme that includes the best of what the event presented throughout the years. The line-up for 2015 includes Laidback Luke, Sander Van Doorn, Bakermat, Oliver Heldens, Fedde Le Grand and more. Those who have booked a KLM flight to Sensation can also enjoy a Sensation backstage tour and meet the people that create this monstrous show. Join in the white fever and visit the show that has the fame of the World's Leading Dance Event.
Hotels convenient to Amsterdam ArenA:
Electronic Family. 18 July 2015. Amsterdamse Bos
True electronic music fans have one good reason to stay in Amsterdam a little bit longer – the Electronic Family. The festival prides itself on its mouth-watering line-up that includes best DJs and bands: ATB, Paul Van Dyk, Cosmic Gate, Marcus Schulz and Orjan Nilsen are just some of those. DJs will perform on several themed stages, with Family Stage hosting the best known of those. This year Electronic Family also partners with Grotesque and Anjunabeats labels. Besides, the event celebrates its fifth anniversary this year, so we expect it to be special. The festival location is Amsterdamse Bos, a beautiful landscape park perfect for a romantic walk or simply some rest from the crowds. The best way to get there by public transport is to travel to Amsterdam Zuid-WTC and then catch a shuttle bus to the festival site.
Hotels convenient to Amsterdamse Bos:
- Mercure Amsterdam Airport 4*
Milkshake Festival. 19 July 2015. Westerpark
Not all the outdoor events in Amsterdam are focused on music in the first place. But even if they don't, most still offer a generous portion of music performances. And Milkshake, whose slogan is "For All Who Love", is one of such events. What makes it so special is that it delivers one certain message: tolerance, love and understanding to everyone regardless of their colour, sexual orientation and beliefs. This is done through music, some other artistic forms and of course lots of fun that is shared among hundreds of people who arrive to Westerpark. The festival is organized by two famous Amsterdam concert spaces: Paradiso and Air Amsterdam. The line-up is pretty long and includes Supertoys, Vieze Poezendek, Glitterazzi, Now&Wow and Erwin Olaf, among others. An afterparty is also there for those who can't get enough!
Hotels near the Westerpark:
- Golden Tulip Amsterdam Art 4* (WestCord Art Hotel)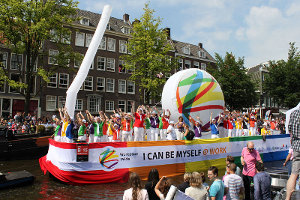 Gay Pride Parade. 25 July – 2 August 2015. Various locations
Gay Pride Parade is not just about music, but mainly about the freedom of sex choices. And you can hardly meet a person from the LGBT community that has never heard about the Parade. Don't be surprised to meet young and old people of all nationalities with rainbow scarves and other colourful garments during this fun-loving week in Amsterdam. The programme includes all kinds of indoor and outdoor events and parties, but the most important of those is of course the floating Canal Parade. The Parade starts at the Prinsengracht, then goes past the Magere Brug and finally arrives to the Oosterdock. Among the other themed parties, we recommend the Drag Queen Olympics at the Westermarkt and the Pride Closing Party at the Rembrandtplein.
Hotels near the Magere Brug:
- InterContinental Amstel Amsterdam 5*
Appelsap. 8 August 2015. Flevopark
Freshest music against the freshest background of Flevopark – that's what Appelsap festival (translated as "apple juice") is. Everyone who has a thirst for new music discoveries is invited. The list of participants mostly includes electronic music and hip-hop performers from the Netherlands and other countries. This year you'll hear: Mobb Deep (USA), Skepta (UK), Sango (USA), Adje, Soulection and many others. Hurry up to buy a standard ticket for €32.50, because the rest (and the cheapest ones) are already sold-out. The Flevopark is located in the Indische Buurt neighbourhood in the eastern part of Amsterdam. The best way to get there is by metro. Take a train to Weesperplein, then change to tram 7.
Hotels convenient to Flevopark:
- Lloyd Hotel and Cultural Embassy 3*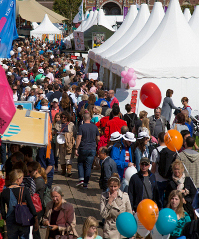 Uitmarkt. 28 – 30 August 2015. Museumplein
The end of August also signalizes the end of summer, but there is nothing to be sad about, because the new cultural season is coming! And it starts with the Uitmarkt, one of the largest annual festivals in the Netherlands. Celebrating the country's rich cultural scene, it represents all kinds of artistic genres: theatre, dance, literature, painting and of course music. Three days of the event will see almost 2 thousand performers at about 30 city venues. It comes as no surprise the festival attracts close to 500,000 visitors annually. Everyone will find something to feast their eyes and ears on, and the best thing is that it's all free of charge! The 2015 programme is not yet available, please see the details at the event's site later.
Hotels near the Museumplein:
- Eden Amsterdam American Hotel 4*