Stay Longer, Pay Less in Amsterdam
If you need just a brisk acquaintance with Amsterdam, a one or a two night stay will surely be enough for you. But what if you want to discover this beautiful city from all of its sides? You will perhaps need more than 2 or 3 nights for this. But the good news is that the longer you stay, the less you pay! Such are the offers at many Amsterdam hotels. Let's see what they are.
Special discounts at Die Port Van Cleve. Up to 20% off your room rate
Die Port Van Cleve is a charming historic hotel right in the centre of Amsterdam on Dam Square and behind the Royal Palace. That's why a room at this hotel is what many tourists long for when coming to the city. Those who need longer accommodation can enjoy discounts that depend on the number of nights they stay at Die Port Van Cleve. Thus, you can save 10% when booking two nights, 15% for a three night stay and 20% if you stay 4 nights at this hotel. Normally, room rates offered here are around €139 for a Single room. You can also save on your breakfast if you book it in advance with you room. Whereas normally it costs €19, it will be only €12,50 in this case.
3=2 promotion at Grand Hotel Amrath. From €422 for 3 nights
Grand Hotel Amrath is one of the most prestigious addresses in Amsterdam. The hotel is known for its level of luxury, impeccable service and notable architecture. If you decided to visit Amsterdam in summer and prefer planning your trip long in advance, you can save the amount of a one night stay at this hotel since it offers a 3=2 promotion in July and August. The rate includes breakfast.
Long stay discount at Hem Hotel. Up to 16% off
Hem is a hotel that is notable not only for its name but for a good value and excellent service for the money you pay. This is a three star property which means average prices are a bit lower than the ones in other hotels. But if you need even more value, stay at this hotel more than 2 nights and get 10% off your room rate. Reservation of more than 3 nights will bring you 16% discount. Rates start from €172 for a Single room.
Hotel Amsterdam De Roode Leeuw. Up to 30% discounts
This centrally located 4 star hotel offers accommodation a stone's throw from the Dam Square, clean and comfortable rooms and good value in case you book more than one night. Your discount could be from 7% to as much as 30% , depending on the number of nights you spend here, of course. The lowest rate we have found for a three night accommodation is €594, but you could hunt for more bargains. There are also some great cultural packages offered by the hotel for those who want to explore Amsterdam.
3 and 4 night saver at Lloyd Hotel and Cultural Embassy. Save up to 25%
Lloyd Hotel is one of the most unusual places in Amsterdam. It came a long way from a temporary accommodation for immigrants to prison and finally a hotel with an artistic twist. As it also bears the name of a cultural embassy, it hosts many cultural events and exhibitions and is all in all filled with art. Another distinctive hotel feature is its room classification – from 1 to 5 stars, all under one roof. Independently on what room you stay at, you could save as much as 25% off your rate! There is a 3 and 4 night saver that guarantees 15% and 20% discounts accordingly. And if you prefer non refundable rates, you could save 20% and 25% from your room rate. Rates start at €65 for a 1 star room.
Spring savings at Moevenpick Hotel Amsterdam City Centre. Save up to 30%
If great views is one of your fundamental requirements, Moevenpick Hotel City Centre is what you are looking for. The hotel is located directly by the river IJ and offers great views over the city and the river from its windows. Add great service, smart design and numerous facilities, and off course excellent discounts for longer stays. Book more than 2 nights and enjoy 20% off your room rate, or book at least 3 nights and get up to 30% discounts. The offer is available until the end of June 2013. Rates start at €111 per night.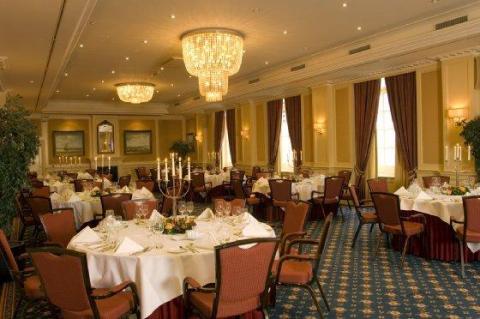 Stay Longer, Pay Less at NH Grand Hotel Krasnapolsky. 17% discounts
There are advance and long stay discounts available at NH Grand Hotel Krasnapolsky, the five star hotel with excellent location right on the Dam Square and in 10 minutes from the Central Station. Whereas normally rates start at around €184 for a Standard room, you could save 17% on a 2 night accommodation.
Spring Collection at Sofitel the Grand Amsterdam. 4 nights for the price of 3
If you are a fan of everything grandiose and sparkling, you cannot find a better place than the historic Sofitel the Grand hotel. The five star property boasts rich history and the status of the first Legend hotel in Europe. But your luxurious stay can be a little bit cheaper if you book it through May 30th 2012. Until this date, there is a Spring Collection offer available at various Sofitel hotels, our hotel among them. Book four nights and pay for three of them only. Welcome gift and late check-out are also included. From €177 per night.
In conclusion, you can find numerous discounts at hotels of all types when planning more than just a one day trip to Amsterdam. Both luxurious and economy class hotels treat with great respect the guests who want to spend more days in their rooms. Discounts for longer stays reach up to 30% at Hotel Amsterdam De Roode Leeuw and Moevenpick Hotel Amsterdam City Centre or 20-25% at Die Port Van Cleve and Lloyd Hotel. You can also get third night for free at the Grand Hotel Amrath or fourth night for free at Sofitel the Grand Amsterdam.