Hotels for the best shopping in Amsterdam
A shopping spree is an important part of almost every travel programme. In this respect you cannot find a better place for shopping in North-West Europe than Amsterdam. It does not matter whether you are looking for bargains, authentic brands or traditional souvenirs like clogs, cheese and Delftware, you will definitely find everything you want at Amsterdam famous shopping centers and areas including the Magna Plaza, the Nine Streets and others. Let's see what hotels are located close to the most popular stores.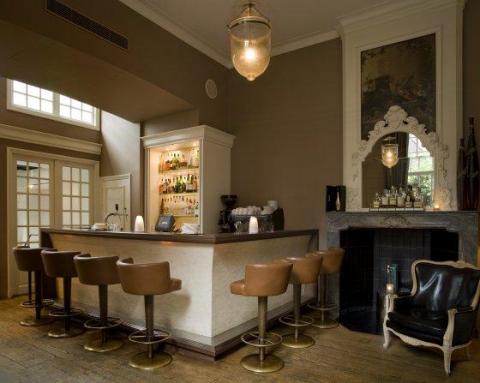 The Dylan Hotel Amsterdam. From €300
The four star boutique hotel The Dylan enjoys perfect location at the Keizergracht canal not only close to the cultural wonders of the city like the Rijksmuseum, the Hermitage and the Anne Frank House, but also in the prestigious shopping district De 9 Straatjes, or The Nine Streets. This area intersects the main city canals and is full of fashion and vintage stores. Those are Donna Fiera, Goods, Zipper and Van Ravenstein, to name a few. And if you are looking for something different than clothes, visit Skins Cosmetics, Beadies which sells jewellery, Pompadour bakery and chocolate shop or the Witte Tandenwinkel (the White Teeth Store) for dental health products.
Die Port Van Cleve. From €145
Die Port Van Cleve is another place to stay at if you want to be close to the shopping life of Amsterdam. The stylish historic hotel provides you with a truly Dutch atmosphere and some authentic experiences like the genever and gin tastings at its Bar-Bodega De Blauwe Parade while its location is excellent for a visit to the Dam Square, the Royal Palace and the famous store Magna Plaza - a home to international brands including Mango, Lacoste and Swarowski, souvenir stores and a permanent exhibition "Re:mbrandt all his paintings" (at the basement).
Hotel Des Arts. From €96
Hotel des Arts is the cheaper variant of accommodation in case you arrived to Amsterdam for its shops and stores. But don't let the hotel prices confuse you: despite the fact that Hotel Des Arts is rated as the 2 star hotel, its location gets you close to the true pearls of Amsterdam: the Dam Square, Rijksmuseum, Van Gogh Museum and the city's most expensive shopping street, Kalverstraat. The history of Kalverstraat as a shopping centre strarts earlier than the 17th century while its name derives from the word kalvermarkt, or the "calves market". Nowadays many international brands have their stores at the Kalverstraat: Vero Moda, Mexx, H&M, Ecco, Lush, Swatch and many many others. You can find out more at the street's own site. To shop for more exclusive items, go to the Leidsstraat.
NH Grand Hotel Krasnapolsky. From €278
As the centrally situated hotel standing right in the heart of the city, on Dam Square, NH Grand Hotel Krasnapolsky can boast close location to many stores. Among them are Magna Plaza and the Droog Design. Speaking of the latter, this is a perfect place to buy designer items for home and discover unique designer creations by international artists. Be prepared to be impressed and spend considerable amounts as no exclusive thing is sold cheaply.

Hotel Amsterdam De Roode Leeuw. From €225
Another centrally located hotel, De Roode Leeuw, invites you for a tour around the Dam Square, the Royal Palace, Madame Tussaud's museum and one of the most popular department stores in Amsterdam, De Bijenkorf, which is just opposite the hotel. De Bijenkorf is a chain with rich history that dates back to 1870, when the first store was opened. The impressive six-storied building contains a great number of stores, so the main task for you is not to get lost in choice.
Shop and Discover package at Grand Hotel Amrath. From €309
To finish our story, we would like to suggest you a couple of shopping packages that will make your shopping a little bit easier. The first is the one offered by the luxurious Grand Hotel Amrath. With it's Shop & Discover package, you are invited to make a tour around Amsterdam's attractions and shops on a Vespa, available for you for one day. The package also includes accommodation, a culinary lunchbox with a smoothie and a sandwich, a city map, breakfast buffet and an entrance to the hotel's Spa and Wellness Centre.
Park & Shop package at Hilton Amsterdam. From €239 for a Deluxe room
The Park and Shopping package at Hilton Amsterdam is what you need in case you arrived in Amsterdam on your own car and plan a shopping spree. The package includes free parking and a Susie shopping guide as a gift.
In conclusion, Amsterdam can offer shops and department stores for any taste and pocket. And since many of its stores are located in the city centre, you will easily find a hotel close by. To enjoy shopping on the Nine Streets, head to The Dylan. Die Port Van Cleve is located close to the Magna Plaza while Hotel des Arts is a cheap hotel with a luxurious location close to the Kalverstraat. Choose Hotel Krasnapolsky if you head to the Droog or De Roode Leeuw if you are planning shopping at De Bijenkorf. There are also shopping packages available at Grand Hotel Amrath and Hilton Amsterdam.