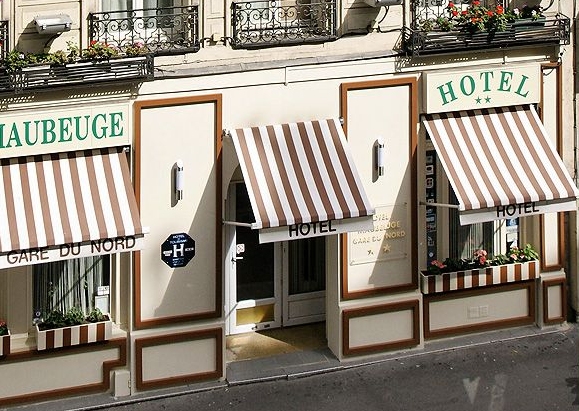 Chic hotels in Paris for the most stylish guests
A design hotel - what better place to stay at can you think of when coming to Paris? There is a great amount of chic hotels in the city which, thanks to their stylish design and curious interior decorations will help you feel the most fashionable Parisian side. Those might be hotels by great designer names or lodgings by rising stars, expensive hotels or cheaper ones. Let us introduce you some chic Paris hotels that will change your attitude to standard accommodation.
Hotel Du Cadran. Rates: from 143 €
Du Cadran, translated as the "clock dial", will impress you not only with its style but also with its excellent location just ten minutes from the symbols of Paris such as the Champs-Elysees, the Eiffel Tower and Musee d'Orsay. Its superchic rooms possess vivid and modern dйcor dedicated to nature and zen ideology. Colours are mainly beige and white, supplemented by contrast glossy surfaces of red and pink. To make your visit even sweeter the hotel offers a chocolate bar with more than 30 different types of chocolate plus macaroons, marshmallows and hot drinks. For a more varied culinary experience there are lots of restaurants and cafes nearby. One complaint about the hotel is its small rooms, which is pretty standard for accommodation in Paris.
Hotel La Manufacture. Rates: from 70 €
La Manufacture is a cheaper variant of a boutique hotel for those who do not care about making a little stroll to the beauties of the city. The list of nearest attractions includes the Latin Quarter, the Butte aux Calles neighborhood and the botanical garden Jar din des Plants. Use the conveniently located metro stations to get to other city attractions. The hotel boasts an art deco design with bright colors, unusual paintings, geometrical patterns and lots of light. A relatively quiet area is a huge bonus for those who don't like crowds of tourists hanging around. It is also a good choice for budget-oriented travelers.
Hotel Mansart. Rates: from 200 €
Hotel Mansart is the variant of accommodation for the more discerning guests who need a higher level of service combined with unique style and great location. At least Mansart promises all those things to you. This is an elegant 4 star property situated in the corner of the Place Vendome – you could not think of a more central location. Rooms represent a combination of old and new, classic and modern design plus up-to-date equipment like satellite television, free WiFi internet access and air conditioning. Decorated with antiques and old paintings, they are more suitable for those keen on old style. You will be pleased with the room size as well: the smallest of them is the 15 sq.m. Club room and the largest is the 30-40 sq. m. Superior room. Not bad for this price.
Taylor hotel. Rates: from 200 €
Its location is perhaps not the most central one, however, if you don't mind traveling around the city all in all this is pretty a good choice. The hotel is situated some 10 minutes walk from the Marais neighbourhood which hosts many historic buildings. The city's most important places can be reached by several metro stations found not far from Taylor. Now the main word we can describe this hotel with is "romantic". Its rooms are charmingly decorated in beige colours with women-oriented details and knick-knacks like candles, little hearts, chocolates and bath lotions. The rooms are well equipped with a vast choice of amenities and the hotel beds are highly rated by its guests as super comfortable.
Le Standard Design Hotel. Rates: from 100 €
Meet the Tripadvisor's Traveller's Choice 2012 Winner in the Trendiest hotel category. Le Standard Design Hotel, a member of the Chateaux & Hotels Collection, is not suitable for those who like traditional elegant style, but is a perfect choice for the daring souls who pay much attention to the word "modern". A group of young designers worked on this hotel, and the result is chic and trendy rooms with contemporary dйcor combining black and white colours with colourful fabrics and club-style ambience. The hotel is located in a lively district near the Marais with cafes and clubs nearby so its probably not the right place for those who prefer quiet rest. Use the nearest metro stations for a sightseeing tour around Paris.
Hotel Sezz. Rates: from 306 €
Want to try something more unusual and have some extra resources for this? Choose Sezz for your stay. The hotel positions itself as a design boutique hotel with bachelor-style rooms. That is why due to their masculine decorations its accommodation offers might not be suitable for a romantic trip but would rather suite guys and companies of friends. The rooms are decorated in dark wood, red and black colours, with chrome stools, swivel chairs and glossy surfaces. Up-to-date technical stuff like LED TVs, wireless internet connection, CD and DVD players is also more likely to satisfy men than ladies. The Sezz bar partners with the renowned Champagne house Veuve Clicquot. To cut the story short, a nice choice for stylish and solvent young dandies. Le Marceau Bastille. Rates: from 145 € Le Marceau Bastille is another Tripadvisor's Traveller's Choice 2012 Trendiest hotel in France. It offers 55 stylish rooms decorated in two styles: the more modern and avant-garde Urban rooms and a little bit more tranquil Ecolo and Privilege rooms with soft green, beige and pink colours and natural materials. Rooms are rather spacious which is the hotel's distinctive feature if you consider the size of a standard hotel room in Paris. Art lovers will appreciate the display of modern paintings in the breakfast area. You will have to make a short stroll if you want to get to the nearest attractions like the Louvre, Bastille and the Notre Dame. However, the laziest tourists can use the nearby Bastille metro station.
Kube hotel. Rates: from 145 €
Kube hotel is the member of Murano Hotels & Resorts and the world-known Design hotels group and so you get a high level of service with the guarantee from an international chain. Located on a quiet street close to the Montmarte, the hotel invites you to its "retro-future" atmosphere of a science fiction movie. The hotel rooms are organized around a courtyard and feature sleek surfaces and futuristic design combined with the latest technology. The central attraction of the hotel is its Ice KUBE Bar that contains an Igloo. But note that some tourists were surprised to discover the Ice bar was not available during their stay.
There are so many design hotel offers in Paris you could always choose accommodation that would satisfy your thirst for something special. From elegant Hotel Mansart and romantic Taylor hotel two futuristic Kube and most contemporary Le Standard hotel, you will definitely find a place to stay at that has the design of your dreams.