More Winter Offers at Amsterdam hotels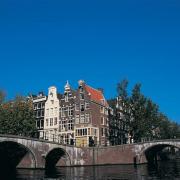 This winter there are so many great opportunities to enjoy your stay in Amsterdam at special rates and get some extras you'd normally have to pay for. If you haven't chosen a destination for your winter holidays yet, we've got several good reasons for you to pack your bags and head straight to Amsterdam. Further to our article about the winter offers at Amsterdam hotels, we give you more information about the offers and promotions you can enjoy this winter.
Special winter offers at Amsterdam hotels
Winter Wonderland Package at The Dylan 4*. From €660 for two guests
Tucked behind a beautiful canal house façade on the historic Keizergracht, the Dylan is the Amsterdam gem popular with celebrities and those who appreciate refined atmosphere. The Winter Wonderland offer at The Dylan will interest wine connoisseurs and those who want to diversify their trip to Amsterdam with a gastronomic experience.
The Winter Wonderland Package includes:
A two night stay at the hotel
Buffet breakfast
High Wine: a selection of 4 finest wines and savory bites from The Dylan's executive chef
Winter Collection offer at Sofitel Legend the Grand Amsterdam 5*. Up to 30% discounts
Want to experience Amsterdam in a way that the royalties did? Start with royal accommodation. The Winter Collection deal at Sofitel the Grand helps this dream of yours come true. Depending on how many nights you want to spend in the hotel, you can get from 25% to 30% discount off your rate. This might be a good way to enjoy accommodation at Sofitel at a higher level or spend more nights at this hotel, discovering its historic chambers and the rooms that hosted Maria de Medici and Queen Beatrix.
The Winter Collection offer at Sofitel Legend the Grand Amsterdam includes:
25% off your room rate when booking 3 or 4 nights
30% off your rate when booking 5, 6 or 7 nights
An all-chocolate gouter once during your stay
The offer is valid till January 15th, 2014
Seasonal Saver at Swissotel Amsterdam 4*. 20% off the best available rate
Let's get to some more special deals that Amsterdam hotels offer. In addition to its "Stay More, Pay Less" promotion, Swissotel Amsterdam offers the Seasonal Saver promotion with a 20% discount provided when booking at least 2 nights at the hotel. Consider the hotel's excellent location right by Dam Square – the true heart of Amsterdam, and you'll understand how useful this offer is.
The Seasonal Saver offer at Swissotel Amsterdam includes:
A minimum 2-night stay at the hotel with a 20% discount
Upgrade to the next room category subject to availability
Late check-out at 4 pm
No extra charge for in-room food delivery
The offer is available for stays until February 24th, 2014. A 7-day advance purchase and a 100% deposit are required.
Winter Special at NH Hotels. Up to 25% discounts
There is a whole bunch of NH hotels in Amsterdam, so whatever location you choose, you can be quite sure that you'll get a discount as part of the Winter Special promotion. Choose NH Grand Hotel Krasnapolsky, and you'll find yourself right in the city centre. Book NH Schiller to discover the hotel's stunning art deco design and rich history. Or enjoy proximity to the Central Station at the NH Barbizon Palace.
The Winter Special offer at NH Hotels includes:
Up to 25% off your room rate
Free WiFi
Children under 11 stay in their parents' room for free
The offer is valid for stays from December 15th, 2013 till January 12th, 2014. Advance booking at least 10 days before arrival and prepayment are required.
Stay longer and save up to 40% at the Moevenpick Hotel Amsterdam City Centre 4*.
Another way to save on your stay in Amsterdam this winter is to book a room at the Moevenpick hotel. The hotel boasts great waterfront location close to the Central Station and impressive views from almost all of its windows. Moevenpick guests can get from 20% to 40% off the room rates depending on the number of nights spent at the hotel.
The offer includes:
20% discount off the room rate when booking 2 nights
30% off when booking 3 nights
40% off when booking 4 nights
The offer is valid for stays until March 2nd, 2014.
Save 20% with Andaz Amsterdam, Prinsengracht 5*.
True to Andaz concept, Andaz Amsterdam Prinsengracht boasts a sophisticated style and up-to-date facilities that even the most discerning guests will appreciate. But there is one more thing that makes this hotel so attractive to everyone who comes to Amsterdam – location on the famous Prinsengracht canal, amidst the old charm of the historic Amsterdam houses.
This winter season you can enjoy a 20% discount on accommodation at the Andaz hotel in Amsterdam. The offer is valid for stays from December 7th, 2013 until January 31st, 2014.