Keukenhof and other places for spring adventures in Amsterdam
Every season has its must-visit in Amsterdam. In summer, it's open air fests, in winter – Christmas fairs and Light Festival, autumn arrives with another bunch of culture events… But in spring, the first and foremost thing you must do is marvel at tulip fields in full bloom. The best place for that is Keukenhof, the "Garden of Europe" which is open 20 March – 17 May in 2015.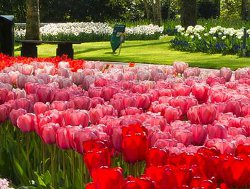 Basic information about Keukenhof
Keukenhof, translated as the "Kitchen Garden", is located in Lisse, a small town in South Holland province around 50 kms from Amsterdam. Stretching across 32 hectares of lush green lands, it's the second largest flower garden in the world after the Miracle Garden in Dubai. A total of 7 million flower bulbs are grown here.
The name "Kitchen Garden" comes from Keukenhof's former purpose: it once provided herbs for Countess Jacqueline's kitchen. The garden, as it is nowadays, was founded in mid-20th century as an exhibition spot for flower growers to demonstrate their best flowers.
In contrast to what most tourists might think of Keukenhof, don't expect to see long flower fields here. Instead, enjoy peaceful walks around several gardens, each in its own style, with neatly arranged lanes, flowerbeds and even flower-based artwork. The Keukenhof map includes:
- the Historical garden which itself is a live retrospective of the history of tulip industry
- and a number of Inspirational gardens: the Amsterdam Garden which stretches along the canal,
- the Herb Garden that contains herbs and fragrant flowers including daffodils, hyacinths and certain tulip hybrids
- the Innovation Garden to explore unusual flower shapes and colours
- the Rob's inspiration garden by the most famous gardener in the Netherlands – Rob Verlinden
- the atmospheric Romantic Garden
- and even a Selfie garden, inspired by the self-portraits of Van Gogh (this one is open in 2015)
You will also encounter with numerous works of art, pavilions, bulb sales outlets and other things during your trip around the fragrant and scenic flower lanes. The 17th-century Keukenhof castle is located across the road from the park. For kids, there is a playground, a petting farm and scavenger hunt activities available.
The Van Gogh Year
2015 marks 125 years since the death of Vincent Van Gogh. So this year Keukenhof's thrilling flower shows are dedicated to this remarkable Dutch master. Several impressive objects are set in the park for the event.
Firstly, the stunning 250 sq.m. mosaic depicting Van Gogh's "Self-portrait" that is made of thousands of tulips and hyacinths. Secondly, the Selfie Garden that is also inspired by the artist's self-portraits. You can even send you portrait to Keukenhof and then see it in the garden.
And lastly, this year the Orange Nassau Pavilion hosts a themed flower show that sets Van Gogh's paintings and flower arrangements side by side.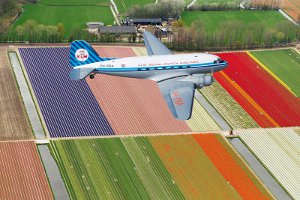 Other activities at Keukenhof
Instead of just strolling along the park, you can make your day a bit more exciting by taking a guided tour, which sets off at 14.00 from the Juliana Pavilion. Participation is free.
Or you can take a peaceful 45-minute boat trip to enjoy the canals and flower landscapes in full tranquility. The most adventurous souls can rent a bike (men's, women's, kid's bikes and even tandems available) and follow the suggested route outside the park.
And finally, the garden cooperates with DDA Classic Airlines to organize airplane flights around the tulip fields of Keukenhof and far beyond its grounds. Of course, advance booking is required.
Practical information
Keukenhof opens its doors from mid-March till mid-May. In 2015, the dates are: 20 March – 17 May 2015.
The opening hours are: 08.00 – 19.30.
Admission fee: €16.00 for adults, €8.00 for children aged 4-11 and free for kids aged 0 to 3.
Note that the best period to visit Keukenhof depends on the weather, but you are most likely to catch the best of it in mid-April. We suggest visiting the park earlier in the morning or later in the evening (outside the most popular visiting hours).
Getting there
There are several ways to get to Keukenhof. These depend on whether you want a guided tour from Amsterdam or an independent ride to the park.
There is a number of companies offering tours to Keukenhof from Amsterdam. The list of those includes Amsterdam City Tours, Local Amsterdam Tours, Go Ahead Tours and more. You can also book a hotel package that includes hotel accommodation and a visit to Keukenhof. See more information below.
If you want to travel independently, take a bus to Keukenhof that goes from Schiphol Airport or from Amsterdam. Arrive Keukenhof Express sells Combi tickets that include a bus ride and a ticket to the park. The approximate ticket costs: €28.50 from Amsterdam and €23.50 from the airport.
In Amsterdam, the ticket is also available on bus line 197.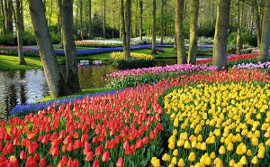 Keukenhof packages at Amsterdam hotels
As soon as the tulip season starts (or even earlier) numerous Amsterdam hotels readily provide you with special Keukenhof packages. Most often, they include hotel accommodation, tickets to Keukenhof (with or without transportation) and some pleasing extras. Check if your hotel has some package of the kind. By now, here are our findings:
- Hotel Conservatorium 5* offers a Keukenhof Package that includes a 2-night stay at the hotel with breakfast, 2 Keukenhof tickets (transportation included), a tour around the park and a special Tulip Celebration service with sparkling wine and a tulip cake. Package cost: approx. €672
- The stylish Andaz Amsterdam Prinsengracht 5* offers a Blooming Holland Package with a Garden View Room stay, daily breakfast, tickets to Keukenhof, transfer to the garden and free Spa visits provided. From approx. €535
- Keukenhof package at Crowne Plaza Amsterdam Schiphol includes accommodation, breakfast and 2 Keukenhof tickets for adults. From €205
More outside Keukenhof
Those is search of the majestic sights of tulip fields can take a bike ride outside Keukenhof, as suggested above. Large bulb growing industries are concentrated somewhere between the town of Sassenheimand in South Holland and Haarlem in North Holland. You can take a bus/ train to these locations to see the beauty of the Netherlands in full bloom.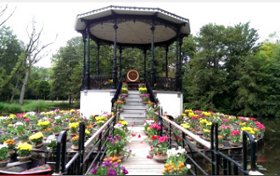 Enjoying spring in Amsterdam
If you're too lazy to go anywhere outside the city, you can also spend lots of enjoyable moments at Amsterdam parks. The best known of those are:
- Vondelpark. The most famous park of Amsterdam that covers 47 hectares of green grounds. The park is located pretty close to Museumplein and draws crowds with its Open Air Theatre performances, beautiful lakes and artwork (including "The Fish" by Pablo Picasso). The brand new attraction of the park is its Tulip Island, with tulips growing on its territory even in summer
- Beatrixpark. The quiet and clean park minutes from the RAI centre. Perfect for picnicking and rest from the crowds
- Amsterdamse Bos – a large landscape park outside Amsterdam that hosts a great number of local and foreign tree species. Enjoy various activities on the park's territory: camping, horse riding, open air theatre, goat farm. There is also a nudist area found here
- Westerpark. The most innovative and artistic park in the city that forms a part of the Westergasfabriek cultural complex. Formerly a gasworks location, nowadays it hosts a good selection of cafes, restaurants and cultural spaces