The most important January concerts in Amsterdam
After the festive season ends, the music life of Amsterdam is still lost in its holiday dreaming. So, the main music activity is concentrated at local clubs, because the youthful part of the city never sleeps! The most important venues like Melkweg, Paradiso and Sugar Factory host a variety of events to suit every taste. Dance and pop, rock, jazz and hip-hop rule the city's club scene this month! If you feel like dancing this January, our list of the best music events will be helpful.
Best concerts and festivals in Amsterdam this January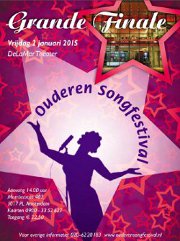 Senior Song Festival Grand Finale (Ouderen Songfestival). 2 January 2015. DeLaMar Theater
The youth are definitely more active in their social and artistic life throughout the year. But as they're catching up on their sleep after hectic partying, the elder ones are already out of their beds! The Senior Song Festival isn't focused on particular music genre. Instead, its main guideline is the participants' age: all of them must be over 55. The festival is in fact the nationwide event that consists of ten rounds taking place in nursing homes around the country. These are followed by two semifinals in Lelystad and Wood. And finally, the Grand Finale in Amsterdam. The variety of represented genres is impressive: jazz, opera, classical music, cabaret and event levenslied, the sentimental pop music genre that originates from the Netherlands. There will be 16 participants competing in the Finale, while the audience will vote for the best singer.
Hotels near the DeLaMar Theater:
- Eden Amsterdam American Hotel 4*
- NH Amsterdam Centre 5*
- Conservatorium 5*
Sonic Soiree. 8 January 2015. De Brakke Grond
There are many ways to discover new talents in Amsterdam. One of those is Sonic Soiree, the monthly edition of the Sonic Connections festival that's focused on the upcoming Dutch and Belgian pop and rock bands. Organised every first Thursday of each month, Sonic Soiree is a great source of inspiration and new music affections for its visitors. As for participating musicians, this is a great chance to demonstrate their talents and express their creative thoughts. Be prepared for lots of experiments and unusual combinations, for the festival participants usually demonstrate a wide variety of music findings. The festival takes place at the cultural centre De Brakke Grond and, unlike its sister event, provides a more intimate atmosphere. Its January line-up includes three main bands: Hydrogen Sea, I Am Oak and Yuko.
Hotels near De Brakke Grond:
- Sofitel the Grand Amsterdam 5*
- NH Amsterdam Centre 5*
- Radisson Blu Hotel Amsterdam 4*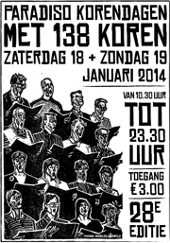 Korendagen Choir Festival. 10 – 11 January 2015. Paradiso
Paradiso, one of the best-known music venues in Amsterdam, serves as a platform for multiple music events, apart from traditional pop, rock and hip-hop gigs. One of the most impressive festivals of the month is the Korendagen ("The Choir Days") that started as a small event over 27 years ago and grew into a large meeting place for choirs from across the country. More than 140 choirs will perform in different genres, including renaissance music, pop and jazz. And each of them has only got 15 minutes to show what they can, so each and every performance promises to be pretty intensive. The event starts at 11.30 and finishes late in the evening. You can check the event's full line-up at Paradiso's site.
Hotels near Paradiso:
- Eden Amsterdam American Hotel 4*
- Park Hotel 4*
- Conservatorium 5*
Kraftwerk. 16 – 23 January 2015. Paradiso
For more than a week mid-January, Paradiso will be occupied by the German electro band from Dusseldorf, Kraftwerk. Each day of their concert schedule in Amsterdam will be dedicated to certain album. And there are a total of 11 albums in the quartet's discography, so don't even hope to hear all of their songs! Formed in 1986, the band has done a considerable contribution into the development of electronic music, especially with their 1974's album "Autobahn". It is Kraftwerk that is often considered to be the founders of electro and techno styles. There is a good reason why a year ago, in January 2014, The Grammy Academy honoured the band with a Lifetime Achievement Award. Even almost 47 years after the band's birth, it is still prolific and active, which is proved by numerous concerts and international tours.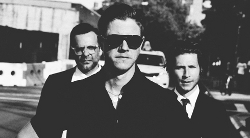 Interpol. 23 January 2015. Heineken Music Hall
In the end of January the New York-based indie band Interpol lands at one of the most celebrated concert venues in Amsterdam, Heineken Music Hall. The highly-acclaimed trio, known for their distinctive sound, is often referred to as a post-punk band. Interpol was formed in 1997 and is often compared with the giants like Joy Division and The Chameleons. It also stands in one line with the representatives of the post-punk revival movement such as The Strokes and The White Stripes. As always with talented people, they cat not be restricted by one band, so in 2011 – 2012 Interpol was on hiatus, while its members were involved in side projects. In Amsterdam, they will perform songs from the fifth studio album ("El Pintor", released in September 2014) along with some earlier hits.
Hotels near Heineken Music Hall:
- Novotel Amsterdam City 4*
Aaron Carter. 24 January 2015. Melkweg
Even though he's often overshadowed by his celebrity brother, Nick Carter from the Backstreet Boys, Aaron Carter's talent can't be denied. In fact, he started his music career almost at the same time as his elder brother. The singer/dancer/actor arrives at Melkweg in the end of January as part of his Wonderful World Tour. It's been a long time since he released his latest album ("2 Good 2 Be True" in 2006), but it's quite certain that his teen fans remember his old hits "Aaron's Party (Come Get It)" and "I Want Candy". Life isn't always treating you good when you're a kid star, and Aaron has been through many troubles, including drug addiction and the death of his dear sister, also a singer. However, he's still here with us, and if you want to remember the good days of this millennium's beginning, his show at Melkweg is a good reason.
Hotels near Melkweg:
- Eden Amsterdam American Hotel 4*
- NH Amsterdam Centre 5*
- Conservatorium 5*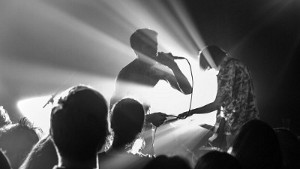 Grauzone Festival. 30 – 31 January 2015. Melkweg
In the end of January Amsterdam will bring together new wave fans from around the world at the Grauzone Festival, the only Dutch festival dedicated to this music style. New wave, the music genre that emerged in the end of 1970s, has crossed the boundaries of music, penetrating into other artistic forms. It has also significantly influenced other music styles, including post-punk, gothic rock, dark wave, synth-pop and electro. Most of these will be represented at the festival. Dozens of bands will perform live at Melkweg's three stages. This year's line-up includes The Fall, Trust, Rude 66, Mick Harvey, Lola Colt, The Woken Trees and The Membranes, to name a few. Many of the festival participants come from the movement's homeland, the UK. The event programme will also include a variety of other events, including art, installations and film screenings.
The Kooks. 31 January 2015. Heineken Music Hall
To fit in the moods of the month, the January concert schedule will finish with a gig by The Kooks, a relatively young indie rock band that comes from Brighton. Often associated with the post-punk revival movement, the Kooks, however, describe themselves as a "pop" band, with a dash of numerous influences, including Britpop, ska, reggae, and even funk and hip-hop. Their first album "Inside In/ Inside Out" (2006) was extremely successful: it received quadruple platinum status in their homeland, platinum certification in Australia and became twice platinum in Ireland. The following record, "Konk", was also accepted well. So far, the band has recorded 4 studio albums, the latest in September 2014 ("Listen"). It comes as no surprise that such an acclaimed band comes to Amsterdam to perform at one of its best concert venues, Heineken Music Hall.