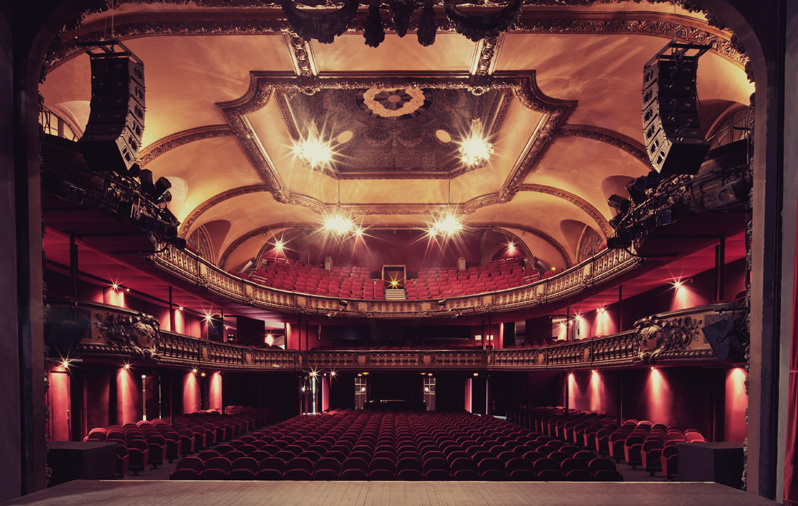 January must-visit concerts in Paris
As always with Paris music schedule, there are lots of events to dance the night out at. Several major concerts and a whole bunch of smaller gigs will add that melodic touch to your Paris visit this month. So if you're a music fan, don't forget to take the most comfortable shoes you've got with you! Because you'll definitely find a show or two to party at, independently on the type of music you prefer. The list of the best January pop, rock, electro and classical music concerts in Paris is there to guide you.
Best January concerts and music shows in Paris
Bernard Lavilliers. 10 January 2015. Le Trianon
For years, Bernard Lavilliers has been the French icon and the synonym of protest and nihilism. The 68-year old singer/musician started his career as early as in 1968. This was the year when his first album, "Premier pas…", was released, coinciding with the political events of May 68 in France. Perhaps for those who witnessed these events, the singer will always be associated with civil unrest and protest. However, 23 more albums have been released since then, so we've got a lot more material to explore. And there is indeed something to learn from his music! Because the hooligan, adventurer and traveler, Lavilliers also shows great talent and ability to mix styles. Rock, reggae, blues, salsa, bossa… It's hard to tell which exactly music style the singer works in. He is most notable for his politicized lyrics that often mention drugs and gangland shoot-outs. But ambiguous as they are, they also possess some poesy and beauty in them.
Hotels near Le Trianon:
Michael Mayer. 15 January 2015. Rex Club
If you're young, sociable and can't imagine your life without dancing, the name of Michael Mayer must be well familiar to you. Since the release of his first album in 1998, Mayer remains to be one of the key figures on German dance music scene. His talents and fame have long spread beyond the borders of Cologne, the city where he began, as well as his own country. Lots of clubbers and dance music fans from across Europe admit the skills and talents of this DJ, remixer and producer. Apart from composing his own music, Mayer co-owns the Kompakt music label where he decides which artists to give the green light to. Thus, we won't be mistaken if we say that somehow he plays his part in what the modern dance music scene looks like. By now, Mayer has released 11 albums, the latest in 2012. He also made several remixes to celebrated songs by Depeche Mode and Pet Shop Boys.
Hotels near the Rex Club:
-          Ibis Paris Gare du Nord La Fayette 10eme 3*
101 Pianistes. 17 January 2015. Philarmonie de Paris
Do you love piano music? Well, then you've got a chance to discover some 100 French piano talents in one place, within one concert. Sounds crazy, but intriguing, isn't it? This opportunity was provided to you by the famous Chinese pianist Lang Lang, who decided to dedicate some of his time to educational activity. He brought together 100 students from across the conservatories of Ile-de-France. The audience will enjoy the sound of 40 keyboards, 9 vertical pianos and 2 Steinway concert pianos, all on one stage. The concert programme includes Lang Lang's interpretations of Schubert's Military March Op. 51 No. 1, Hungarian Dance No. 5 by Johannes Brahms and Mozart's Turkish March.
Hotels near Philarmonie de Paris:
Anastacia. 24 January 2015. Le Trianon
Anastacia, the strong woman with a strong voice, will finish her Christmas vacations early this year to bring her music to Paris. The singer that is definitely known to you by her international hits "Left Outside Alone" and "I'm Outta Love", arrives in the City of Lights as part of her Resurrection World Tour that promotes her sixth album, "Resurrection". The highly acclaimed singer, known for her unique voice and touching songs, gained fame with the release of her debut album, "Not That Kind", in 2000. Apart from acknowledgement by millions of fans around the world, the singer was also rewarded with the "Best-selling International Artist" award at the 2000 World Music Awards. And this is only one of her numerous achievements, because the Anastacia is also the proud owner of recognitions at the MTV Europe Music Awards, Brit Awards and even Women's World Awards as the "World Artist" (2009). She is also notable for participation in charity events, including the Nelson Mandela 46664 event to raise awareness of AIDS.
Hotels near Le Trianon:
-          Timhotel Montmartre 3*
Queen with Adam Lambert. 26 January 2015. Zenith
Love it, or hate it, but Queen stays true to its watchword – "The Show Must Go On!". And the person who helps them is Adam Lambert, the young American Idol star that rose to fame with his debut studio album "For Your Entertainment" (2009). It's been years since we lost Queen's matchless vocalist, Freddie Mercury, but the band still exists thanks to the efforts of its guitarist Brian May and drummer Roger Taylor. The outcome of their cooperation with Lambert promises to be quite intriguing, for the latter is known for his flashy androgynous style combined with strong and skilled voice. Of course, no one can ever replace Mercury for Queen's true fans. But if you're tolerant of new song variations and ready to hear the famous "Show must go on" and "We are the champions" in new variations, you will like the show.
Hotels near Zenith:
-          Holiday Inn Paris La Villette 3*
-          Ibis La Villette 19eme 3*
Interpol. 27 January 2015. Olympia
While the beginning of January is focused on some smoother music styles, the end of the month will see the influx of some heavier bands. And one of those is Interpol. The New York-based indie/alternative music trio is often associated with the post-punk revival movement and thus stands in line with such bands as The Strokes, The White Stripes and The Hives. Their first album, "Turn on the Bright Lights" (released in 2002) was well received and even included in NME's list of top albums of 2002. The follow-up records have seen even greater success; however, the band went on a break in 2011, its members trying their forces in side projects. But the good news is that they're finally together again, bringing their 5th album "El Pintor" to Olympia. Visit their show to hear the band's most famous hits, such as "Evil", "Obstacle 1" and "Slow hands".
Hotels near Olympia:
-          Renaissance Paris Vendome hotel 5*
Slipknot. 29 January 2015. Zenith
Prepare your ears for some heavy sound, because the American heavy metal icons, Slipknot, come to Paris! The band from Iowa will visit the City of Lights as part of their "Prepare for Hell Tour", which follows the release of their latest album ".5: The Gray Chapter". For sure, Slipknot fans can sigh with relief after their worst expectations didn't turn into reality. Even after the tragic news (the death of their bassist Paul Gray and the departure of their drummer Joey Jordison), the band still exists and keeps on creating. Slipknot turns 20 this year, and indeed, their music style has changed significantly. But there are certain things that remain the same: their rage, their powerful music, controversial lyrics that touch all kinds of subjects, and, finally, their unusual concert uniforms and masks. Dark, thrilling, horror and aggressive images combined with powerful sound result in stunning energetic shows that every metal head must see at least once in his life.