The most impressive design hotels in Amsterdam
Being the historic city and the capital of the Netherlands, Amsterdam is at the same time known for its rebellious soul. It is the place where lots of artistic talents were born and where disputable laws passed. That's why you will find many curious hotels to stay at in Amsterdam. Moreover, nowadays many international boutique hotel chains open their properties in this city. We invite you to discover the most stylish hotels in Amsterdam.
Grand Hotel Amrath. From €207
Grand Hotel Amrath boasts the design that reflects the glorious nautical past of the Netherlands. Situated in a historic spot from where Dutch ships sailed to the West Indies, the hotel occupies a historic building that is a good example of the Amsterdam School – the architectural style that appeared in the beginning of the 20th century. The hotel might seem a little bit gloomy both from the inside and from the outside, but those who prefer grandiosity combined with exceptional style will like it. As a historic monument, it attracts tourists with its maritime decorations and stained-glass windows, so be prepared to be surrounded with art. Needless to say, the room views are what many guests come here for.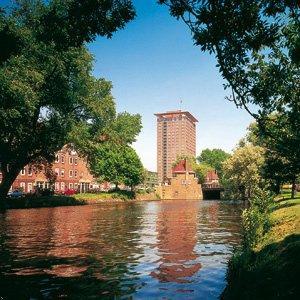 Hotel Okura Amsterdam. From €265
Hotel Okura is the member of the Leading Hotels of the World, and for good reason as it boasts all the regalia of a five star hotel: luxurious yet modern accommodation, Michelin-starred dining places, great services and a good choice of packages. A member of the international Okura hotel chain, it therefore bears some Eastern touches like the Yamazato restaurant with a peaceful Japanese garden. For splendid views, visit the Twenty Third Bar. Rooms are classic in style while lots of wood create the feeling of comfort and a touch of Eastern hospitality. We would say that this is a Japanese style in its modern variant.
Lloyd Hotel and Cultural Embassy. From €55
Even though not as posh as our previous suggestions, Lloyd definitely has its personality that deserves lots of respect. It is also an inexpensive variant of accommodation, which helps attract tourists who appreciate curious design but can only afford travelling on a tight budget. At the same time, there are different types of rooms here, from one to five-star ones, and that is the exceptional feature that hotel is proud of. The hotel is located in a historic eclectic-style building with a rich history as it made its way from a house for immigrants to prison and finally the art studios and a hotel. In addition to 117 rooms, it houses a Cultural Embassy which is actually present throughout the place in a form of artistic decorations, and even its own library.
Sofitel The Grand Amsterdam. From €320
As the member of the luxury international chain, Sofitel The Grand Amsterdam represents the worldwide idea of what a 5 star hotel must look like. It occupies a historic building that was visited by many important personalities, Queen Maria de Medici among them. Therefore, the hotel is suitable for a truly royal stay. It was also the first Sofitel Legend address in Europe, and the second in the world. The hotel is decorated in French style, with sleek surfaces, contrast colours and modern details, which is typical for the modern 5 star hotels. So, if you don't feel uncomfortable in the atmosphere of sumptuousness – you're welcome!
NH Grand Hotel Krasnapolsky. From €166
NH Grand Hotel Krasnapolsky stands out for its central location right on the Dam Square and opposite the Royal Palace. But this is not the only thing you should come here for. The focus of the hotel is its elegant Winter Garden hidden under the glass roof where you can enjoy breakfasts every morning. Alternatively, there is another restaurant at the hotel, and this one is designed in classic Belle Epoque style. The room design is basic but modern in pleasant colours, and the views on the Dam Square will make you proud of your stay at this hotel.
Seven One Seven Hotel. From €525
This is definitely not the cheapest variant we can suggest, however, remember that this is not a typical branded hotel with a large number of rooms and lots of fuss but a guesthouse situated by the canal with great views being the first of its advantages. There are not many rooms to choose from, but each has an individuality: named after writers, they are designed in respective styles, with great attention to detail. All in all, there are nine suites offered. Your gastronomic dreams will also come true as there are breakfasts, afternoon teas and a vast choice of drinks offered.
To summarize our story, there are some great design and stylish hotels in Amsterdam to choose from, but most of them are five star ones. If you want a completely memorable experience and privacy, stay at Seven One Seven (rates from €500). The famous Okura and Amrath hotels will offer you luxury and style for more than €200 and Sofitel invites you to plunge into history and splendour for more than €300. And if you long for inexpensive and art-oriented accommodation, head to the Lloyd Hotel, which will host you for €55.