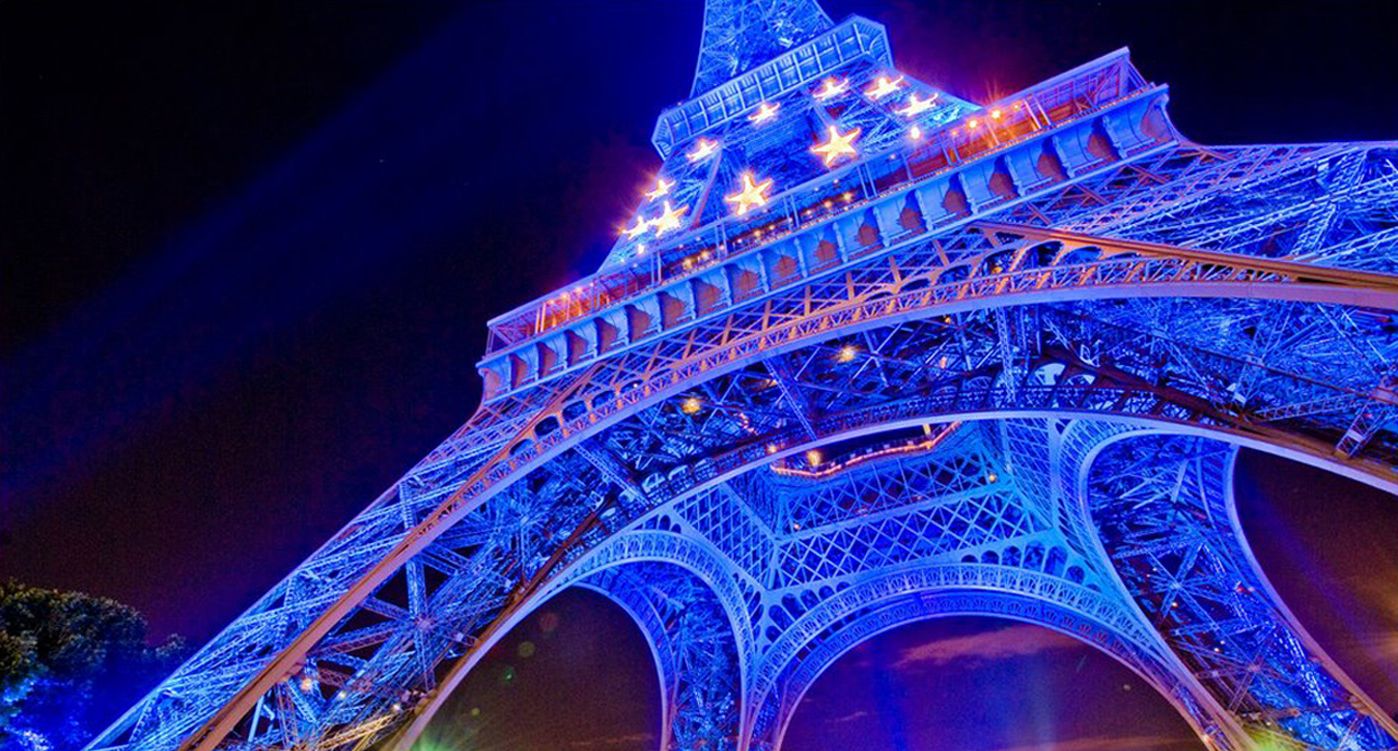 Paris hotels close to the city nightlife and best Paris hotel bars
Paris welcomes all kinds of travelers for all kinds of visits, from cultural excursions to lively time-spending at the city clubs. And since this is a lively city, there are lots of places to go to for night entertainment. Clubs, bars and dance halls are all waiting for you in Paris. We have chosen some hotels with great location close to the city's most concentrated nightlife and hotels that allow you spending your evenings in the atmosphere of fun without leaving hotel walls.
Kube Hotel Paris. Rates: from €121
Kube hotel changes your idea of what a hotel must look like. Its futuristic design, latest technology and overall atmosphere will conquer the hearts of the young guests and those who search for a lively and unusual place to stay at. But the focus of the hotel and its main gathering point is the Ice Kube bar, with ice walls, soft illumination and vodka served in ice glasses. The hotel location in the Montmartre district is also an advantage as you can find some great nightlife spots nearby.
Hotel Du Moulin. Rates: from €69
If you are a fan of classic entertainment and want to add a historic touch to your nightlife visit to Paris, head to Moulin Rouge – the most known cabaret in the world. There are many accommodation options close to this venue, one of them is the Hotel Du Moulin. Basically a two-star hotel, it is a good place to stay at if you have a limited budget but want something clean and comfortable. Small but nice rooms and a good value for money for the location. The hotel has a pretty garden which will perhaps be a pleasant bonus if you want some contrast after a night of fun and bustle.
Timhotel Montmartre. Rates: from €82
Timhotel Montmartre is another variant of inexpensive accommodation with great location on the Montmartre and close to Moulin Rouge, which is just a 5 minute walk from here. Compact rooms, which is normal for Paris, but great views from the 5 floor rooms. Note that in addition to the famous cabaret there are also some popular nightclubs and bars in the area, including the Lux Bar, Le Divan du Monde concert space and restaurant Au Rendez-Vous des Amis.
Le General Hotel. Rates: from €147
Oberkampf is perhaps one of the most popular areas for the nightlife goers. This is a colourful and lively district known for its clubs, bars and cafes, including the famous Au Chat Noir, the Panic Room nightclub, Pop In bar and club and much more. Le General Hotel perfectly fits in the area with its boutique-style design and helpful English-speaking staff. The hotel is praised for its cleanliness, design and breakfast options and is generally a good variant to stay at for those keen on style.
Pavillon Opera Grands Boulevards. Rates: from €92
Grands Boulevards is a lively area in the centre or Paris, with a big choice of cafes, shops, bars and restaurants. If you decided to stay here, the Pavillon Opera Grands Boulevards would be a nice choice and a good value for money. Described as a boutique hotel, it boasts furniture by sculptor Argueyrolles and an overall pleasant atmosphere. The main point about the hotel is its location – and this cannot be beaten. If you love to find yourself among the high society and prefer mingling with the famous guests instead of rocking and drinking at the nightclubs, there are some great bars found at the five star hotels in Paris. Let's name them.
Le Royal Monceau Raffles Paris. Rates: from €680
Le Royal Monceau hotel enjoys great location close to St.-Honore, a home to luxury shops and cafes as well as the legendary Hemingway Bar at the Ritz (currently closed for restoration). For the sociable souls the focus of Le Royal Monceau is its Bar Long, designed by the Philippe Starck himself. The impressive design is supplemented by a great choice of classic cocktails and creative offers. Invite your second half, friends or a business partner to the Bar long if you want to impress them.
Hotel de Vendome. Rates: from €300
Hotel de Vendome is a cheaper variant of luxury accommodation with great location and a well-known bar. The hotel is situated in the heart of Place Vendome – the heart of the posh pastime in Paris, which means you could always go out and find another curious place to entertain yourself at – like the above mentioned Hemingway Bar at the Ritz, as soon as it opens, or the legendary Hotel Costes, known for its expensive parties. But don't be in a hurry as Hotel de Vendome's Bar is also a pleasant place to spend your time at. Whiskey connoisseurs will appreciate the choice of whiskies offered at the bar.
Hotel Pershing Hall. Rates: from €368 Hotel Pershing Hall boasts a bar that is notable firstly for its modern but elegant design. A good combination of classic and contemporary, romantic and fun. The hotel's location disposes you to a sightseeing and entertainment tour around Paris as it is found in the heart of the Golden Triangle, with its numerous attractions, boutiques and clubs.
Plaza Athenee. Rates: from €895 Not only does Plaza Athenee boast its world reputation as a luxury hub in the centre of Paris, but also its restaurants and bar are popular with the high society. There are blue hours for the more relaxed time at the bar, and red hours, when the bar changes colours and a DJ starts entertaining guests with electro music. Choose what variant you love most, but don't forget to put on your best suit.
Hotel Bel Ami. Rates: from €247
Tired after the noise and buzz at the Parisian nightclubs, head to one of its piano bars for some relaxation. If you do not want to go far, choose Hotel Bel Ami which is located in the Saint-Germain-des-Prés neighborhood – the heart of the city nightlife. Its B.A Bar is great to enjoy jazz music and a pleasant talk with friends in an intimate atmosphere while sipping cocktails and tasting delicious dishes.
Hotel Lutetia. Rates: from €247 The bar at the Hotel Lutetia has long been attracting stars, journalists, writers and other representatives of the high society with its ambience, unique décor and Art Deco style. Every evening it turns into a piano bar, while Wednesday – Saturday from 10.15 pm is the time for the famous Lute-Jazz nights. A cocktail, a cigar, jazz music and an atmospheric evening – that is what you should come to Lutetia for.
All in all, your choice of hotel for entertainment depends on your budget and what you expect from your night. For an unusual experience, choose Kube hotel and its Ice Kube bar. If you travel with a tight budget and do not care about the facilities, go to Hotel Du Moulin, Timhotel Montmartre or Pavillon Opera Grands Boulevards which all offer cheap accommodation for under €100 with great location close to nightclubs. Five star bars and accommodation for over €300 can be found at Le Royal Monceau, Hotel De Vendome and Plaza Athenee while Hotel Bel Ami and Lutetia guarantee good rest in its piano bars and great accommodation for a medium price.