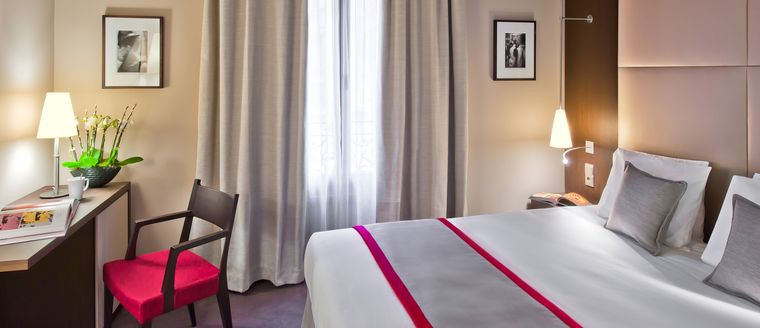 Budget hotels with great location in the centre of Paris.
It is simple to find a hotel in the centre of Paris if you do not care about how much money to spend. But if you are travelling on a tight budget, there are not so many variants to choose from. However, there is such a great number of hotels in Paris that you could always find a centrally located and not very expensive one. We bring to your attention the short list of inexpensive Paris hotels located close to the city's most known attractions: The Louvre, Arc de Triomphe, Notre-Dame de Paris, Tour Eiffel, Musée d'Orsay and Champs-Elysees.
Royal Magda Etoile. Rates: from €100
Royal Magda Etoile boasts a great location just a 5 minute walk from Arc de Triomphe and a few steps from Champs-Elysees. The hotel is compact in size and rather simple in design, with small but clean and elegant rooms. There are no special facilities here, however, you can enjoy restaurants, shops and cafes in the area. Offered breakfast is basic but good one. To make your sightseeing a bit easier the hotel offers special packages that include tickets to the Arc de Triomphe and the Notre Dame. The only downside about the hotel is its paper-thin walls, so perhaps its not the perfect choice for those who care a lot about their privacy and peace.
Emeraude Hotel Louvre Montana. Rates: from €160
Louvre Montana is not as cheap as you could expect, but if you are looking for a small and not very expensive hotel with its own style and excellent location, this is the right choice. Situated in a walking distance to all the main points of interest, and especially the Louvre and Musee d'Orsay, this is also a good starting point for your shopping tour around the district's boutiques and jewelry shops. Its rooms have an interesting and colourful design and elegant classic furnishings, walls covered with patterned wallpaper. Balconies with stunning views add to the charming atmosphere of the place.
Le Tourville. Rates: from €155
This is a four-star boutique hotel that can be rather an inexpensive choice for those who do not want to lose on style even if it comes to budget accommodation. Situated just a 10-minute walk from the Eiffel Tower, the hotel offers 30 recently renovated rooms with all the up-to-date amenities including iPod stations, large TV sets and Jacuzzi tubs. You will feel comfortable and relaxed at the hotel's well-illuminated rooms in beige, white and red colors. What else can you dream of after a rich sightseeing day? The only disadvantage for the English-speaking guests is the absence of the English TV channels. The hotel bar welcomes you for an evening drink.
Acacias Etoile Hotel. Rates: from €145
Acacias Etoile is a tiny hotel that occupies an excellent location minutes from Arc de Triomphe, the Eiffel Tower and other attractions. Its proximity close to the Argentine metro station allows you to travel around the city with no problems. This is a good base to start your cultural tour around the city, however, nightlife fans will not find anything interesting in the area. Rooms are small in size, but it comes as no surprise when you are choosing a hotel in the city centre. Breakfast offered might be too expensive, still, there is such a great choice of dining options around the place.
Hotel Le Notre Dame. Rates: from €169
Le Notre Dame would be an excellent accommodation option for the ones who look for something very special in the centre of Paris. Decorated by Christian LaCroix, it definitely stands out for its vivid and unusual style, contrast fabrics and old paintings which create the feeling of uniqueness and luxury. Its location allows you to enjoy views over the Seine and the Notre Dame and spend pleasant hours exploring the nearby shops, restaurants and bars. Some rooms overlook the courtyard. One downfall about the hotel is the noise coming from the street. Still, the hotel's ambience makes it a perfect spot for lovers and those crazy about high fashion.
Elysees Ceramic Hotel. Rates: from €130
Elysees Ceramic Hotel meets you with elegant and comfortable atmosphere in the very centre of Paris right next to the Arc de Triomphe and some minutes' walk from the Champs-Elysees. Choose the rooms on the higher floors to enjoy the best views. Rooms are all-fashioned but cute and quite clean and equipped with all the necessary amenities. No great facilities offered, but who cares when you are surrounded by all of them in the city? The hotel's cozy patio is perfect to enjoy a quiet rest with your friends and family. All in all, this is a good accommodation option for those who don't care about luxury and extra facilities but would like to spend some nights in the centre of the French capital.
Quai Voltaire. Rates: from €109
Look no further if you want to enjoy views over the Seine every morning spent in Paris. For tourists with a tight budget, this is one of the best accommodation variants. The hotel's location is a good starting point for a visit to the Louvre, Musee d'Orsay and the Notre Dame Cathedral while its rooms will make you feel a little bit closer to the high society. The city views are best to enjoy from the little balconies in the hotel rooms. But mind that you will have to put up with the traffic noises to see all this beauty. Lounge, bar, continental and a la carte breakfast are in the short list of services offered by the hotel.
Hotel Belfast Paris. Rates: from €140
Superb location is what you think of first when you come to Hotel Belfast. Located in the 18th century building and filled with historic atmosphere, Hotel Belfast guarantees you stunning views over the Arc de Triomphe, especially if you hurry to book the room right under the hotel roof. Room décor goes hand in hand with the history of this building and creates the charming and comfortable Parisian atmosphere. There is no restaurant, but you can easily find pastry shops, cafes and bars around the place. The hotel staff will impress you with the knowledge of English and other several languages that are spoken fluently, according to guests' reviews.
To sum it up, you have some great choices even for a limited budget when travelling to Paris. The cheapest centrally located hotels we can suggest you are Royal Magda Etoile and Quai Voltaire (rates under €110). However, the rest of the hotels described are not much more expensive, and you can even find a good value for money among the 4 star properties, like hotel Le Tourville or Emeraude Hotel Louvre Montana. Pay attention to Hotel Le Notre Dame if you are looking for the high fashion design.