Amsterdam hotels April deals
We congratulate you with the arrival of April – the second spring season that gets us a little bit closer to summer. It is not only Easter events that one can enjoy this month. As usual, there are many special offers and deals available at Amsterdam hotels. We give you a shortlist of them.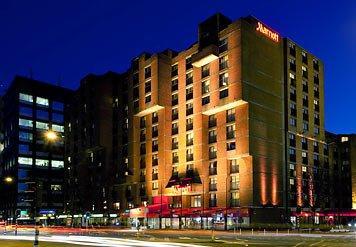 Step in to Spring with Amsterdam Marriott hotel. From €330
With this Spring offer by Amsterdam Marriott and Renaissance Amsterdam hotels, you can discover the beauty of the awakening city with a little bit more convenience, in case your stay is on a weekend. Valid through May 31st 2013, the offer includes Executive or Club Accommodation, access to the Executive or Club Lounge for two guests, complimentary parking, breakfast for two and I Amsterdam Card which gives you access to various museums, public transport and boat tours. Rates from €330 to €650.
Hot Deals at Best Western Blue Square hotel. From €139
Best Western Blue Square is a four star hotel with good location and transport links: your way to the Central Station will take around 25 minutes and there is a tram station from which you will get to the city centre in just 10 minutes. But that's just a few of its advantages the main of which is a good value for money. There are hot deals offered by the hotel that guarantee you great discounts. For example, a Single room could cost you €139 instead of €200 while the price for a Quadruple room could be €199 instead of €400, again, if you use this hot deal.
100 Year Jubilee Package at Grand Hotel Amrath. From €140
One of the most prestigious hotels in Amsterdam – Grand Hotel Amrath on the Prins Hendrikkad, celebrates an important event this year. In 2013 Amrath has a 100 years jubilee. Indeed, there will be some special events organized and you are welcomed to celebrate the anniversary of the hotel with its 100 Year Jubilee Package. The package is available from April 1st until September 30th 2013, with rates starting from €140 per person. There are many things included: in addition to an overnight accommodation in a Deluxe room you get champagne at the hotel's bar, luxurious breakfast buffet, use of bicycle for one day, entrance to the Van Gogh or the Hermitage museums, an entrance to the hotel's Wellness centre plus late check-out.
500 points for loyal guests at Mercure, Novotel and Sofitel hotels
If you are a devoted fan of Accor brands and a member of Le Club Accorhotels loyalty programme, you get many benefits for the bonus points earned with every booking, such as hotel vouchers, airline miles and discounts from the brand's partners. And if you are not a member of the programme yet, you can get 500 bonus points for free if you register until April 31st 2013. There are actually around 2500 hotels of Sofitel, Pullman, MGallery, Novotel, Mercure, Ibis and other brands participating in the programme. Some of the Accor hotels you can find in Amsterdam are Mercure Hotel Amsterdam City Center, Novotel Amsterdam City and Sofitel the Grand.
City Breaks at Novotel Amsterdam City. Up to 40% off your room rate
There is another deal available at Novotel Hotel in Amsterdam. Booking a City Breaks offer at the hotel, you can enjoy great discounts which reach up to 40%. Daily breakfast is included and the stay must be at least 2 nights long. The nearest City Breaks offer we have found is for the mid April, rate is €335 for two nights. You can also use non-refundable hot deals for €139 per night if you are certain with your choice and dates of visit.
So Credit Offer at Sofitel the Grand. From €326 per night
Another member of Accor hotels and the proud representative of Sofitel Legend brand, Sofitel Legend the Grand Amsterdam invites you to take advantage of the So Credit Offer, currently available throughout Sofitel hotels. There is not much included in the offer, but if you can get some pleasant extras, why not use it? The offer includes accommodation and a voucher for €20 which you can use however you like and for any services you want at the hotel, including bar or restaurant, spa or room service, laundry, video on demand etc.
Advance Purchase deal at Hilton Amsterdam. Up to 20% off your room rate
If you are an early bird or the person who prefers to plan everything in advance, you are the favourite guest of many Amsterdam hotels, including Hilton Amsterdam. There is an advance purchase deal that was launched by the hotel this winter and is currently available. This deal can save you up to 20% off your room rate. But note it is non-refundable. For example, this May you can stay in the King Hilton Deluxe room for €259 instead of €299.
Summarizing our findings, hot deals and special offers at Amsterdam hotels this April mainly mean great value and new experiences, like the one at Grand Hotel Amrath that celebrates its 100th birthday and offers a special package for €140 only. Another great package is available at Marriott hotel for €330. If you want discounts and hotel deals, head to the Best Western Blue Square, Novotel Amsterdam City or Hilton Amsterdam and enjoy up to 40% off your room rate. Or get bonus points with Accor loyalty programme at Mercure, Novotel and Sofitel.