Six Packages for an Unforgettable Honeymoon in Amsterdam
For newly-weds a honeymoon is a very special time that they can dedicate just to each other. That's why a romantic trip around Europe is a typical honeymoon variant since it allows you to discover many beautiful and romantic spots and add a touch of adventure to your journey. Amsterdam is not usually chosen as the main honeymoon destination, however, it can be an important stop during your trip. We suggest you some tempting honeymoon packages that will make your time in this city even more romantic.
"Yes I Do" package at Grand Hotel Amrath. From €279 for a Superior Deluxe Room
Impress your fiancée with a stay at one of the best known and most beautiful locations in Amsterdam – Grand Hotel Amrath. Its Art Deco building with unforgettable views is a perfect setting for your honeymoon while the "Yes I Do" package will add a romantic touch to your stay. Your luxurious bath package with comfortable bathrobes and slippers, a bouquet of roses, champagne and sweet surprises will wait you in your room upon arrival. In the morning you get a delicious room breakfast and the day can be spent at the hotel's Spa and Wellness centre or in the city. For the second variant, the hotel provides you with a map of the city with six curious walking tours. Wireless internet and mini-bar are also included in the room rate.
Honeymoon package at Hotel Okura. From €383
Hotel Okura is famed for its design with an Eastern touch, its Michelin-starred restaurant, 23 floor bar and numerous and varied packages, including the one for the newly-weds. Even tough there is nothing super special about this offer, you will certainly be glad to get all those romantic extras like the delicious breakfast, bottle of champagne and strawberries in your room, bath full of rose petals and access to the hotel's Nagomi Health centre. The latter has lots of facilities including Jacuzzi, steam room, massage rooms, saunas, solarium, swimming pool and a gym. Price is not bad for the luxury and relaxation you get.
Honeymoon package at Moevenpick Hotel Amsterdam City Centre. From €384
Another great place to enjoy stunning views over the city is Moevenpick Hotel located directly by the river IJ in the heart of Amsterdam. Generally popular as a business hotel, it still has a great honeymoon offer that promises you many pleasant moments for a reasonable price. Starting at €384, the hotel's honeymoon offer includes a three night accommodation in a luxurious room, 2 breakfasts at the hotel's Silk Road restaurant, one breakfast in your room with a glass of prosecco, 3 course dinner and a romantic gift in your room. The list of surprises does not stop here as you can also enjoy private massage at the hotel's Lifestyle Studio and get a free access to the Studio and sauna. Free wireless internet and shuttle service to the central station are also provided.
Honeymoon at The Dylan. From €450 for a Double Room
The luxurious The Dylan hotel is a choice of those who love rest in an atmospheric setting. This is a historic hotel with a great setting by the charming canal and a pretty courtyard that create an ambience perfect for a romantic time in Amsterdam. For those who decided to choose The Dylan for their honeymoon, there is a special package that includes an overnight stay in a Double Room, two glasses of champagne upon arrival, a romantic bath, a champagne breakfast in your room, late check out at 4 pm and another extra that will make you return next year – a gift voucher for a "High Wine" event for your first anniversary celebrations. High Wine is a gastronomic experience that includes tasting of 4 different wines accompanied by delicious bites chosen by the hotel's chef.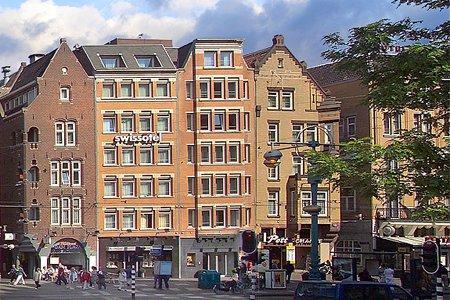 Honeymoon Package at Swissotel Amsterdam. From €308 per night
There is no better place to stay in Amsterdam than its city centre which is based on the Dam Square. And there is no better variant of a romantic time in this city than the canal cruise. And this Swissotel Amsterdam offers to you and your spouse. There is a Honeymoon package available at the hotel which includes free room upgrade from a Swiss Business Advantage room to the City View suite, breakfast, flowers, champagne, rose petals and chocolate waiting for you in your room, 1 three-course dinner provided at the Dam Plaza restaurant (wine included), and, finally, a canal cruise. All little romantic details included in one package. Note a minimum 2 night stay is required.
Romantic package at Hilton Amsterdam. From €309
If there is no need in many special extras for you and the one you love but all you need is accommodation and some pleasant additions like a bottle of champagne, a culinary gift and breakfast in your room, choose Hilton Amsterdam. Great canal views and romantic historic details (the hotel is known as the base for John Lennon's and Yoko Ono's 1969 "bed-in for peace" session) will probably be your decision-makers. You can even stay at John & Yoko Suite.
To sum it up, we have found many honeymoon packages offered by Amsterdam hotels. Most of them are at 5 and 4 star hotels which are a great variant if you want to impress your fiancée with luxury and comfort. The pleasant thing is that they can be relatively inexpensive: they start at around €300. Rates depend on a room type, of course. Choose Amrath, Okura or Moevenpick hotels if you want wellness facilities added to your package. Swissotel provides you with a canal cruise and The Dylan offers High Wine experience for your 1st anniversary celebrations. If you need super experience in a John Lennon's and Yoko Ono's suite, head to the Hilton.