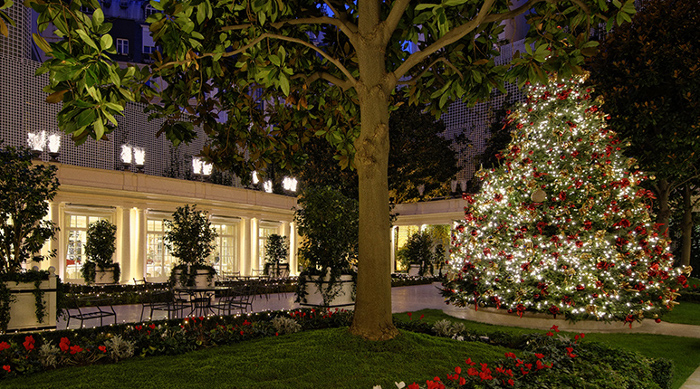 What's on in Paris this December
You cannot but admit that the best place on earth to be in December is Paris. One of the most romantic cities in the world, it gets even more alluring, charming and sparkling during the Christmas season. Needless to say, all kinds of holiday delights are waiting for you in Paris this month. Christmas shopping, skating at the central ice skating rinks, charming craft stuff at Christmas markets, stunning city decorations and festive dining create the heartwarming atmosphere that you'll want to last forever.
At the same time, the cultural life of Paris isn't focused on Christmas only. See the list of the best things to do in Paris this December.
Best December events in Paris

Christmas markets
One of the primary things that you've come to Paris for is shopping, of course. You've got fair chances tofind something for each and every member of your family at the traditional Christmas markets, because everyone likes authentic things. And there is in fact a huge choice of Christmas markets in Paris.  Souvenirs, Christmas tree decorations, gingerbread houses, handmade jewellery, pastries and hot drinks are the main trophies to bring home from your Paris trip this month.
The largest and the most central Christmas market stretches right from the Avenue des Champs Elysees to the Place de la Concorde. This market is open 14 November 2014 – 5 January 2015 until 11 pm on workdays, and until midnight on Fridays and Saturdays.
For handmade decorations and knick-knacks, regional food and artful home objects, head nowhere but to the Christmas market at La Defense. This is one of the most unusual, but at the same time most attractive markets in town. It's opened for a little shorter period: from 20 November until 28 December.
Christmas market at Trocadero is good for the ones who lead a sporty way of life, because it goes in pair with an ice skating rink. Traditional holiday presents and treats are sold here.
There is also an artistic Christmas market waiting for you at the Notre Dame Cathedral. Focused on arts and fine cuisine, it is the perfect supplement to your visit to the Cathedral.
This is of course not the whole list of markets waiting for you in Paris. Check the ones at the Saint-Germain-des-Pres, the Montmarte or the Montparnasse Tower. Basically, the markets can be found anywhere you go!
More Christmas shopping
Fancy luxurious Christmas shopping and prefer high fashion to hand-made garments? The good news is that the most prestigious department stores in Paris welcome you both for pre-Christmas shopping and after-Christmas bargain-hunting. Start with the Galeries Lafayette, a shopping paradise for the whole family. During the Christmas season, the store turns into home for a doll named Lily and her Teddy bear, who make a journey around the decorated Galeries windows. Impressive decorations and of course a stunning Christmas tree are there to create a festive mood as well.
A Christmas spree to Bon Marche is like a trip to some fairytale forest. Not only is the department store itself adorned respectively, it also boasts a separate section dedicated to Christmas tree decorations.
Every fashionista must pay a visit to Le Printemps, the most fashionable department store in the city. Its haute couture attire is changed into themed Christmas decorations, which means it's time to buy something for a Christmas party.
Ice Skating Rinks
You might not be a perfect ice skater, but to feel the festive spirit, you should at list have a glimpse at the ice skating rinks and the charming atmosphere that surround them. There are numerous rinks available, some stay open until March (like the rink at Hotel de Ville). The most popular rinks are found at Santa's Village (Av. Des Champs-Elysees), the Trocadero and steps from the Eiffel Tower.
Festive dining
Wherever you go in Paris this season, you are most likely to find special Christmas treats and themed menus. A delicious cake and a winter drink at a cosy little café, or a grandiose dinner for the whole family in some luxurious restaurant… the choice is yours. Mind that pretty often you don't even have to leave your hotel to enjoy a festive dinner: many of them hold Christmas parties and after-Christmas brunches right in their restaurants.  Christmas treats often go hand in hand with special holiday offers. Here are our findings:
-          Hyatt Paris Madeleine 5* invites you to celebrate Christmas and New Year with a special festive dinner. They even promise to feed you with black truffles as part of their special 5 course menu.
-          The whole Dorchester Collection of hotels has already prepared for Christmas. Don't miss the special Christmas offers available at the chain's properties worldwide. In Paris, Hotel Plaza Athenee 5* invites you to skate on its own ice skating rink. But before that, don't forget to refuel with a buffet breakfast! Le Meurice's offer is aimed at families: it provides 50% off the second room and chocolate treats for kids.
-          There is a whole bunch of things to do at Le Bristol 5* this Christmas! Enjoy special menus from the hotel's chef, Eric Frenchon, savour delicious pastries and aromatic tea during the Christmas tea time (available throughout December) and celebrate Christmas and New Year at Epicure, Le Jardin Francais or Le Bar Bristol!
December entertainment

A Monstrous Christmas at the Galeries Lafayette. Until 5 January 2015
Those are not only Santa Claus and his little assistants that will settle at the Galeries Lafayette for Christmas. For the first time the upmarket department store will play host to a band of lovely monsters! Find monster Gustave, Norma the tightrope walker, earthworm Norbert and other creatures at the animated window displays and throughout the store. The whole family will like these funny mini-shows, so don't hesitate to bring your kids to the Galeries. Oh, and the centerpiece of the store for this festive season is the Christmas tree that's been turned upside-down! The 25-metre fir tree will also become a base for an hourly light and sound show.
Hotels near the Galeries Lafayette:
Gourmet Christmas Fair. 19 – 22 December 2014. Palais Brongniart
The Christmas Fair at Palais Brongniart promises that this Christmas will taste really delicious. The event is fully dedicated to French gastronomy, bringing together best food producers and experts in one place. Visit the event to treat yourself to some of the tastiest dishes and products and get some information about the regional cuisine. The event saw as many as 10.500 visitors on its launch year, in 2013.
Hotels near Palais Brongniart:
-          Renaissance Paris Vendome hotel 5*
Snow Globes. Until 24 January 2014. Musée de la Poupée
Is there a thing more romantic, more enchanting and dreamlike than a snow globe? Most of us had those when we were kids. And if your children don't possess it yet, it's time to acquire one in Paris. But before that, why not make a small trip into the snow globe history at the Dolls Museum? To celebrate its 20th anniversary, the museum launched an exhibition that demonstrates 300 snow globes that come from the Mireille Sueur collection. Learn the item's history that dates back to the end of the 19th century. Originally a paperweight in a form of a ball, it was filled with white powder that imitated snow. The looks of the snow globes has changed significantly with the production of plastic. And starting from 1970s it became a popular collectible item. See the old and the new snow and waterglobes at the exhibition.
Hotels near Musée de la Poupée:
Cirque du Soleil. Quindam. 2 – 7 December 2014. Palais Omnisports de Paris-Bercy
Cirque du Soleil doesn't need an introduction. The Canada-based circus has long become more than just an acrobatic show. It's a piece of art that masterfully mixes circus, music, dance and storytelling. Quindam is one of their earliest shows, so if you haven't seen it yet, it's time you did. And Paris is the perfect destination for this new discovery. Premiered in 1996, it tells the story of a sad girl Zoe who has created a world of her own, the "Quindam". The place to forget about boredom and dullness of the world that surrounds us. As usual, Cirque du Soleil presents breathtaking acts, including the German Wheel, aerial silk, skipping ropes, aerial hoops, Spanish webs, Statue and more.
Hotels near Palais Omnisports de Paris-Bercy:
-          Novotel Paris Gare de Lyon 4*
Paul Durand-Ruel. The gamble of the Impressionists. Exhibition at the Musée du Luxembourg. Until 8 February 2015
Its hard to imagine what the fate of many Impressionist masterpieces would be if not for the zeal of Paul Durand-Ruel. Still, not many of us know who he is. Durand-Ruel was one of the best-known art dealers and a passionate fan of Impressionist art, who helped sell and himself purchased a great number of paintings. Monet, Degas, Sisley, Renoir, Pissarro… all of them owe their fame to Durand in some way. He also founded the largest Impressionist collections in Europe and America and played his part in the formation of the modern art market. 80 paintings, photographs and documents demonstrated at the exhibition tell about his influence on this artistic movement and the art world. The exhibition is organized in partnership with Musée d'Orsay, the National Gallery (London) and the Philadelphia Museum of Art.
Hotels near Musée du Luxembourg:
-          Le Relais Saint Sulpice hotel 4*