Things to do in Amsterdam this December. Christmas events and more
December is just around the corner. It means that the Christmas craze is in the air! But even if you won't be visiting Amsterdam on December 25th and New Year's Day, you still have some great reasons to revel! Because the Dutch holiday season kicks off as early as on November 16th, when Sinterklaas, or Saint Nicholas, floats into the city in his festive boat. From then on, you're welcome to celebrate Christmas Dutch-style. Events at local museums and theatres, Christmas markets, ice skating rinks and sales at shopping malls are waiting for you.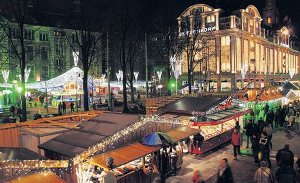 Celebrating Christmas in Amsterdam
In Amsterdam, Christmas season is in full swing already in the beginning of December. So there are plenty of things to do to mark the occasion. Shop at local Christmas markets, skate at ice rinks right in the heart of Amsterdam, visit one of numerous music performances at concert venues. But let's start from the very beginning.
Give your presents in Dutch style on Saint Nicholas Day. 5 December
If you're visiting Amsterdam in the beginning of December, you've got a great opportunity to celebrate Christmas twice, because the Dutch give their presents on St Nicholas Day, which falls on November 5th (the day Sinterklaas celebrates his birthday). And the most awaited holiday for kids it is. No socks for gifts are left by the fireplace. Instead, they put their shoes in front of their chimneys and sing festive songs. Don't forget to leave some treats for St. Nicholas's horse (named Amerigo) right in the shoes. This might be a carrot or hay. As for the presents for your kids, you can leave something small (like sweets or small toys) in the shoes, but the most important presents arrive in a bag that is left outside the house or a living room. Give freedom to your fantasy to make it in some original way. For example, you can dress up like St. Nicholas or his helpers, Zwarte Pieten (the Black Petes), or ask someone else to do bring presents to you.
Christmas markets
There is no place as crowded with tourists as Christmas markets and ice skating rinks in Amsterdam. But if you manage to get there, you definitely won't regret it! Because what they sell at the markets can't be found anywhere else. Christmas treats, like candies, pastry, pancakes, cookies of different shapes that come in "canal house" boxes, cheese, and some inedible things like traditional Christmas hats, candles, masks and other souvenirs. All of these will be perfect presents to bring home to your loved ones.
There are numerous Christmas markets to visit in Amsterdam. The most popular ones are found at the Leidseplein and Koningsplein. These markets are open for visitors throughout the season. Also don't miss the stunning Wintermarkt Amsterdam at the Beursplein (opened November 20th, 2014 – January 4th, 2015).
Sunday markets welcome visitors only several times a month, but these will impress you with the diversity of items offered. Visit the Funky Xmas Market at the Cultuurpark Westergasfabriek December 14th, the Local Goods Christmas Market, focused mainly on food and design, at De Hallen (20-21 December), or the Pure Winter Market that offers organic and sustainable products at the Amstelpark (14 December) and Park Frankendael (21 December).
Hotels near the Leidseplein:
- Eden Amsterdam American Hotel 4*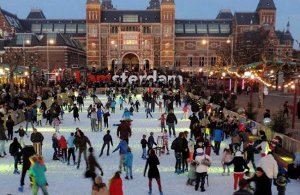 Ice Skating Rinks
Ice skating is a traditional winter entertainment for the Dutch. Just think it, you can even skate down the canals, enjoying a wonderful winter alternative to traditional summer boat tours. Amsterdam canals are opened for ice-skating when the temperatures get below -4°C (so better put on something really warm).
But even when the weather conditions don't allow the canals to freeze, there are many places in Amsterdam to test your skates on and enjoy picturesque views on some of the best known Amsterdam attractions. Two of the most popular ice skating rinks are set at the Museumplein and Leidseplein. The biggest ice skating rink in Amsterdam is found at the Jaap Eden complex. This 400-meter rink is supplemented with numerous other facilities, including a restaurant, a facility for the rookies, and lockers for your convenience.
The younger audience will surely be fascinated by the ice skating rink at the Westergasfabriek. Glide along the rink to the sounds of dance or disco music and enjoy DJ sets.
Hotels near the Jaap Eden:
- InterContinental Amstel Amsterdam 5*
More shopping
Like in any European (and American) city, Christmas is not only about getting presents, but also about giving ones. So prepare well in advance! Those heading to Amsterdam this December can surprise their families with some authentic Dutch stuff. Start your shopping spree at the Christmas Palace, the only Christmas Store in Amsterdam, which is found right by the Flower Market. Christmas tree decorations, sculptures, ornaments, delftware and other items are offered.
Hotels near the Christmas Palace:
- NH Amsterdam Centre Hotel 5*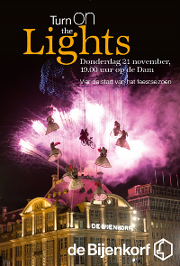 The most central and by far one of the most popular department stores in Amsterdam, De Bijenkorf, launches its Christmas season with the Turn On the Lights event in the end of November. The store, lit by thousands of LED lights and boasting a huge Christmas tree in front of the building, could be your perfect destination both for Christmas shopping and after-holiday bargain-hunting.
Hotels near De Bijenkorf:
- NH Grand Hotel Krasnapolsky 5*
- Hotel Amsterdam De Roode Leeuw 4*
For luxurious shopping, there is no better place than De 9 Straatjes (The Nine Streets), a shopping area that unites nine streets along the historic Amsterdam canals: Prinsengracht, Keizersgracht, Herengracht and Singel. Boutiques, skin care and bath products, gadgets, souvenirs, jewellery and chocolate stores – the best of everything is found within these little streets.
Hotels near De 9 Straatjes:
- The Dylan Hotel Amsterdam 4*
- NH Amsterdam Centre Hotel 5*
Christmas entertainment
If even during the Christmas season you don't want to be idle, we suggest visiting some themed events that will leave great memories about your December trip to Amsterdam.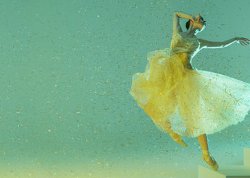 Cinderella. Dutch National Opera and Ballet. 14 December 2014 – 1 January 2015
Christmas is the time of magic, and the story of Cinderella proves that magic does in fact exist. The highly-acclaimed production by Christopher Wheeldon throws a new light on the fairytale characters. Performed by the Dutch National Ballet in collaboration with the San Francisco Ballet, it will add that winter charm to your Amsterdam visit.
Hotels neat the Dutch National Opera and Ballet:
- Sofitel Legend the Grand Amsterdam 5*
- Radisson Blu Hotel Amsterdam 4*
The Christmas Matinee at the Royal Concertgebouw. 25 December 2014
There will be numerous classical/ pop and rock music concerts held at various Amsterdam venues during this Christmas season. For the ones fond of classical music, we recommend the Christmas Matinee at Concertgebouw. December 25th they will perform Mahler's Symphony No.4, the composer's shortest symphony. The performing artists are: Anna Prohaska (soloist), Mariss Jansons (conductor) and of course the Royal Concertgebouw Orchestra.
Hotels near the Het Concertgebouw:
More entertainment
Those are not only Christmas events to visit in Amsterdam this December. Here are some things to diversify your holidays in the city.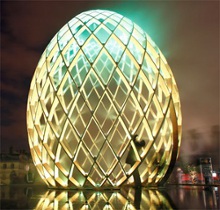 Amsterdam Light Festival. 27 November 2014 – 18 January 2015
The Amsterdam Light Festival is the most scenic and one of the most scaled event that you simply cannot overlook. For almost two months, the city turns into an outdoor venue for the light show. Light sculptures will be installed outdoors at various spots around the city. You can observe these during a themed canal cruise (entitled "Water Colours") or during walking tours ("Illuminade"). The theme for the festival's third edition is "A Bright City".
Breitner in Amsterdam. Until 1 February 2015. Amsterdam City Archives
Numerous sketches of Amsterdam, plus paintings and watercolours by George Hendrik Breitner are on display at the Amsterdam City Archives until February. The Dutch Impressionist used his sketchbook to transmit the impressions of the city that surrounded him onto paper. You can now make a tour into the history of Amsterdam through the artist's works.
Hotels near Amsterdam City Archives:
- NH Amsterdam Centre Hotel 5*
- Sofitel Legend the Grand Amsterdam 5*
Art in Redlight. 27 – 30 December 2014. Beurs van Berlage
The 10th independent art fair, Art in the Redlight, could be a great escape from all those Santa Clauses, Christmas lights and shopping sprees, especially for the art geeks. More than 70 artists represent various artistic forms: design, video, art installations and video art, music and dance. Get familiar with established and up-and-coming contemporary artists at the fair.
Hotels near Beurs van Berlage:
- Hotel Amsterdam De Roode Leeuw 4*