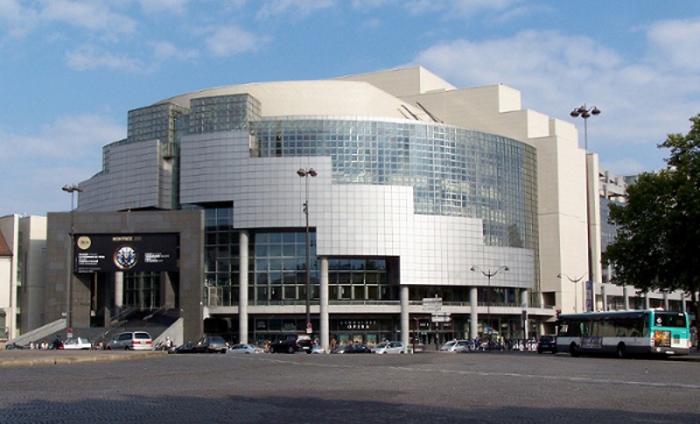 Best music events in Paris this December
You never know what awaits you in Paris. A charming chamber music concert or a rock show,  a night in a club or a pop concert that you'll remember forever. But there's one thing that is quite certain: none of the music fans that come to the French capital will feel bored. Even in December, when it seems that the city is kept in captivity by the Christmas concerts and themed music shows. Pop and rock gigs, dance music festivals, sunny reggae and jazz rhythms… find a concert that moves you best. 
Top 8 December concerts in Paris
GusGus 3 December 2014. La Maroquinerie
The band from Iceland with international fame, GusGus, makes a European tour before going back to their home country to celebrate Christmas. And if you're a fan of eclectic music combinations and their unique style, the show at La Maroquinerie is you number one must-visit event in Paris. The band was formed in 1995 and is notable for their unusual music style that mixes house, techno, trip hop and a bunch of other influences. The prolific collective has released 9 albums so far and has changed its staff numerous times. GusGus is also known for collaboration with some notable artists. One of those is Emiliana Torrini who performed "Gollum's Song" for "The Lord of the Rings: The Two Towers". You might also have heard their remixes of songs by Bjork, Moloko, Depeche Mode and other artists and bands.
Hotels near La Maroquinerie:
-          Ibis Paris Porte de Montreuil 3*
Bryan Adams. 5 December 2014. Zenith de Paris
Bryan Adams has just turned 55. But for many of us, he'll always stay a young-looking man full of energy. It's the song "(Everything I Do) I Do it For You", a theme from "Robin Hood: Prince of Thieves", that makes the hearts of thousands of women beat faster. This year Adams is touring around UK, Europe and Canada to celebrate the 30th anniversary of his album "Reckless" that brought him international acclaim. The singer/songwriter/musician/social activist and even photographer, Adams has released twelve studio albums so far, and stays active in his musical career. His latest album, "Tracks of My Years", has seen the light just recently, in 2014. As for his past accomplishments, it's even unnecessary to tell you about the international hits "All for Love", "Have You Ever Really Loved a Woman?" and "18 Til I Die".
Hotels near Zenith:
-          Holiday Inn Paris La Villette 3*
Against Me! 8 December 2014. Le Fleche d'Or
Against Me! is an American punk-rock band best known for their single "I Was a Teenage Anarchist" that has become an anthem for many punk and rock music fans. Even though most of their songs are traditionally focused on social problems, since 2012 Against Me! has also been exposes more intimate subjects like sexual preferences and self-identity. The reason is that in 2012 that the band's lead singer, Thomas Gabel (now Laura Jane Grace) came out and as transgender. Their latest studio album, "Transgender Dysphoria Blues" (2014) covers this subject extensively. Those are not only the songs from their latest record that you'll hear at the show. The band has as many as 6 albums in their stock. The most famous of those, "White Crosses", was produced by Butch Vig and released in 2010.
Hotels near Le Fleche d'Or:
-          Ibis Paris Porte de Montreuil 3*
Winter Camp Festival 9-13 December 2014. Various locations
The Winter Camp Festival once again brings the most talented emerging indie performers to Paris and other French cities, including Lille, Lyon, Bordeaux, Nantes, Nimes and La Havre. A number of international and local independent artists will demonstrate their talents at various locations around Paris, such as Divan du Monde, Trabendo, Fleche d'Or, Maroquinerie and Point Ephemere. The line-up for Paris event edition includes: Samaris, Ballet School, Fyfe, Peter Kernel, She Keeps Bees, The Amazing Snakeheads, PS I Love You, Mirel Wagner, Lila Foy, Jessica93 and others.
Hotels near Divan du Monde:
Yelle. 16 December 2014. Gaite lyrique
France is rich in talents. But Yelle (the acronym from "You Enjoy Life" (EYL) + the French "Elle" - "She"), has long gained fame outside its native country. The band formed by Julie Budet and producer GrandMarnier became widely known in late 2005, when their song "Short Dick Cuizi" appeared on MySpace as a mock on French rapper Cuizinier. The song has become a great success and was even positioned at number 4 in French chart. Yelle's third album, Complètement fou (2014), was produced by the American icon Dr. Luke, who is also known for co-writing and producing records for Katy Perry, Pink, Avril Lavigne and Miley Cyrus. The electropop band is known for their sarcastic and playful lyrics, which are in French, and a variety of inspirations, including rock, techno and pop musicians. You will also be impressed by the artistic clothing the lead singer usually wears.
Hotels near Gaite lyrique:
-          Golden Tulip Little Palace 4*
Arthur H. 17 December 2014. Casino de Paris
Arthur Higelin, or simply Arthur H, is another French singer that deserves your attention if you want a taste of local music. Arthur comes from an artistic family, for his father Jacques Higelin and half brother Izia Higelin are singers as well. The artist spent some time in the US and came back home to reveal his own talents to the public. There are several references that are visible in his songs: jazz and blues music styles, Serge Gainsbourg and Sex Pistols, and even the performing manner typical for Tom Waits. At the same time, even after 19 albums, his fame hasn't stretched too far from France. We suggest you correcting this injustice and discover Arthur H while visiting Paris.
Hotels near Casino de Paris:
-          Mercure Montmartre Hotel 4*
Elvis Experience. 30 December 2014 – 3 January 2015. Palais des Sports
Elvis have left us a long time ago, but his talent is still here. The King still has lots of fans worldwide, and if you're one of those, we can't think of a better show to visit in Paris than the "Elvis Experience" with Martin Fontaine. After a great success of the "Elvis Story", which was visited by almost 1.7.fans in the US, Canada, France, Japan and other countries, this show will bring you back to the times when Elvis ruled the music world. The production is fully focused on Presley's Las Vegas years, during which the singer has completely changed the entertainment background of the city. 24 musicians and 8 singers will perform side by side with Martin Fontaine, who will sing the best of Presley's songs. The audience will be transported back to the 1970s and visit the King's show at Las Vegas Hilton.
Hotels near Palais des Sports:
-          Pavillon Porte de Versailles 3*
-          Median Porte De Versailles 3*
-          Novotel Paris Tour Eiffel 4*
Casse-Noisette (The Nutcracker). 31 December 2014. Opera Bastille
The 31st of December is at your doorsteps, so it's time to meet the New Year, finally. Those of you who prefer to do it in a traditional way, listening to the eternal classics with the members of their family, are invited to the Opera Bastille. On the New Year's Eve, the Opera will be filled with the sounds that everybody knows, because Tchaikovsky's music has long become synonymous to Christmas and New Year. Indeed, if you love ballet, a visit to the "Nutcracker" in the production of Rudolf Nureyev is a must. The touching Christmas story of Clara and the Prince who turned into a Nutcracker will set the mood for holiday dreaming.
Hotels near Opera Bastille:
-          Exclusive Pavillon Bastille 3*