Celebrate Christmas in luxury at your Amsterdam hotel
Can you believe it: the Christmas season is already here! Most of you are definitely planning something mind-blowing like Christmas and New Year celebrations in Amsterdam. The good news is that you don't even have to go far from your room, because most Amsterdam hotels have prepared a rich festive programme for their guests. Music, sparkling wine, finest cuisine and lots of smiles are waiting for you. Learn where to celebrate Christmas and New Year's Eve in Amsterdam.
Best Christmas and New Year parties at Amsterdam hotels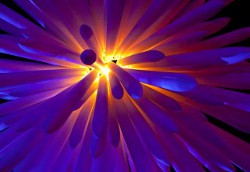 New Year Eve's Party at The Dylan 4*. From €75 per person
How about a New Year's party at a hotel favourite with celebrities? A festive dinner in a Michelin-starred restaurant overlooking the historic Amsterdam canal, Keizersgracht? If you want to be 100% certain that no one and nothing spoils your evening, The Dylan is your number one destination. Spend the New Year's Eve amidst the luxury of The Dylan's Brasserie OCCO or restaurant Vinkeles. Or pay an additional €75 and enjoy the hotel's festive party with a champagne welcome, followed by cocktails, DJ sets and a saxophonist performance until 3 am. And for those who want to celebrate the arrival of the New Year in a completely grandiose way, there is the hotel's Regents Room available for booking. Oh, and don't forget to buy presents for the ones you love. Those who'll want to come back to The Dylan will definitely appreciate the hotel's gift voucher.
Things you get at The Dylan for this New Year's Eve:
- Luxurious ambience of a celebrated hotel
- Canal views
- Courteous service at the Michelin-starred restaurant Vinkeles
- High Wine experience: the selection of high wines from the hotel's cellar accompanied by savory bites
- Various choices for New Year celebrations: the New Year's Eve party with DJ and saxophone music, a pompous event at the Regents Room and gift vouchers for your friends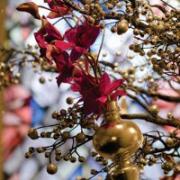 Royal Christmas traditions at Sofitel 5*. Rooms from approx. €268
Sofitel Legend the Grand Amsterdam has long been the synonym for luxury, splendor and a royal welcome. Yes, you won't find a more courteous attitude than at this hotel! Because they at Sofitel are used to hosting the royalties and celebrities. Sofitel is the place that once served as the seat for the City Hall and the place where Queen Beatrix had her wedding ceremony. You can complement your living experience at the hotel with a Christmas or a New Year's Eve party that you'll remember forever. The choice of offers is impressive: special Christmas tea and traditional French pastry Buche de Noel at the Library 'OR' (available throughout December), a delicious six-course menu and Christmas carols performed by children's choir at the restaurant Bridges on Christmas day, and the Grand Ball party on New Year's Eve. The latter takes place from 10 p.m. until 3 a.m. and features DJ sets, Moet & Chandon Champagne, soft drinks and canapés, all for €95 per person.
The benefits you get from celebrating Christmas at Sofitel:
- Royal accommodation at legendary suites
- Atmospheric Christmas decorations by the Floral designers all around the place
- Delicious Christmas tea with traditional Buche de Noel pastry
- A tranquil Christmas dinner for the whole family at the restaurant Bridges and a boisterous New Year party at the hotel on the New Year's Day
- Christmas brunches, kids menus and gift certificates available
Breathtaking Christmas menus at Okura's restaurants. From €39.50 per person
Hotel Okura 5* is an exceptional spot when it comes to dining. Not many hotels in Amsterdam can boast Michelin-starred restaurants. And Okura offers even more than that: three Michelin dining venues in one building. Ciel Bleu, located on the hotel's 23rd floor, boasts 2 stars. The atmospheric Japanese restaurant Yamazato is awarded with one star. And finally, the teppanyaki restaurant Sazanka has received the acknowledgement from the guide just recently. And each of them will offer its own festive menu for Christmas. The French restaurant Ciel Bleu will impress you with its choice of haute cuisine dishes and panoramic views for €195, while Yamazato and Sazanka invite to celebrate Christmas in Japanese style with sushi, fish prepared in all possible variants and Japanese ice cream, all for €130. No free tables left? The hotel's other dining venues will be happy to give you a shelter for Christmas.
Reasons to choose Okura for Christmas:
- A unique style that combines European welcome with an Eastern touch in design
- All the dining venues at Okura offer Christmas dinners, lunches and brunches, so you can choose to have your festive meals in French, Dutch or Japanese style
- Three Michelin-starred restaurants and breathtaking views from the hotel's Twenty Third Bar
- Total after-party relaxation at Nagomi Spa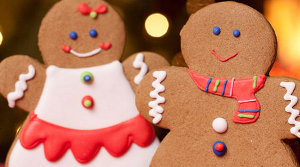 Christmas market, kids' workshops and more at Andaz Prinsengracht 5*. Accommodation from approx. €254
Andaz Prinsengracht is unique in every way. It's the hotel's sleek and colourful design by Marcel Wanders and stunning location on the historic Prinsengracht canal that draws most of its guests. True to its artistic nature, the hotel strives to provide guests with unique experiences even when it comes to traditional celebrations. And Christmas is the proof. There are several things you can do at the hotel this season. Firstly, visit its Bluespoon Food X-Mas Market for the best local food and Christmas treats. The event takes place December 14th at the hotel's restaurant, Bluespoon. Add some fun to your Christmas trip by visiting the Tacky Christmas Sweater Dinner Party. You might look ridiculous on the day, but don't worry, cause that's how all the rest will look like, too. And finally, don't forget to take your kids to Christmas cookie workshops where they'll take part in the creation of Christmas magic.
In short, you'll like the hotel for:
- Unique design by Marcel Wanders
- Perfect central location with canal views
- A bunch of pre-Christmas events: Bluespoon Food X-Mas Market on December 14th, Tacky Christmas Sweater Dinner Party on December 19th and Christmas cookie workshops on the 13th and 20th of December
Christmas and New Year's Day celebrations at Conservatorium 5*. Menus from €85 per person
Conservative as its name might seem, hotel Conservatorium is everything but conventional when it comes to holiday celebrations. Anyone, from hearty eaters to vegetarians, from clubbers to family people, will find what they want at the hotel. Conservatorium's Christmas programme includes traditional Christmas Eve, Christmas Day and Boxing Day dinners at Taiko and Vegetarian Christmas dinner at the same restaurant. The New Year's Eve dinner is offered as well. However, if you want to party on, you can join in the New Year's countdown and enjoy DJ sets at the Tunes bar until 2 am. Tired after all those festive booze-ups and Christmas shopping? Get some rest at the hotel's Akasha Holistic Centre and try out one of its special Christmas treatments.
The advantages of the Conservatorium hotel are:
- Location next to the Museumplein, where Amsterdam's most important museums, Christmas markets and ice skating rinks are found
- The hotel's a combination of luxurious lodgings and a tempting holistic centre, all set within historic building that housed the Sweelinck Conservatorium
- A vast choice of festive events, including special Christmas and New Year's dinners, celebrations with DJ sets and more
- Special Christmas treatments offered at the hotel's Akasha holistic centre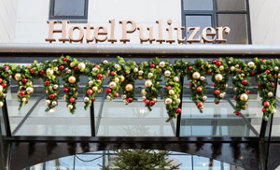 Holiday events and offers at the Pulitzer 5*. From €42.50 per person
Pulitzer is the hotel that mixes location, history and an unprecedented level of services that even the most fastidious guests will fall for. Set within 25 restored canal houses that date back to the 17th and 18th centuries, it boasts numerous accolades and awards, including position in the Conde Nast list of Top 25 hotels in Northern Europe. If you came here during the holiday season, you've got an impressive choice of things to do. For example, starting December 8th and until January 5th you'll be offered a special 3 or 4-course pre-Christmas dinner at the restaurant Keizersgracht 238. There is also a Christmas dinner taking place at the same venue on December 25th. New Year's Eve dinner and New Year's Eve buffet will follow. These ones will be complemented with Wijnsalon dinners for wine connoisseurs (5-course wine experiences included). The year 2014 will finish with the New Year's party at the Pulitzer bar. Live music from the hotel's DJs, cocktails and Dutch specials will be served to hotel guests from 11 p.m. till 1.30 a.m.
Why choose the Pulitzer for your Christmas celebrations:
- Location within 25 historic houses between the Keizersgracht and the Prinsengracht canals
- Extensive list of hotel services that includes boat and limousine tours and more
- Tranquil gardens, an art gallery and a wine salon found on-site
- The variety of hotel events to celebrate Christmas, including: Christmas and New Year's Eve dinners, Wine tastings and a bustling New Year with DJs and cocktails at the hotel's bar
Culinary Christmas offers at De L'Europe 5*. From €68 per person
If elegance is your second name, there's nowhere else you should head to in Amsterdam than Hotel De L'Europe. The classically luxurious hotel on the Amstel river offers a comfortable refugee for those who are used to the best of everything. Dinner at the 2 Michelin-starred restaurant Bord'Eau, rooms adorned with replicas of Dutch masters' paintings, a cigar lounge, wine cellar and more. The hotel's Christmas and New Year's offers correspond to the overall atmosphere of the place: nothing unnecessary, only classical dishes in the refined atmosphere of the hotel's restaurant Bord'Eau and Hoofdstad Brasserie. These two venues offer Christmas, Boxing Day and New Year's Eve Menus that vary in menus, but are all worth your attention. Keep on celebrating at The Promenade, the restaurant with the atmosphere of a private art gallery that serves Christmas Afternoon Tea. For the ones who like it hotter, Freddy's bar serves legendary Bloody Mary with a selection of snacks.
Why you'll love De L'Europe:
- Riverside location by the Amstel
- Luxurious rooms at the Dutch Masters Wing are decorated with replicas of paintings from the Rijksmuseum
- Luxurious hotel facilities: a wine cellar, cigar lounge, spa, Michelin-starred restaurant and more
- Classical Christmas and New Year's dinners at most of the hotel's dining venues